Detective Pikachu Movie Website Updates with Info on Pikachu Kanden Studio
The official Detective Pikachu movie website has updated. Translations follow:
Add the hash tags "#DetectivePikachu (#名探偵ピカチュウ)" and "#ElectricShockChu (#感電チュウ)" to photos taken at the event sites on Twitter or Instagram! If you show the SNS post to a staff member at the venue, you will receive a commemorative movie sticker!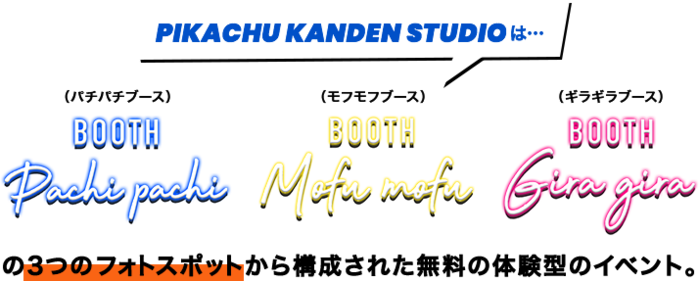 At the PACHI PACHI BOOTH, you can take pictures that makes it look like you're being electrocuted by Pikachu! But that's not all! You'll also be able to see what it's like to be in the world of the Detective Pikachu movie!
Pikachu Kanden Studio:
There are three different photo booths: the Pachi Pachi Booth, the Mofu mofu Booth and the Gira gira Booth.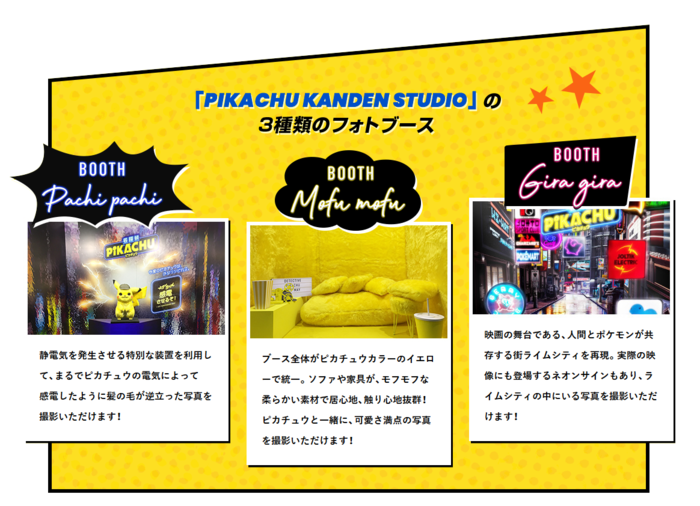 Pachi Pachi Booth:
By using a special device to generate static electricity, like Pikachu's electricity, you can take a photo with your hair standing up as if you got an electric shock!
Mofu mofu Booth:
The whole booth is the same yellow colour as Pikachu. The sofa and other furniture is made of soft, comfortable fluffy materials that feel excellent to the touch! You can take a cute photo with Pikachu!
Gira gira Booth:
A reproduction of Ryme City, where people and Pokémon coexist and is the setting for the movie. There are Neon signs just like the ones that appear in the movie so you can take pictures like you are at Ryme City!
Locations / Dates:
City
Venue
Dates
Times
Sapporo (札幌)
Chikaho Kita 3 Square
April 6th and 7th, 2019
6th: 12:00~19:00
7th: 11:00~18:00
Nagoya (名古屋)
Sunshine Sakae Grand Canyon Square
April 13th and 14th, 2019
11:00~18:00
Fukuoka (福岡)
Solaria Plaza Lion Square
April 20th and 21st, 2019
11:00~18:00
Osaka (大阪)
JR Osaka Station South Gate Building
April 27th and 28th, 2019
11:00~18:00
Tokyo (東京)
Roppongi Hills O-Yane Plaza
May 3rd, 4th and 5th, 2019
11:00~18:00
Pachi Pachi Booth Warning:
● Those under 10 years old cannot participate.
● Those elementary school children (ages 10 to 12) who wish to experience the booth need written consent from their parents.
● Tickets will be distributed at 11:00, 13:00 and 15:00. There is a limit to the number of ticket being distributed, so please be aware that it may not be possible to experience the exhibition on the day. The Sapporo venue 1st day will be 12:00, 14:00 and 16:00.
● Experts will supervise, manage, carry out the use of the booth with a safety range, but please refrain from using the booth if you are in poor physical condition, a pregnant women, have allergies or have a pacemaker.
● Please do not wear wristwatches, metal objects, smartphones.
● The effects of static electricity may be difficult to obtain due clothing and hair products.
● Please be aware that the images and photos taken will be used for various media (TV, radio, newspaper, magazines, internet, brochures, etc.)
Source:
https://meitantei-pikachu.jp/kanden/