Pokémon Center Singapore - Pokémon Explorer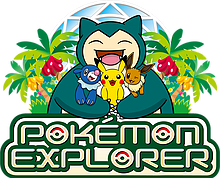 Pokémon Explorer was released on July 10th, 2019 at the Jewel Changi Airport and players can explore the Jewel in search for Pokémon! The app for iOS and Android has 10 different missions all around the airport. Download and play the Pokémon Explorer in Jewel Changi Airport and climb the leader boards by following these steps: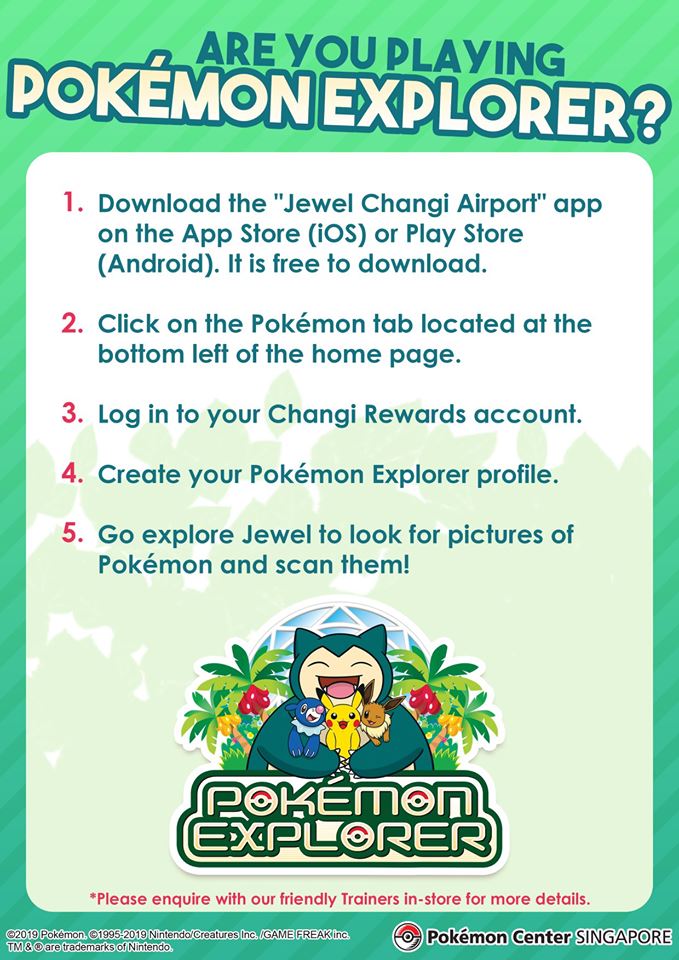 1) Download the "Jewel Changi Airport" app on the App Store (iOS) or Play Store (Android). It is free to download.
2) Click on the Pokémon tab located at the bottom left of the home page.
3) Log in to your Changi Rewards account.
4) Create your Pokémon Explorer profile.
5) Go explore Jewel to look for pictures of Pokémon and scan them!
If you clear any one mission in Pokémon Explorer and show the screen to our friendly trainers, you can get an exclusive Pokémon Explorer sticker!
So come on down to Jewel Changi Airport and spend the day at Pokémon Center Singapore soon!
About Pokémon Explorer (PEX)
Pokémon Explorer is a collaboration between Jewel Changi Airport (Jewel) and The Pokémon Company to encourage exploration within Jewel.
It consists of 10 different missions scattered around Jewel. Players are challenged to complete them all. The Hall of Fame (Ranking), featuring the top players, will be displayed at the Pokémon Center Singapore.
Where can I access/download PEX?
Pokemon Explorer is a feature within the Jewel Changi Airport Mobile App. You may wish to download the Jewel app via the Apple App Store and Google Play Store.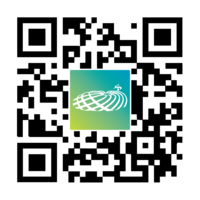 Can I play PEX outside of Jewel?
PEX is designed to complement the various attractions within Jewel. You need to be physically in Jewel to enjoy the fun.
Is PEX similar to Pokémon Go?
PEX is a standalone activity that is exclusive to Jewel Changi Airport.
Where are the various play areas/missions located?
There are 10 missions scattered around Jewel's attractions. Guests are encouraged to explore the various attractions to find them all.​​ P.S. Look out for Instagram-worthy spots within Jewel.
Can I play PEX after 10pm ?
For safety considerations, PEX can only be played during the Canopy Park's operating hours.
Sun to Thurs : 10am to 12am
Fri/Sat/Eve of PH : 10am to 1am
Kindly note that the operating hours for The Pokémon Center is 10am to 10pm (Daily).
If there is any valid security or safety concerns, Jewel reserves the right to stop the service temporarily.
Hardware and Software Requirements
To ensure optimise experience, please ensure your device supports
Android : Marshmallow (6.0) and above
iOS : 10 and above with at least 2GB free storage space.
Source:
https://www.jewelpex.com/
Pokémon Center Singapore - Pokémon Explorer Campaign
From July 10th, 2019 until July 31st, 2019, those that present their Pokémon Explorer start screen the friendly Pokémon Center Singapore trainers in store, they will get 20% off all of the Tomy products!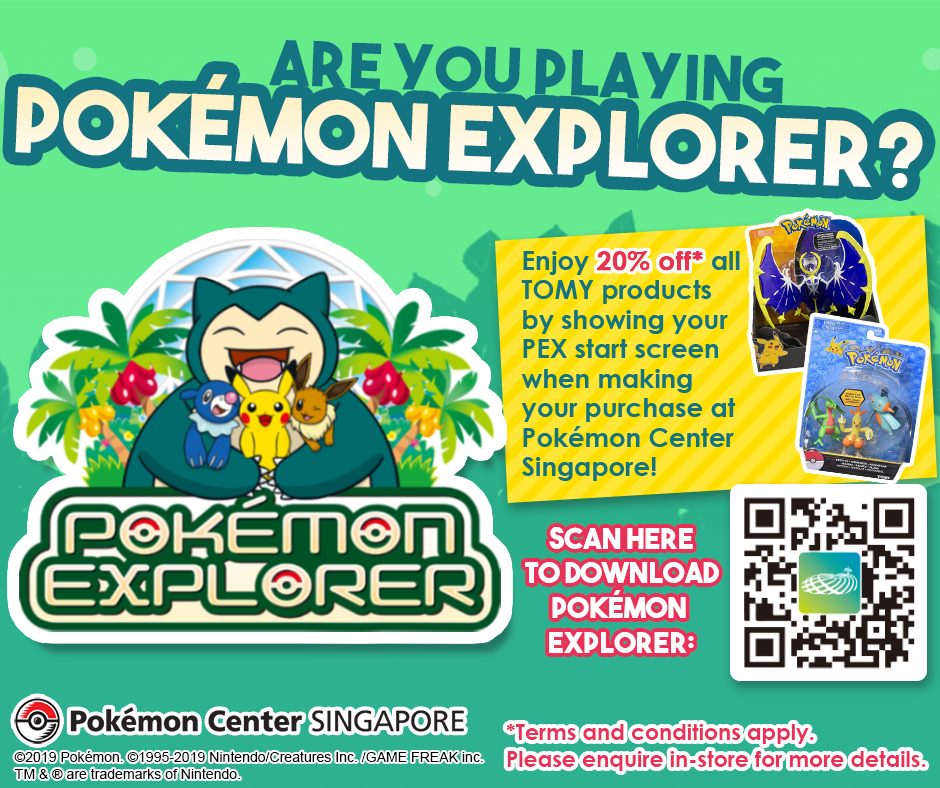 *Players must be physically present at Jewel to access Pokémon Explorer from 10 am to 12 am daily!
*For more information about Pokémon Explorer, please refer to www.JewelPEX.com
*The campaign is until 31st July 2019, or while stocks last.
*Images shown are for illustration purposes only.
*Not valid with other promotions, discounts, vouchers and eCoupons unless otherwise stated.
*Valid for one redemption per customer only.
*Offer needs to be declared upfront to enjoy the privileges.
*Offer is valid on a first-come, first-served and while stocks last basis.
*Offer only applies to Tomy products. Takara Tomy products are excluded from this promotion.
*Other T&Cs may apply, please check in-store for more details.
*Pokémon Center Singapore reserves the right to amend/withdraw the promotion, terms & conditions without prior notice.
Source:
https://m.facebook.com/Pokemon.official.Singapore