Pokémon Center Singapore - Free Exclusive Tote Bag
The Pokémon Center Singapore has announced that players of Pokémon GO that catch a Pokémon on November 15th, 2019 or later and show it to a Pokémon Center Singapore staff member, can receive a free exclusive Tote Bag while supplies last.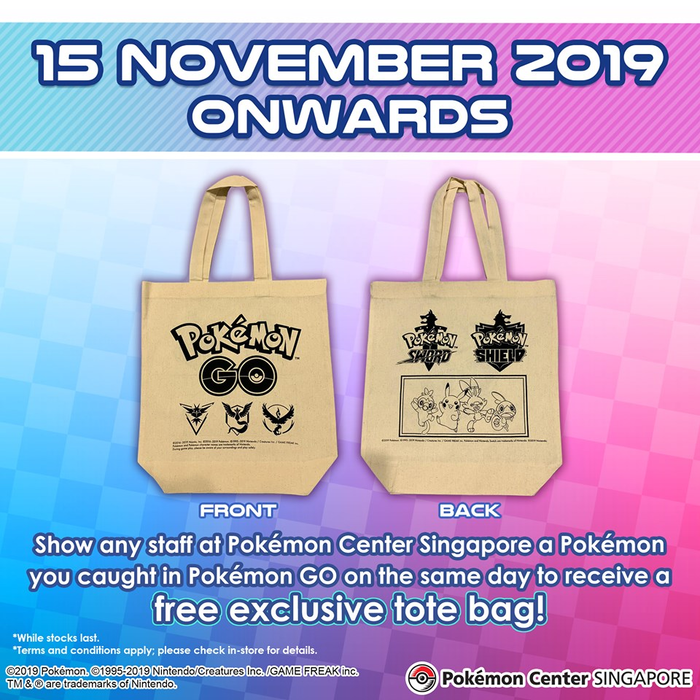 Pokémon Center Singapore - Free Exclusive Tote Bag
Good news for all fans of Pokémon GO! From 15th November 2019 onwards.
Simply show any of the Pokémon Center staff at Pokémon Center Singapore a Pokémon you caught in Pokémon GO on the same day, to receive a free exclusive tote bag!
The tote bag is adorned with both the Pokémon GO logo and team logos, as well as the Pokémon Sword and Pokémon Shield logos and Pokémon, so you can show everyone your love for the Pokémon games while on the go.
※ Redemption only available at Pokémon Center Singapore, #04-401 & 402.
※ Event schedule and location are subject to change without prior notice.
※ Photographs are for illustrative purposes only. The actual product may differ in color and design.
※ Stock availability may differ at various times. Please check in-store for details.
※ Quantity of products are limited and available on a first-come-first-serve basis.
※ Products are only available whilst stocks last. In the event the item is out of stock, we apologize in advance for any inconvenience caused.
Source:
https://www.facebook.com/Pokemon.official.Singapore/