Pokémon the Movie: Coco - Oha Suta July 31st, 2020 / Voice Actors Announced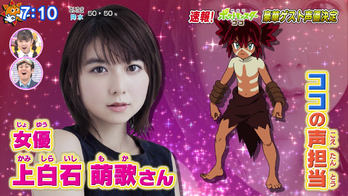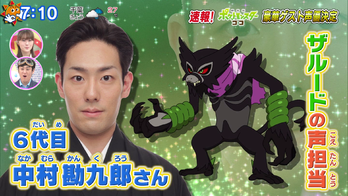 During the July 31st, 2020, episode of
Oha Suta
, it was announced that Moka Kamishiraishi (上白石萌歌) will Coco's voice actor and Kankurō Nakamura (中村勘九郎) will be Zarude's voice actor. In addition, Pokémon movie alumni Shoko Nakagawa and Kōichi Yamadera will return to do voice acting, playing Professor Zed and Karen, researchers at a Biotope Company which is studying cutting-edge technology in the forest Satoshi visits.
High resolution images from the Oha Suta episode have been added to an Imageboard thread
.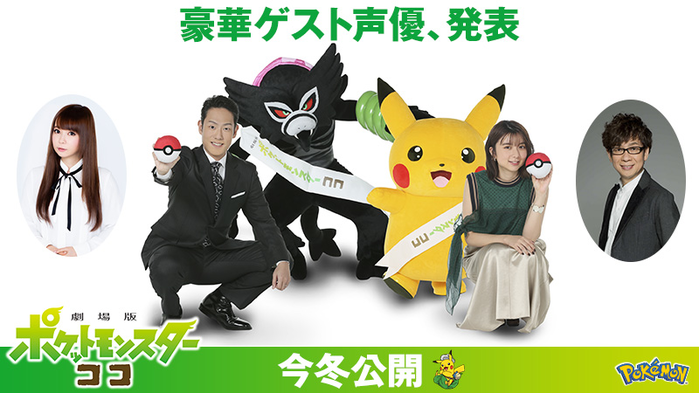 After the announcement airing on Oha Suta, the official movie website updated with comments from the announced voice actors. The following are their comments:
Zarude: The Mythical Pokémon that decided to raise Coco against the law of the forest. Voice: Kankuro Nakamura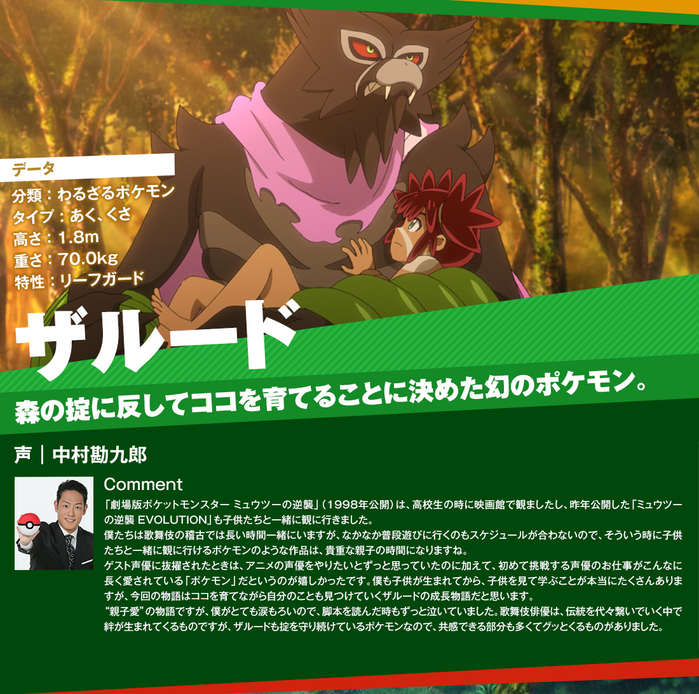 Comment: I saw "Pokémon The Movie: Mewtwo Strikes Back" (released in 1998) at the movie theater when I was in high school, and I also went to see "Mewtwo Strikes Back: EVOLUTION" which was released last year with my children. We spend a lot of time together at kabuki rehearsals, but our schedules usually don't allow us to spend time together, so going to see a movie like Pokémon with my children during those times is a valuable parent-child experience. When I was selected as a guest voice actor, I had always wanted to be an anime voice actor, and I was also happy to see that my first challenge as a voice actor was to work on the long-loved "Pokémon" series. I've learned so much from watching my kids since they were born, and I think this story is a story of Zarude's growth as it finds itself raising Coco. It's a story of parent-child love, and I'm a very tearful person, so when I read the script, I was crying the whole time. Kabuki actors form bonds as they carry on their traditions from generation to generation, and since Zarude are a Pokémon that keeps the rules, I had a lot of sympathy for it and was very touched by it.
ザルード 森の掟に反してココを育てることに決めた幻のポケモン。声|中村勘九郎 Comment
「劇場版ポケットモンスター ミュウツーの逆襲」(1998年公開)は、高校生の時に映画館で観ましたし、昨年公開した「ミュウツーの逆襲 EVOLUTION」も子供たちと一緒に観に行きました。僕たちは歌舞伎の稽古では長い時間一緒にいますが、なかなか普段遊びに行くのもスケジュールが合わないので、そういう時に子供たちと一緒に観に行けるポケモンのような作品は、貴重な親子の時間になりますね。ゲスト声優に抜擢されたときは、アニメの声優をやりたいとずっと思っていたのに加えて、初めて挑戦する声優のお仕事がこんなに長く愛されている「ポケモン」だというのが嬉しかったです。僕も子供が生まれてから、子供を見て学ぶことが本当にたくさんありますが、今回の物語はココを育てながら自分のことも見つけていくザルードの成長物語だと思います。"親子愛"の物語ですが、僕がとても涙もろいので、脚本を読んだ時もずっと泣いていました。歌舞伎俳優は、伝統を代々繋いでいく中で絆が生まれてくるものですが、ザルードも掟を守り続けているポケモンなので、共感できる部分も多くてグッとくるものがありました。
Coco raised by Zarude, a boy who believes he is a Pokémon. Voice: Moka Kamishiraishi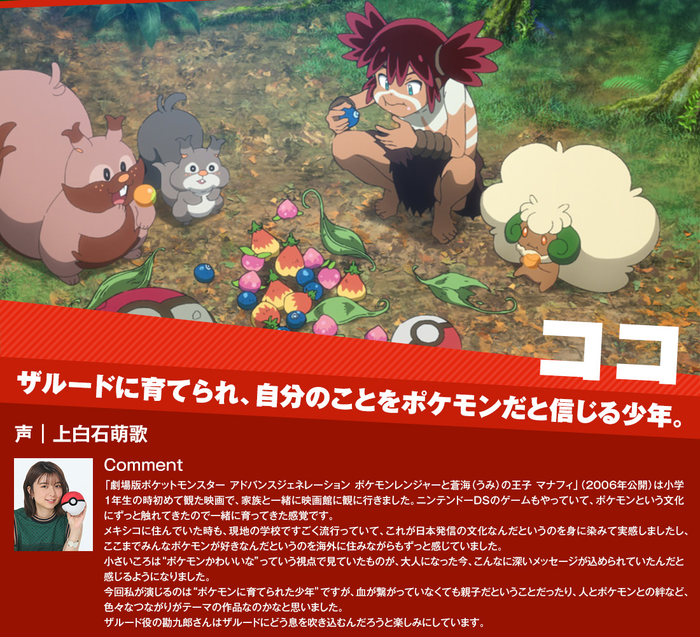 Pocket Monsters: Advanced Generation The Movie - Pokémon Ranger and the Prince of the Sea - Manaphy (released in 2006) was the first movie I ever saw when I was in first grade, and I went to see it with my family. I also played the Nintendo DS games, and I've always been exposed to the culture of Pokémon, so I feel like we've grown up together. When I lived in Mexico, Pokémon was very popular at my school, and I realized that it was a culture that originated in Japan and that people liked it so much, even though I lived abroad. I used to see Pokémon as "cute" when I was little, but now that I'm an adult, I've come to realize how deep the message is. In this movie, I play a boy raised by Pokémon, and I thought the theme of the movie is the connection between people and Pokémon, such as the fact that even though they are not related by blood, they are still parent and child, and there is a bond between people and Pokémon. I'm looking forward to seeing how Kankuro-san, who plays Zarude, will breathe life into Zarude.
ココ ザルードに育てられ、自分のことをポケモンだと信じる少年。 声|上白石萌歌 Comment
「劇場版ポケットモンスター アドバンスジェネレーション ポケモンレンジャーと蒼海(うみ)の王子マナフィ」(2006年公開)は小学1年生の時初めて観た映画で、家族と一緒に映画館に観に行きました。ニンテンドーDSのゲームもやっていて、ポケモンという文化にずっと触れてきたので一緒に育ってきた感覚です。メキシコに住んでいた時も、現地の学校ですごく流行っていて、これが日本発信の文化なんだというのを身に染みて実感しましたし、ここまでみんなポケモンが好きなんだというのを海外に住みながらもずっと感じていました。小さいころは"ポケモンかわいいな"っていう視点で見ていたものが、大人になった今、こんなに深いメッセージが込められていたんだと感じるようになりました。今回私が演じるのは"ポケモンに育てられた少年"ですが、血が繋がっていなくても親子だということだったり、人とポケモンとの絆など、色々なつながりがテーマの作品なのかなと思いました。ザルード役の勘九郎さんはザルードにどう息を吹き込むんだろうと楽しみにしています。
Celebi, Professor Zed. Voice: Kouichi Yamadera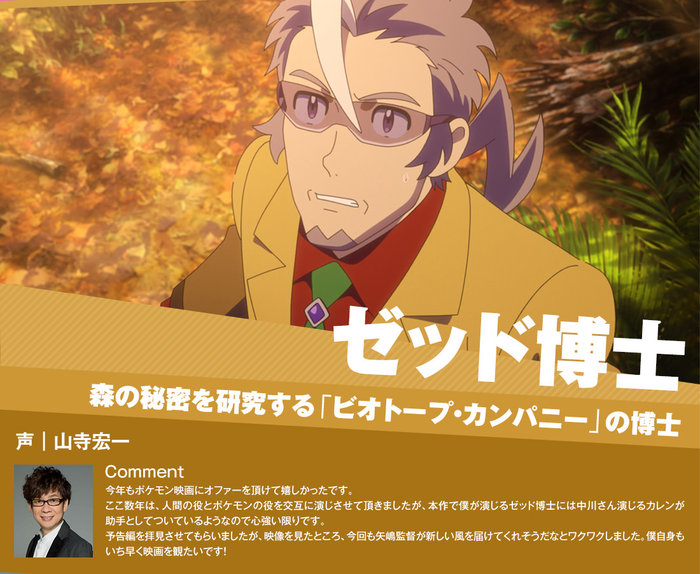 Celebi, the Mythical Pokémon known as the guardian god of the forest. Professor Zed, a professor of a Biotope Company who researches the secrets of the forest.
Comment: I was happy to be offered to work in the Pokémon movie again this year. In the past few years, I've alternated between playing a human and a Pokémon, but I'm reassured by the fact that my character, Professor Zed, has Karen, played by Ms. Nakagawa, as his assistant. I saw the trailer for the film, and from the footage I saw, I was excited to see that director Yajima is going to bring a new style to the film again. I want to be one of the first to see the movie!
セレビィ 森の守神と言われる幻のポケモン。 ゼット博士 森の秘密を研究する「ビオトープ・カンパニー」の博士 声|山寺宏一 Comment 今年もポケモン映画にオファーを頂けて嬉しかったです。ここ数年は、人間の役とポケモンの役を交互に演じさせて頂きましたが、本作で僕が演じるゼッド博士には中川さん演じるカレンが助手としてついているようなので心強い限りです。予告編を拝見させてもらいましたが、映像を見たところ、今回も矢嶋監督が新しい風を届けてくれそうだなとワクワクしました。僕自身もいち早く映画を観たいです!
Karen, researcher for a Biotope Company and assistant to Professor Zed. Voice: Shoko Nakagawa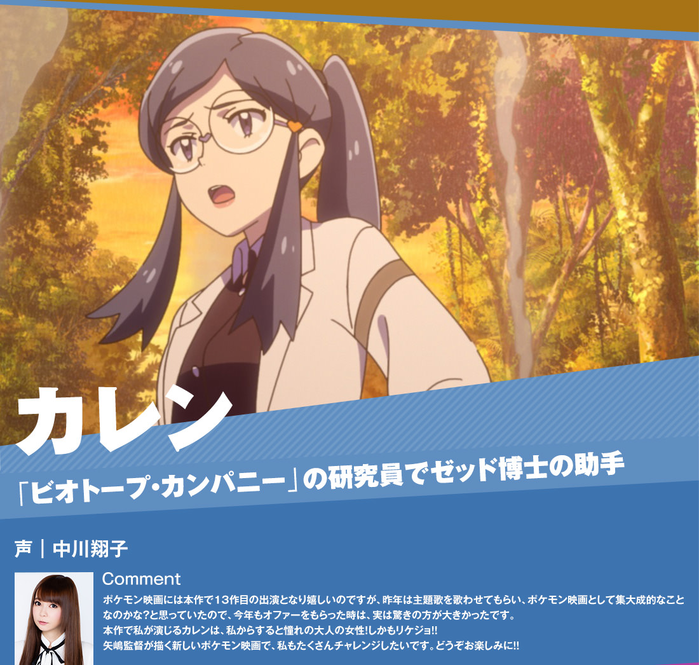 Comment: I'm very happy that this is the 13th Pokémon film I've appeared in. So when I was offered a role again this year, it was actually more of a surprise to me. The Karen I play in this film is the mature woman I've always wanted to be! I want to challenge myself a lot with this new Pokémon movie from director Yajima. Please enjoy it!
カレン 「ビオトープ・カンパニー」の研究員でゼッド博士の助手 声|中川翔子 Comment ポケモン映画には本作で13作目の出演となり嬉しいのですが、昨年は主題歌を歌わせてもらい、ポケモン映画として集大成的なことなのかな?と思っていたので、今年もオファーをもらった時は、実は驚きの方が大きかったです。本作で私が演じるカレンは、私からすると憧れの大人の女性!しかもリケジョ!! 矢嶋監督が描く新しいポケモン映画で、私もたくさんチャレンジしたいです。どうぞお楽しみに!!
Source:
https://www.pokemon-movie.jp/chara/index.php