'Melee! Pokemon Scramble x Pokemon Card Game' Announced
Posted: 16 Jun 2009 02:32 AM
Author: Sunain
Tagged In: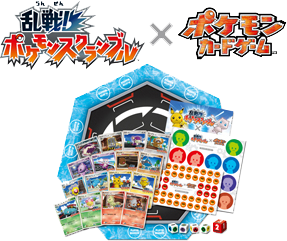 The Offical Japanese Pokemon Card Game website and the Offical Japanese Pokemon website announced a new game based on the TCG and the latest Wii game Melee! Pokemon Scramble. 'Melee! Pokemon Scramble x Pokemon Card Game' (乱戦!ポケモンスクランブル×ポケモンカードゲーム) will be available in Japan on July 10th, 2009. The game combines aspects of the trading card game with some of the features of Pokemon Scramble. Players put their cards down on the board which looks similar to the arena from the Wii game. Battles commence and players take turns trying to knock out their opponents.
The game comes with: A board, 16 battle cards, 14 player markers (set of 2 × 7), 52 damage counters (40 x 10 damage, 12 x 50 damage), four energy dice and an information guide. The game will retail for 500yen including tax and supplies are limited. The cards from the game can also be used in official Pokemon Card Game tournaments.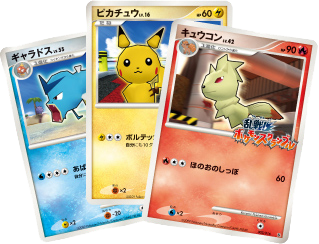 Source:
http://www.pokemon.co.jp/special/pokemonscramble/cardgame/