Platinum - Arceus - Rapidash Card Revealed
Posted: 06 Oct 2009 12:27 PM
Author: Sunain
Tagged In: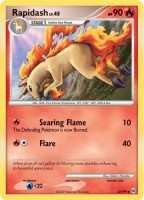 A new card has been revealed from the upcoming Platinum Arceus TCG expansion.
The Fire Horse Pokémon Rapidash (47/99) canters its way into
Platinum—Arceus and, with its fiery mane glowing menacingly, is sure to heat up your game! Each of its two attacks has a low Energy cost and this means that this Stage 1 Pokémon can have an instant impact on your game. Its Searing Flame attack requires only 1 Fire Energy to do 10 damage and leave the Defending Pokémon Burned. For only 1 Energy more Rapidash can deliver a quick 40 damage. And with no Retreat Cost, it can flee to the Bench with the swiftness you'd expect from a Pokémon so graceful!
Source:
http://go-pokemon.com/tcg/news/articles/139.html