Pokémon Sunday 290
The latest episode of Pokémon Sunday,
Lord Nyarth's Island!? / Group Member Baba Trains in order to Win Back the Pokémon Battle Throne! / The Announcement of the New Pokémon XX! (おニャースさまのしま!? / 馬場隊員がポケサンバトル王座奪還を目指して特訓!/新ポケモンの○○を発表!)
, aired today in Japan.
This weeks episode started with the Pokémon Sunday crew wishing Shoko-tan a happy birthday as she celebrated it on May 5th. They brought out a large box which ended up being a large ice cream cone hat. She thanked them and put the hat on and introduced this weeks repeat episode.
This week featured a continuation of last weeks rerun theme, 'Pikachu and Nyarth's Nice Little Talks', and
Lord Nyarth's Island!?
was this weeks repeat episode. In this episode, Nyarth is separated from his friends on an island where the inhabitants treat him as their god.
A full summary for this episode is available in the episode guide.
Professor Red started off the live action segment of the show by revealing his latest invention, the RED 056 Guess the Pokémon Quiz SHOW! (クイズポケモンあてまSHOW!). The device is based on the recently released quiz board game with the same name that gets players to put a card into the device and slowly reveal the Pokémon behind the screen. Screenshots from the board games commercial are posted below. Professor Red adapted his machine to put people in it instead and then asked the crew to guess who they thought was behind the screen.
Shoko was able to guess the first person behind the screen, Handsome Yamamoto, after he made a few funny faces against the screen. The next person to be revealed was Shoko-tan Akiyama which Golgo guessed correctly. Akiyama was dressed up just like Shoko which scared the real Shoko-tan a bit.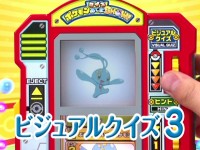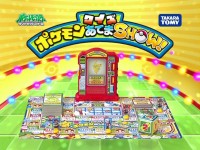 Click on images for higher resolution
In Baba's recent battles, he hasn't done very well and the crew believes that his battling is currently weak. Baba vows to regain his fighting spirit and return to his position as the strongest battling member in the Pokémon Sunday crew. He decides to go to the Pokémon Center to battle people there. He looses his first double battle and then quickly looses his second one. Both times the challengers smack him with a fan. Hoping that his practicing had increased his luck and skills, Baba was challenged by the in-studio guest of the week to a battle. Unfortunately for Baba, he lost and he had to give up his Kyorge.
During the Pokémon Game Arena segment, the three Pokémon silhouettes were revealed. More information regarding them will be announced on next weeks episode.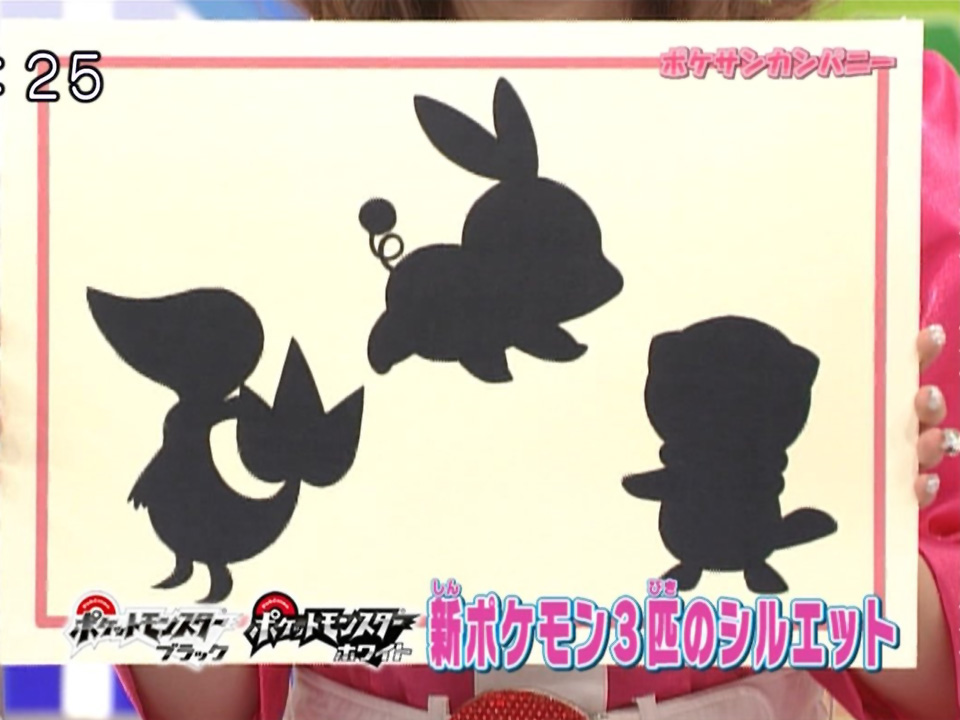 Click here for higher resolution
Characters
and
Pictures
from this episode have been added to the
episode guide
. You can also
comment and discuss
this episode on the forum. Also be sure to rate this and other episodes in the
episode guide
.