New Pokémon Manga in Shonen Sunday Starting in March
Posted:
18 Jan 2011 05:10 AM
Author:
Sunain
Tagged In:
Manga
A new Pokémon Manga was revealed this week at the Jisedai World Hobby Fair Winter '11 (次世代ワールドホビーフェア '11 Winter) in Japan. The new Pokémon Manga will be part of the
Weekly Shōnen Sunday (週刊少年サンデー)
magazine starting in March of 2011. Further details were not revealed.
Weekly Shōnen Sunday
magazine is aimed at a more older audience due to its target demographics but no summary of the new Pokémon Manga series has been announced yet. CoroCoro Comic (コロコロコミック) is also currently running three Pocket Monsters manga series including a Pocket Monsters BW version.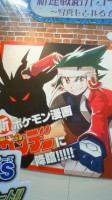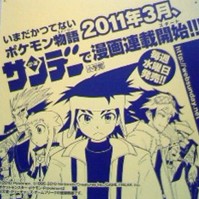 Click on images for higher resolution.
Source:
http://websunday.net/