Welcome to PocketMonsters.net
PocketMonsters.net
is a fansite dedicated to all things Pokémon (ポケモン) and Pocket Monsters (ポケットモンスター). We are the premier site for news and information about all aspects of the franchise from around the world. We cover the
Anime
,
indexing the music
, the
Trading Card Game
, the
Games
, the
variety shows
, have a
large imageboard
,
forum
and much more.
Follow us on Twitter
and
Subscribe to our RSS Feed
for the latest updates!
Latest News

31 Jul
17 Oct
16 Apr
15 Apr
19 Feb
18 Feb
News Tag Filter:
20th Anniversary
Jul 31
The Pokémon Company International and Fathom Events have announced that
Pokémon the Movie: I Choose You!
will be coming to theaters around the world on Sunday, November 5th, 2017 and Monday, November 6th, 2017.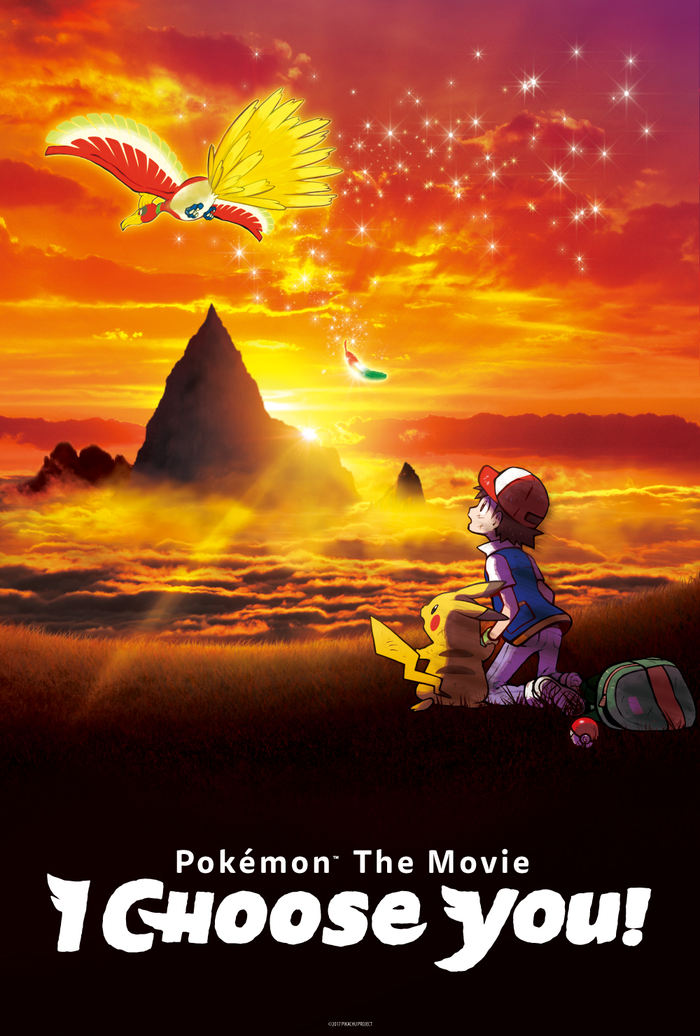 The Pokémon Company International and Fathom Events Bring Pokémon the Movie: I Choose You! to Theaters for a Two-Day Cinema Event
New Animated Movie Featuring Ash and Pikachu's Origin Story Coming to Cinemas Worldwide as a Limited Theatrical Release on November 5 and 6, 2017
Bellevue, WA, and Denver—July 31, 2017—The new animated film Pokémon the Movie: I Choose You!, based on the globally popular Pokémon brand, is coming to movie theaters around the world for two days this November. The Pokémon Company International announced today that it has entered into an agreement with Fathom Events, the recognized leader in event cinema distribution, for international theatrical rights to the highly anticipated movie outside of Asia.
Pokémon the Movie: I Choose You! is an origin story highlighting Ash and Pikachu's first meeting and their adventures as they search for the Legendary Pokémon Ho-Oh. The iconic pair encounter familiar faces along the way, new characters including Trainers Verity and Sorrel, and even a mysterious new Mythical Pokémon, Marshadow. Challenges and epic Pokémon battles abound in this unique new story about the beginning of one of the most beloved friendships in popular culture.
"As an origin story, Pokémon the Movie: I Choose You! is the perfect way for a new generation of Pokémon fans to experience the beginning of Ash and Pikachu's friendship, and it offers longtime fans an exciting new look into the start of their epic adventures," said Colin Palmer, vice president of marketing at The Pokémon Company International. "We're excited to work with Fathom Events, whose expertise in unique theatrical event activations will offer families and fans the opportunity to come together and experience the excitement of Pokémon animation on the big screen."
Pokémon the Movie: I Choose You! will be shown in movie theaters for two days only, on Sunday, November 5, and Monday, November 6, 2017, in select international markets. More details, including screening times and special offers, will be available soon. The movie is already winning over crowds of moviegoers in Japan, where the franchise began, as it opened at the top of the charts for its first weekend.
"Fathom Events is thrilled to work with The Pokémon Company International to bring Pokémon the Movie: I Choose You! to the US and international event cinema markets," Fathom Events CEO-elect Ray Nutt said. "We can't wait to deliver a high-caliber Pokémon cinema event that fans around the world won't want to miss."
More information, including participating theater locations, ticketing dates, and event details, will be available soon on www.FathomEvents.com . Parents and fans can visit the site now to sign up and receive updates and details about the upcoming limited theatrical release.
To learn more about Pokémon animation, visit www.Pokemon.com and join the conversation on social media with #PokemonIChooseYou.

Article edited on 2017-07-31 12:36:02 by Sunain
Oct 17
Shigeki Morimoto, Game Designer and Battle Director at GAME FREAK, shared his memories from when the first Pokémon video games released 20 years ago in a video as part of the #Pokemon20 campaign.


Interview
Interview Transcription
So, it's the 20th anniversary of Pokémon, meaning that it's been 20 full years since the games first went on sale. I remember back when they first released, and I would go around to various shops to see if the games were selling at all...

It wasn't long before I could see that they were selling very well, and many shops were actually running out of stock! I thought to myself, "Is this turning into something big?" And it definitely did. It continued to sell really well, and then became really successful internationally, and here we are today!

And it's really thanks to all our partners and the support of all of our fans that Pokémon has made it this far. We will continue to evolve Pokémon in various ways in the future, and I hope that all of you will continue your relationship with the series, too!
Apr 16
Shigeru Miyamoto, Game Designer & Creative Fellow at Nintendo, discusses his work on the Pokémon video games and celebrates 20 years of Pokémon adventures in a short interview that was posted to
The Official Pokémon YouTube Channel
.
Interview
Interview Transcription
Pokémon, congratulation on your 20th anniversary.
At the same time, as one of the producers on the very first Pokémon games, I want to say thank you for all your kind support. Although this year marks the 20th anniversary, I was working with Ishihara-san from about six years before that, testing out what would become the first Pokémon games. The reason it took so long was because we were also working on EarthBound. Once that was finished, we were able to move full speed ahead with Pokémon.
My main contribution was working with Tajiri-san and his team on creating a new way to play using a Nintendo Game Link Cable to connecto two Game Boy systems. Time flew by, and new there are Pokémon games in so many colors! Twenty years. I almost can't believe it. Everyone, thank you for your support.
Apr 15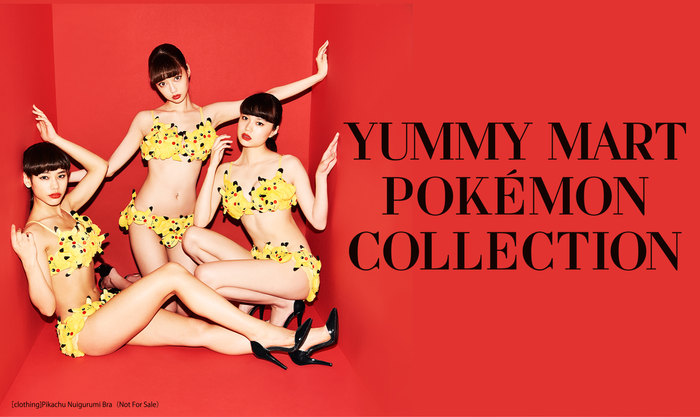 From April 20th, 2016 until May 8th, 2016, Japanese lingerie and women's apparel retailer
Peach John
will begin selling a new line of merchandise called the
Yummy Mart Pokémon Collection
. To celebrate the 20th Anniversary of the Pocket Monsters games, this limited edition collection will be available at Shibuya Parco, Ikebukro Parco and Shibuya 109 locations.
Images of the products and the photoshoot have been added to our Imageboard thread
.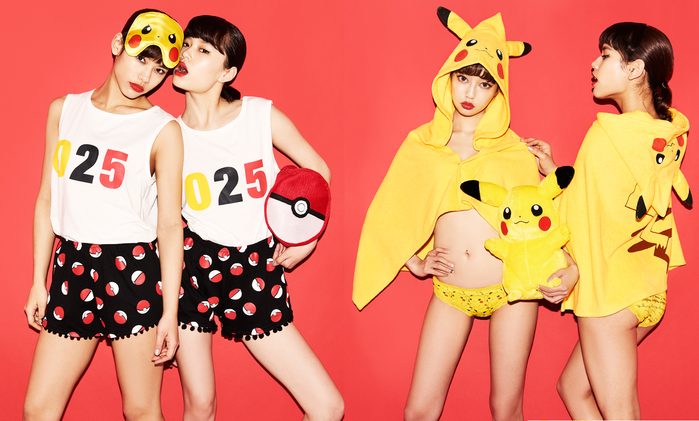 To promote this collection and serve the campaign models,
Sahara Monica (佐原モニカ)
,
Lisa Nakamura (中村里砂)
and Tomoko Nozaki (野崎智子) were photographed in Pikachu Nuigurumi Bra's and panties. The set though is for promotional purposes only and will not be for sale.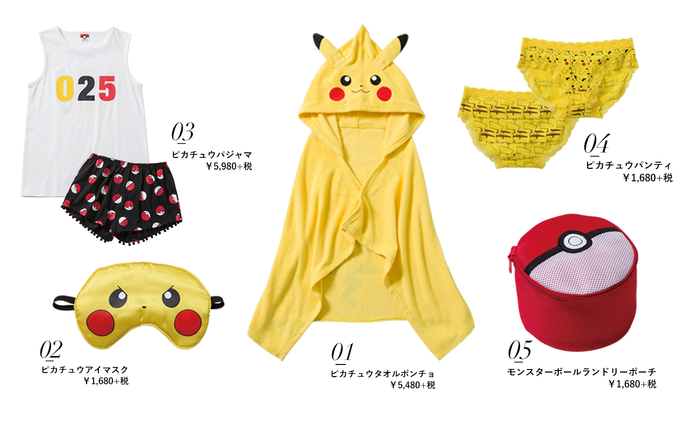 Yummy Mart Pokémon Collection
Pikachu Poncho (ピカチュウオルポンチョ) - 5480yen + tax
Pikachu Eye mask (ピカチュウアイマスク) - 1680yen + tax
Pikachu Pyjamas (ピカチュウパジャマ) - 5980yen + tax
Pikachu Panties (ピカチュウパンティ) - 1680yen + tax
Monster Ball Laundry Pouch (モンスターボールランドリーポーチ) - 1680yen + tax
Sources:
http://www.peachjohn.co.jp/pj/yummymart/pokemon/
and
http://prtimes.jp/main/html/rd/p/000000024.000009170.html

Article edited on 2016-04-15 07:05:47 by Sunain
Feb 19
The official Japanese Pokémon website has announced that to celebrate the 20th anniversary of the launch of
Pokémon Red and Green
, GAME FREAK Director Junichi Masuda will be visiting some of the
Pokémon Centers
in Japan for autograph sessions and to distribute his
Koduck
.
Those that are selected via lottery will receive a
special Clear Card (特製クリアカード)
which can be used to get Masuda's autograph and features the artwork from GAME FREAK's New Year 2016 Pokémon 20th anniversary card.
Masuda's Koduck will be distributed to players of
Omega Ruby and Alpha Sapphire
but only on the days and at the Pokémon Centers listed below. Those shopping at the Pokémon Centers can also get a pack of Pokémon Center Original Pocket Tissues which features pictures of the 151 Pokémon that were in
Pokémon Red and Green
.
Distribution Dates and Locations
Pokémon Center Mega Tokyo - March 5th, 2016 - Starting at 13:00
Pokémon Center Hiroshima - March 19th, 2016 - Starting at 13:30
Pokémon Center Fukuoka - March 20th, 2016 - Starting at 10:30
Further dates were revealed after the initial 3 distribution locations.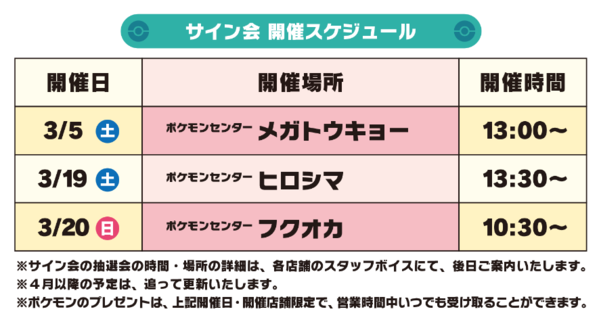 Pokémon Center Yokohama - April 16th, 2016 - Starting at 13:00
Pokémon Center Nagoya - April 17th, 2016 - Starting at 13:00
Pokémon Center Tokyo Bay - May 14th, 2016 - Starting at 13:00
Pokémon Center Tohoku - May 15th, 2016 - Starting at 13:00
Pokémon Center Osaka - May 28th, 2016 - Starting at 13:00
Pokémon Center Kyoto - May 29th, 2016 - Starting at 13:00
Pokémon Center Sapporo - June 4th, 2016 - Starting at 13:00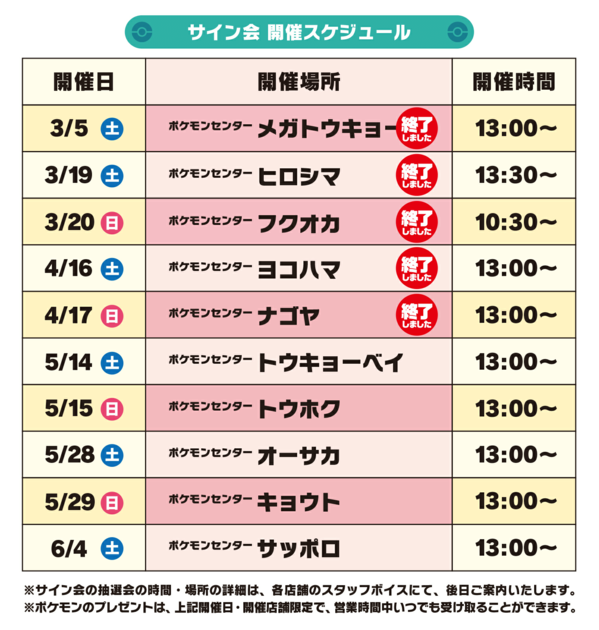 Source:
http://www.pokemon.co.jp/info/2016/02/160219_p01.html
Twitter Post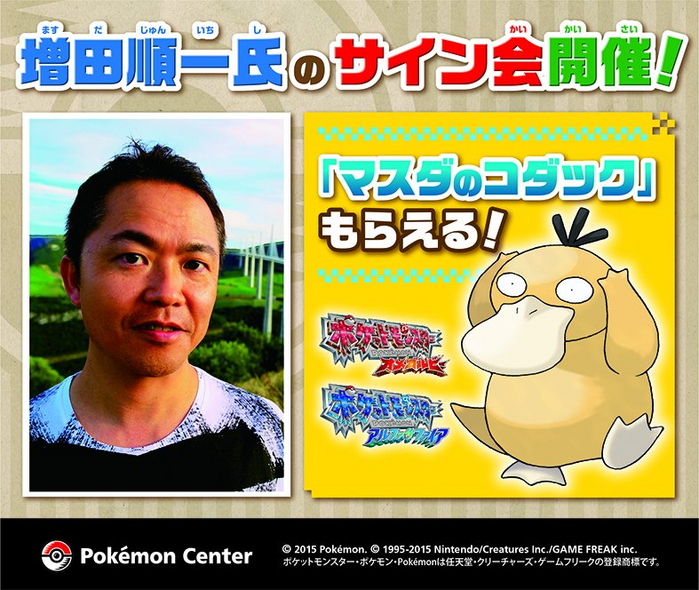 Source:
https://twitter.com/Pokemon_cojp/status/700605790730608640

Article edited on 2016-04-25 05:03:42 by Sunain
Feb 18
Toys"R"Us in Canada and the United States have announced that they will be hosting FREE TCG card giveaways throughout the year. Each month, a TCG card from the
Generations
will be given out.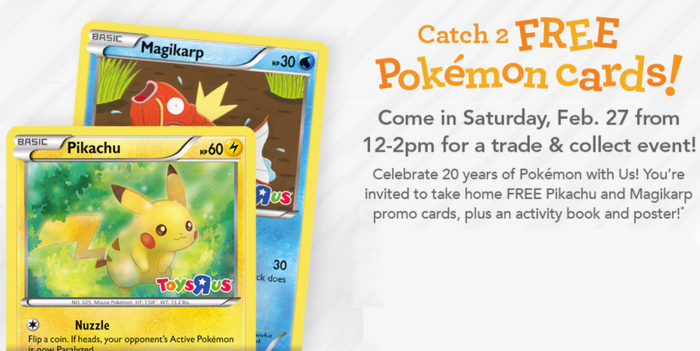 Press Release - Celebrate 20 years of Pokémon with FREE TCG card giveaways!
Starting on February 27, 2016 visit your local store on select dates to get a FREE Exclusive foil card from the 20th TCG expansion, Generations!
February 27th (Pokemon Day) – Pikachu Character Card
March 19th – Tangela Character Card
April 23rd – Magikarp Character Card
May 21st – Geodude Character Card
June 18th – Clefairy Character Card
July 16th – Pontya Character Card
August 20th – Meowth Character Card
September 17th – Slowpoke Character Card
*In store only. No purchase necessary. One per customer. While supplies last. Cards available at Toys"R"Us Customer Service.
Sources:
http://www.toysrus.ca/shop/index.jsp?categoryId=3373022
and
http://www.toysrus.com/shop/index.jsp?categoryId=4311963

Article edited on 2016-02-18 02:13:51 by Sunain