Welcome to PocketMonsters.net
PocketMonsters.net
is a fansite dedicated to all things Pokémon (ポケモン) and Pocket Monsters (ポケットモンスター). We are the premier site for news and information about all aspects of the franchise from around the world. We cover the
Anime
,
indexing the music
, the
Trading Card Game
, the
Games
, the
variety shows
, have a
large imageboard
,
forum
and much more.
Follow us on Twitter
and
Subscribe to our RSS Feed
for the latest updates!
Latest News

01 Sep
22 Aug
12 Aug
02 Aug
27 Jul
25 Jul
News Tag Filter:
Anime
Sep 01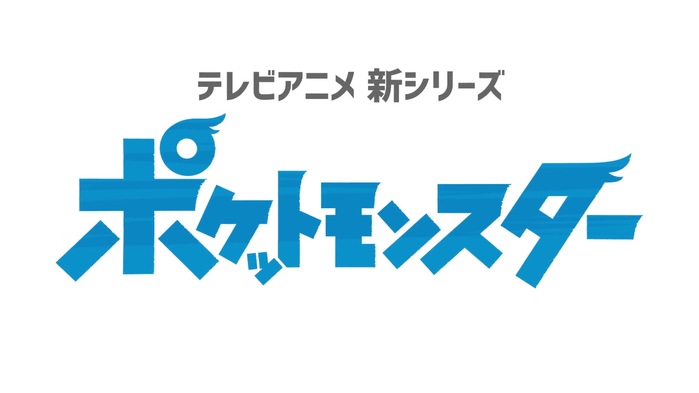 At the end of the
SM137 broadcast
on September 1st, 2019, a teaser trailer for a new anime series called "Pocket Monsters" was revealed. A new
Twitter account
for the series also launched.
YouTube Clip Description
A new Pokémon TV anime series will be broadcast! The title is "Pocket Monster", the same as when the Pokémon anime broadcasts started in 1997!
In this new series, all the regions of the world that have appeared in the game so far, from the Kanto Region to the Galar Region, are the stage for this adventure! Various Pokémon that live in each region will appear!
More detailed information will be announced on Sunday, September 29th, 2019 at 6pm during the TV Tokyo series television program "Pocket Monsters Sun & Moon"! * Broadcast date and time differ in some areas.
"Pocket Monster" TV anime Latest Series Broadcast and Teaser Video Announcement
"The new "Pocket Monsters" series that was announced today will of course be set in the Galar region from the video games "Pocket Monsters Sword/Shield", which will be released November 15th, but also in all the other regions that have appeared in the video games so far, including the Kanto region from the original "Red/Green" games and the Jouto region from the sequels "Gold/Silver"."
"Thus far, the series has changed its title every time a new video game has been released, but the new series title is going to be the same one it had when it debuted in 1997, "Pocket Monsters".
As this title indicates, while the story will of course be set in the Galar region, the setting of the new "Pocket Monsters" video games "Pocket Monsters Sword/Shield", it will also take place in all the other regions that have appeared in video games so far, including the Kanto region from "Pocket Monsters Red/Green" and the Jouto region from "Pocket Monsters Gold/Silver", and will feature the various Pokémon that live in these regions.
A teaser showing the Pokémon that represents these regions was revealed today as well. It can be seen on the official "Pocket Monsters Sun & Moon" TV Tokyo AniTV website, the official Pokémon Youtube channel, and more!
The "Pocket Monsters" anime made in the Reiwa era is going to be one that can be enjoyed by all generations.
Further details will be revealed during the "Pocket Monsters Sun & Moon" episode that airs on the TV Tokyo Network Sunday September 29th at 6pm! Stay tuned!!"
Source:
https://www.famitsu.com/news/201909/01182386.html
YouTube Clip - TV Anime New Series "Pocket Monster" Teaser Trailer
Source:
https://www.youtube.com/watch?v=dHyYZtWrTD4

Article edited on 2019-09-02 10:10:15 by Sunain
Aug 22

Rica Matsumoto attended the
Otakuthon
this past weekend on both Saturday and Sunday.
Otakuthon is a yearly anime convention held in Montreal, Canada
.
Pictures from this event have been added to an Imageboard thread
.
Saturday
Sunday
PANEL: Rica Matsumoto Q&A (Room 511C)
12:30 PM – 1:30 PM

Autographs: Rica Matsumoto (Room 517B)
2:00 PM – 3:00 PM

30 minute Rica Matsumoto Panel + Seating for the Concert (Room 517A)
2:00 PM – 2:30 PM


Concert Pokémon Showcase / Concert - Rica Matsumoto (Room 517A)
2:30 PM – 3:30 PM


Autographs: Rica Matsumoto (Room 517B)
4:00 PM – 5:30 PM

Summary of Events
Saturday Panel:
Rica did about a 58 minute panel where there was a few preselected questions asked by the moderator and then a few minutes where questions from the audience could be asked. This was her first visit to Canada and when she was a kid she took skiing lessons and got level 2, level 1 is for instructors. Canada has always been famous but it is not snowing in August in Canada for her to ski but if it was, she would have liked to have gone to a ski resort.
She was then asked about how she became a voice actor. Her father was the head of a traditional acting troupe and since she was a young kid, she was always going to theater shows and plays while watching her father touch the hearts of people he didn't even know. Watching that, she knew she wanted to do that also. She then started to learn the piano, the shamisen and acting. She always wanted to star on the same stage as her father and be in the group, however, her brother passed away when she was young from an illness and she ended up getting sick as well from the shock of his death. Rica was hospitalized and the doctor told her she shouldn't be acting on stage but a lot of her close friends and family told her that acting wasn't just on stage and that there are other ways to act. She started to go to auditions and Osomatsu-kun was the roll she got in 1988. It's been around 30 years now that she's been doing voice acting.
Her role as the voice of Satoshi has been going for over 20 years, she thinks about being in front of kids when doing the voice acting. However, when she was a kid, Rica though she was very brash, but when she thinks about playing Satoshi, she thinks about the times that she was very righteous, straightforward and looking forward to the future. The role comes very natural to her.
Rica was asked what her favorite episode was and she said it was Bye Bye Butterfree. She watched the episode with her mom and when they said "Bye" to Butterfree, her mom was crying more than she was. Rica told her mom she was crying too much but through the tears she said to me: "You really acted Satoshi out really well." and she agreed.
An audience member asked her what her favorite Pokémon was and she explained that everyone thought that it would obviously be Pikachu but it is fact Marowak (Garagara). Her mother cried a lot and she got a bit of a scar from it under her eye, similar to the look of Marowak. She loves Pikachu, but she considers Pikachu family and that's why it's not her favorite.
Another audience member asked if she thought Satoshi could finally win his first Pokémon Leauge. To which Rica exclaimed in English: "I don't know!" to a room full of laughter. Rica followed up by saying to become a Pokémon Master takes your entire life even though 22 years have gone passed and achieving something that great in life is a message to everyone that you have to work at it. Satoshi is an eternal 10 year old boy and even watching it as an adult, you return back to looking at your younger self, so she doesn't see her voicing an old Satoshi.
Rica Matsumoto was asked if she knew what the plans are for the 25th anniversary of the series and she laughed and was said she did not know.
At the end of the panel, merchandise was being sold by J-rock North Promotions Inc. Items available for sale were two Rica Matsumoto Postcards, a pre-signed paper fan ($5 CAD), a CD (顔晴れワッショイ!) ($20 CAD), and two designs Jolly Dog towels for ($30 CAD each). The CDs got sold out during this time.
Saturday Autographs:
Rica Matsumoto's autograph lines were very long and many fans wanted to see her. Priority was given to those who purchased merchandise from Rica Matsumoto's panel for autographs during the Saturday panel. There were two queues for the autographs, those who purchased merchandise during the panel, and those who are in a standby queue. 25 people won a raffle to join the priority line with a shikishi board for Rica Matsumoto to sign. Rica Matsumoto only managed to get through those who were in the priority line.
The amount of people in the line waiting for an opportunity for an autograph. Almost everyone here did not manage to get an autograph as this was captured right near when the Saturday autograph session ended, and the line wrapped around at the back of this photo, and on the left side again.
Sunday Panel:
Cancelled.
Sunday Concert:
Rica Matsumoto performed three songs during the concert:
Alive A Life
Ikite Koso
Mezase Pokemon Master 20th
Although it says 2:30 PM local time, the session began after 4:11 PM.
Sunday Autographs:
Autographs started shortly after the concert. This line began during the wait for the concert – many people skipped the concert for an opportunity to be near the front of the line for the autographs. We estimate Rica Matsumoto only managed to get through maybe 20% of this line as that was the length of was approximately how many autographs she managed to get through on Saturday.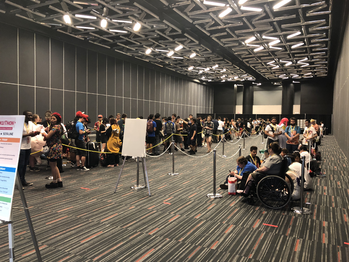 Editorial Note:
A member of the staff attended the convention and documented the events. There seemed to be a lack of planning between the parties involved (Otakuthon, J-rock North Promotions and Zepp live Inc). Attention to detail, organizing and coordination could use some improvement.
Disorganization for those lining up in autograph queues, and during the merchandise sales
Merchandise sales although it appeared to be first come, first serve, this was poorly executed as patrons were budding to purchase items
There was not enough merchandise available to purchase for patrons
The largest criticism of the event is the fact that those who were in line waiting for the concert were told that there was not enough space for everyone, and those at the end of the line were discouraged from to continue waiting, when in fact the concert hall was only a third full and could have accommodated everyone
Concert started more than 90 minutes late, thus cancelling the Sunday Panel and any other songs she may have planned to perform, which also shortened Sunday's autograph duration

Article edited on 2019-08-22 10:09:49 by Sunain
Aug 12
According to the August 2019 Issue of License! Global Top 150 Global Licensors, The Pokémon Company International is now the 23rd most profitable retail licensor worldwide selling over $2.8 billion USD in licensed products worldwide in 2018.
This is down from $3.3 billion USD in 2017.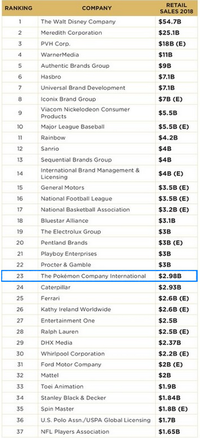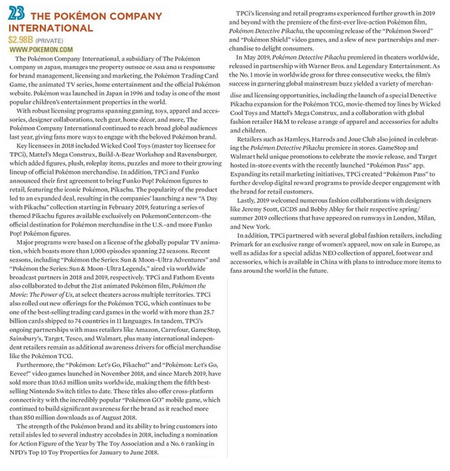 The Pokémon Company International - $2.98 Billion - 2018
The Pokémon Company International, a subsidiary of the The Pokémon Company in Japan, manages the property outside of Asia and is responsible for brand management, licensing and marketing, the Pokémon Trading Card Game, the animated TV series, home entertainment and the official Pokémon website. Pokémon was launched in Japan in 1996 and today is one of the most popular children's entertainment properties in the world.
With robust licensing programs spanning gaming, toys, apparel and accessories, designer collaborations, tech gear, home décor, and more, The Pokémon Company International continued to reach broad global audiences last year, giving fans more ways to engage with the beloved Pokémon brand.
Key licensees in 2018 included Wicked Cool Toys (master toy licensee for TPCi), Mattel's Mega Construx, Build-A-Bear Workshop and Ravensburger, which added figures, plush, roleplay items, puzzels and more to their growing lineup of official Pokémon merchandise. In addition, TPCi and Punko announced their first agreement to bring Funko Pop! Pokémon figure to retail, featuring the iconic Pokémon, Pikachu. The popularity of the product led to an expanded deal, resulting in the companies' launching a new "A Day with Pikachu" collection starting in February 2019, featuring a series of themed Pikachu figures available exclusively on PokemonCenter.com - the official destination for Pokémon merchandise in the U.S. - and more Funko Pop! Pokémon figures.
Major programs were based on a license of the globally popular TV animation, which boasts more than 1,000 episodes spanning 22 seasons. Recent seasons, including "Pokémon the Series: Sun and Moon - Ultra Adventures" and "Pokémon the Series: Sun and Moon Ultra Legends," aired via worldwide broadcast partners in 2018 and 2019, respectively. TCPi and Fathom Events also collaborated to debut the 21st animated Pokémon film, Pokémon the Movie: The Power of Us, at select theaters across multiple territories. TPCi also rolled out new offerings for the Pokémon TCG, which contines to be one of the best-selling card games in the world with more than 25.7 billion cards shipped to 74 countries in 11 languages. In tandem, TPCi's ongoing partnerships with mass retailers like Amazon, Carrfour, GameStop, Sainsbury's, Target, Tesco, and Walmart, plus many international independent retailers remain as additional awareness drivers for official merchandise like the Pokémon TCG.
Furthermore, the "Pokémon Let's Go, Pikachu!" and "Pokémon Let's Go, Eevee!" video games launched in November 2018, and since March 2019, have sold more than 10.63 million units worldwide, making them the fifth best-selling Nintendo Switch titles to date. These titles also offer cross-platform connectivity with the incredibly popular "Pokémon GO" mobile game, which continued to build significant awareness for the brand as it reached more than 850 million downloads as of August 2018.
The strength of the Pokémon brand and its ability to bring customers into retail aisles led to several industry accolades in 2018, including a nomination for Action Figure of the Year by The Toy Association and a No. 6 ranking in NPD's Top 10 Toy Properties for January to June 2018.
TCPi's licensing and retail programs experienced further growth in 2019 and beyond with the premiere of the first-ever live-action Pokémon film, Pokémon Detective Pikachu, the upcoming release of the "Pokémon Sword" and "Pokémon Shield" video games, and a slow of new partnerships and merchandise to delight customers.
In May 2019, Pokémon Detective Pikachu premiered in theaters worldwide, released in partnership with Warner Bros. and Legendary Entertainment. As the No. 1 movie in worldwide gross for three consecutive weeks, the film's success in garnering global mainstream buzz yielded a variety of merchandise and licensing opportunities, including the launch of a special Detective Pikachu expansion for the Pokémon TCG, movie-themed toy lines by Wicked Cool Toys and Mattel's Mega Construx, and a collaboration with global fashion retailer H&M to release a range of apparel and accessories for adults and children.
Retailers such as Hamleys, Harrods and Joue Club also joined in the celebrating the Pokémon Detective Pikachu premiere in stores. GameStop and Walmart held unique promotions to celebrate the movie release, and Target hosted in-store events with the recently launched "Pokémon Pass" app. Expanding its retail marketing initiatives, TPCi created "Pokémon Pass" to further develop digital reward programs to provide deeper engagement with the brand for retail customers.
Lastly, 2019 welcomed numerous fashion collaborations with designers like Jeremy Scott, GCDS and Bobby Abley for their respective spring/summer 2019 collections that have appeared on runways in London, Milan, and New York.
In addition, TPCi partnered with several global fashion retailers, including Primark for an exclusive range of women;s apparel, now on sale in Europe, as well as adidas for a special adidas NEO collection of apparel, footwear and accessories, which is available in China with plans to introduce more items to fans around the world in the future.
Source:
https://secure.viewer.zmags.com/publication/b0a2d8f9#/b0a2d8f9/42

Article edited on 2019-08-12 08:57:59 by Sunain
Aug 02
Baskin Robbins in Japan is having a
31 Ice Cream Pokémon Lots of Pikachu in Celebration of Mewtwo Strikes Back Evolution (サーティワン アイスクリーム「ポケモン ピカチュウいっぱい編」~ミュウツーの逆襲 EVOLUTION公開記念~)
campaign from August 1st, 2019 to August 30th, 2019. A commercial for the campaign features Pokémon super fan
Nicole Fujita
.
Pikachu's Thunderbolt Fruit Mix (ピカチュウの10まんボルト! フルーツミックス)
is the featured product of the campaign which has small colored candy in the fruit sorbet as well as scattered Pikachu head sweets. Those that order 2 scoops will receive 1 of 3 different cups featuring Pikachu, Mewtwo or Mew.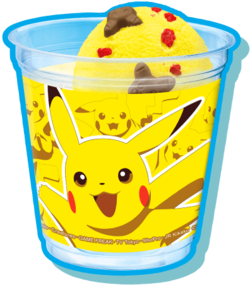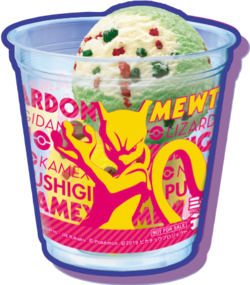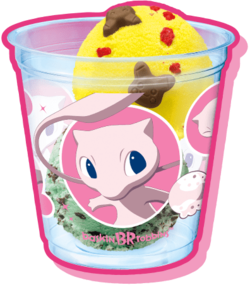 As a bonus, those that order a cup will receive a limited Pikachu spoon. Only one spoon will be given out per cup until supplies last and then regular spoons will be distributed. For an additional 100 yen, patrons can increase the scoop size from a small double to a regular double.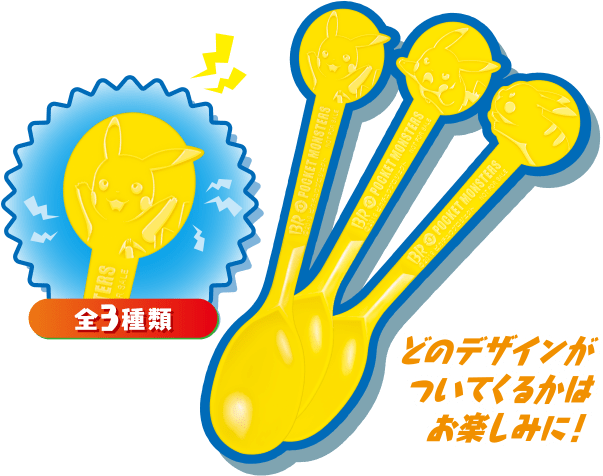 Also for sale will be a Pikachu Ice Cream Cake and an Eievui Ice Cream Cake which come with a cute cake try and colorfully designed box. The Pikachu cake features their popular number 1 favored mint and chocolate ice cream with Pop Rock candies with and additional Strawberry Ice Cream outer layer to give a refreshing acidity and sweet taste.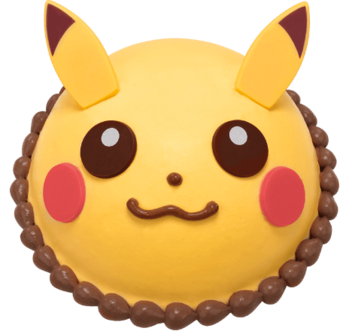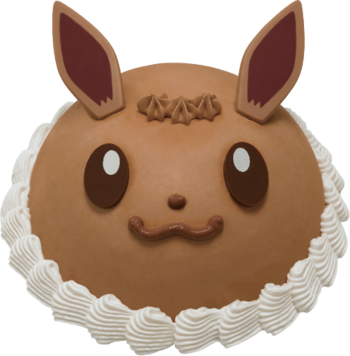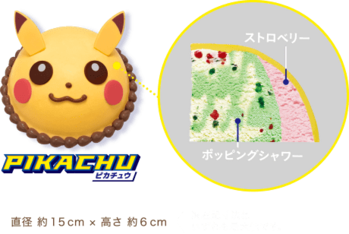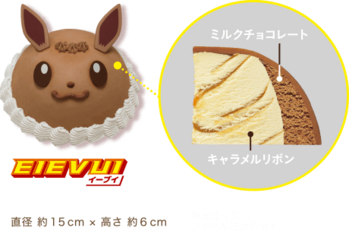 The Eievui cake has Caramel Ribbon Ice Cream and a Milk Chocolate Ice Cream outer layer which is a perfect match for the Caramel Ribbon Ice Cream.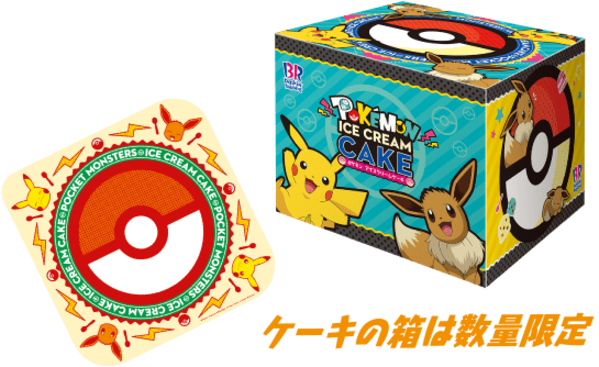 A Pokémon Variety Pack will also be available featuring 6 different flavors.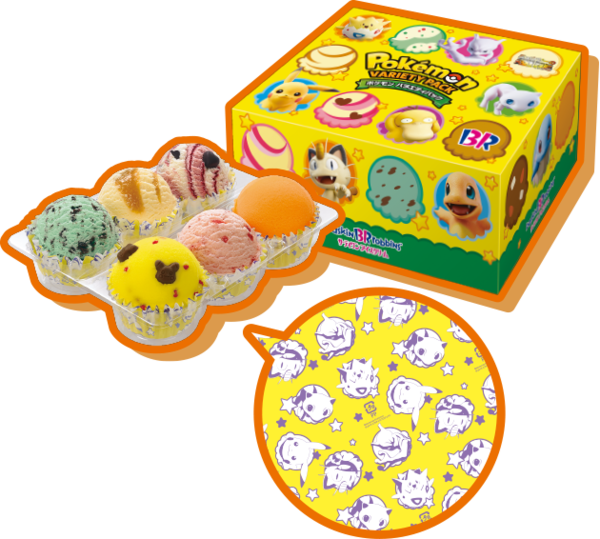 Source:
https://www.31ice.co.jp/contents/topics/190731_01.html
YouTube Clip - 31 Ice Cream Pokémon Lots of Pikachu in Celebration of Mewtwo Strikes Back Evolution
Source:
https://www.youtube.com/watch?v=uyV8DpkZtCI

Article edited on 2019-08-02 01:08:24 by Sunain
Jul 27
FanExpo Canada takes place at the Metro Toronto Convention Centre from August 22nd, 2019 to August 25th, 2019. FAN EXPO Canada is the largest Comics, Sci-Fi, Horror, Anime, and Gaming event in Canada and the 3rd largest Pop Culture event in North America. FanExpo Canada has announced that original Pokémon English dub voice actors: Eric Stuart, Rachael Lillis, Veronica Taylor and Sean Schemmel will be in attendance at the event.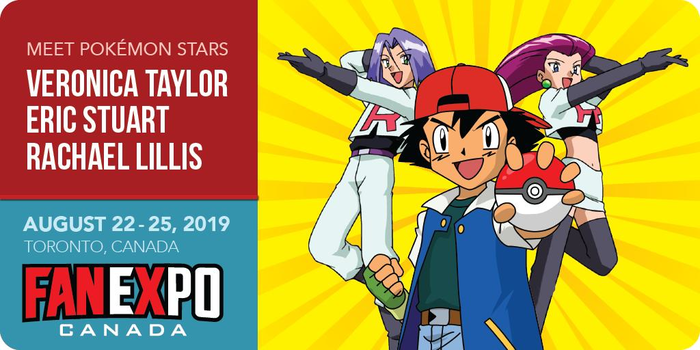 Source:
https://twitter.com/FANEXPOCANADA/status/1154798732082393088

Article edited on 2019-07-27 11:12:01 by Sunain
Jul 25

Otakuthon is an event that celebrates the cultural phenomenon known as anime (Japanese animation) and manga. Since 2008, the event has been held every summer at the Palais des congrès, in Montreal, Quebec, Canada. Rica Matsumoto will be attending Saturday, August 17th, 2019 and Sunday, August 18th, 2019.
The convention remains the second largest anime event in Canada. Proud of its Quebec origins, Otakuthon strives to be a fully bilingual convention (French and English) since its beginnings.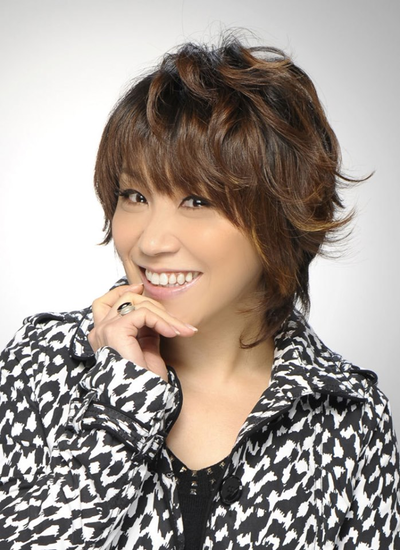 Rica Matsumoto is a voice actress, a singer, and a multi-talent actress. Her most popular role is Satoshi (Ash Ketchum in English translations), the main character of the anime series Pokémon. Matsumoto also performs the songs for many of the openings for the Japanese Pokémon anime.
Rica Matsumoto will have a panel and an autograph session on Saturday and a showcase and autograph session on Sunday. She will be singing Pokémon songs at both her panel and her showcase. The showcase will be in room 517A at 2:30 pm on Sunday. Don't miss these events!
RICA MATSUMOTO AUTOGRAPH POLICY
Priority will be given to attendees purchasing official Rica Matsumoto merchandise from J-rock North Promotions Inc. A very limited number of free autographs will be raffled at the beginning of the Rica Matsumoto's autograph sessions on Saturday and Sunday afternoon. Participants must line-up in the designated raffle ticket line where they will be given a raffle ticket to participate. Winners will be drawn at the beginning of the autograph session and will receive an exclusive shikishi board for the artist to sign.
Source:
https://www.facebook.com/OtakuthonMTL/

Article edited on 2019-07-31 08:54:25 by Sunain