Welcome to PocketMonsters.net
PocketMonsters.net
is a fansite dedicated to all things Pokémon (ポケモン) and Pocket Monsters (ポケットモンスター). We are the premier site for news and information about all aspects of the franchise from around the world. We cover the
Anime
,
indexing the music
, the
Trading Card Game
, the
Games
, the
variety shows
, have a
large imageboard
,
forum
and much more.
Follow us on Twitter
and
Subscribe to our RSS Feed
for the latest updates!
Latest News

07 Nov
29 Oct
27 Sep
19 Sep
31 Aug
22 Jul
News Tag Filter:
Apple iOS
Nov 07
<
A new set of Pokémon LINE stamp called
Irasutoya × Pokémon Pika Pika Stamp (いらすとや×ポケモン ぴかぴかスタンプ)
is now available in the stamp shop! These stamps feature Pokémon and trainers from the Nintendo Switch games Pocket Monsters Sword and Shield. The illustrations were drawn by Takashi Mifune, an illustrator known for his work on the free material site Irasutoya. These stamps are not only for everyday use, but also depict scenes from the game. Take advantage of the stamps and use the LINE stamps in your chats! The 40 stamp set costs 250 yen (including tax) or 100 coins per set and is available as of November 3rd, 2020. The stamp shop is only available on the iOS and Android versions of LINE.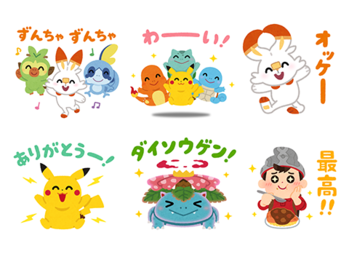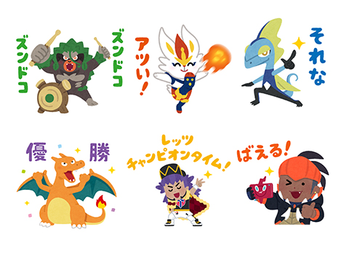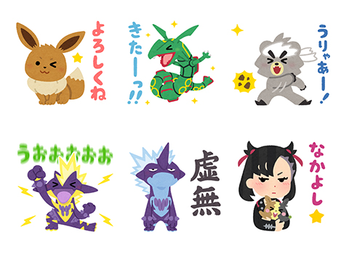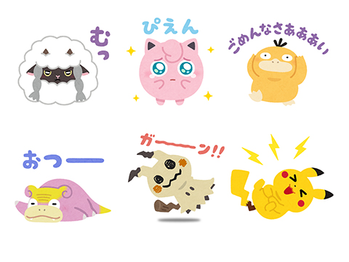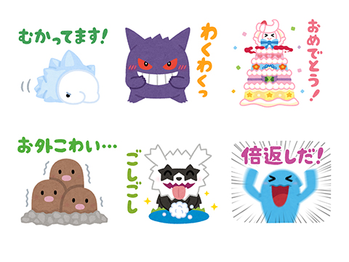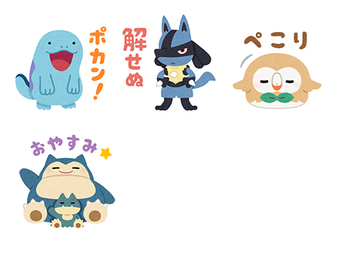 Sources:
https://www.pokemon.co.jp/goods/2020/11/201106_ph01.html
and
https://store.line.me/stickershop/product/18938

Article edited on 2020-11-07 11:27:21 by Sunain
Oct 29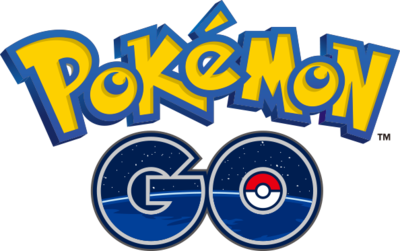 Niantic has posted the release notes for the Pokémon GO version 0.191 update which was released on October 29th, 2020.
Pokémon GO - 0.191 Release Notes
Note: For Apple Users, this release will show as version 1.157 in the App Store.
Updates
In Trainer Battles, the switch menu has been replaced by two buttons on the right side of the screen to more easily access the Pokémon you can switch to during your battles
In Trainer Battles, the switch animation camera angle has shifted so that you are able to see your Pokémon's HP bar when your opponent is switching their Pokémon
Soon, battle parties will be saved on your account itself instead of on your device, meaning they'll be synced when you reinstall the game or change devices
The Flying-type Charged Attack mini-game has been slightly slowed down
You can now navigate from a Pokémon's detail page directly to its Pokédex entry
You can now navigate from a Pokédex entry directly to the Pokémon storage to see all Pokémon you have of that species
Soon, you'll be able to see more information about the Pokémon you obtain on the Pokémon detail page. Note that this will not backfill information on Pokémon you've obtained prior to this feature.
A new loading screen has been added
Bug Fixes
Fixed an issue that caused invited friends to be removed from a raid if all Pokémon in their battle party faint
Fixed an issue that caused the "Remove Friend" button to be cut off from the bottom of the Friend detail page on devices with certain aspect ratios
Fixed an issue that caused Adventure Sync to not work on some devices on Android 9 and below
Fixed a visual error that showed eggs to be incubating when tapping on them from the Egg menu, regardless of whether they were in incubators or not
Fixed an issue that caused the app to freeze when collecting Avatar items from Special Research rewards
Fixed an issue that caused wins to not be recorded properly in GO Battle League
Fixed an issue that caused the Best Buddy Pokémon CP boost to not be applied without first interacting with your buddy
Fixed an issue that caused the account linking option to be missing from the Settings Menu
Source:
https://niantic.helpshift.com/a/pokemon-go/?s=release-notes-known-issues&f=0-191-release-notes&p=web

Article edited on 2020-10-31 05:30:34 by Sunain
Sep 27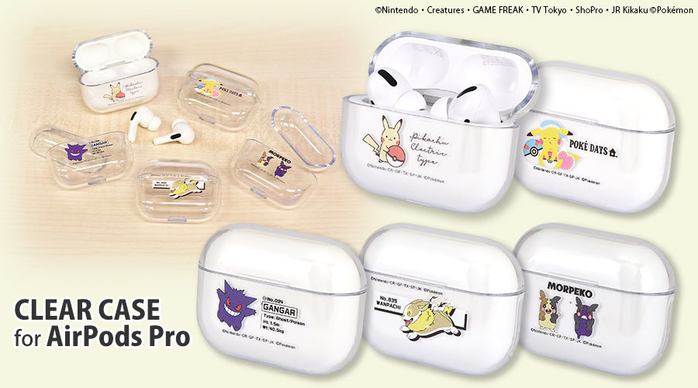 AirPods Pro Clear Cases with Pikachu, Gengar, and some Pokémon from the Galar region are now available! Prevents scratches and protects from minor vibrations and impacts with these cases. The Lightning connector can be connected without removing it from the case. There are five types: Pikachu, Pikachu, Gengar, Wanpachi and Morpeko. The cases were released in late September 2020 for 2,178 yen each (tax included).
Product Images: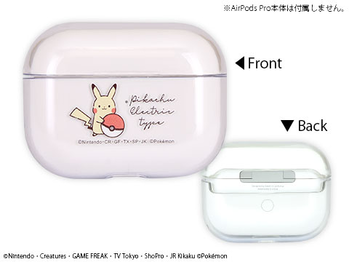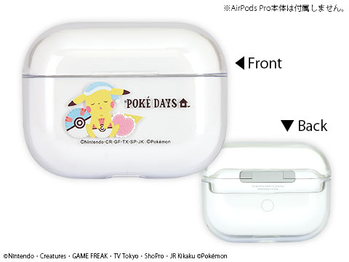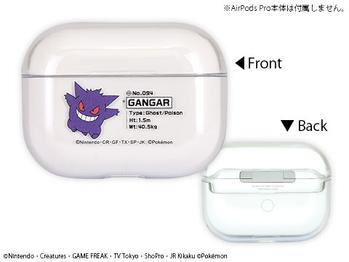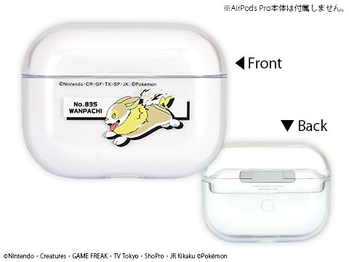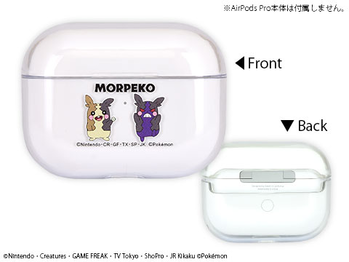 Product Details:
Distributed by: Gourmandise Inc. (株式会社グルマンディーズ)
Release date: Late September 2020
Price: 2,178 yen each (tax included)
Source:
https://www.pokemon.co.jp/goods/2020/09/200925_ph02.html

Article edited on 2020-09-27 06:58:22 by Sunain
Sep 19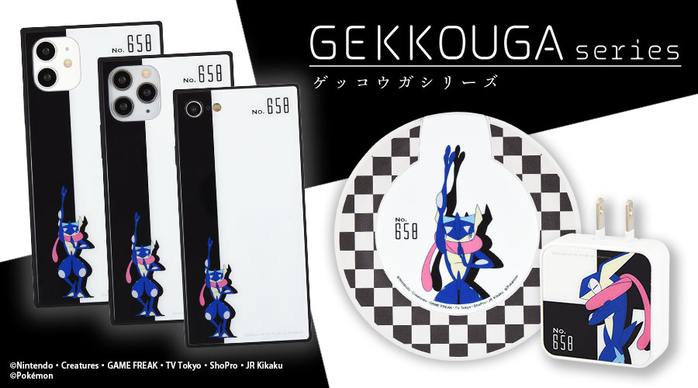 The Gekkouga Series is stylishly designed mobile items featuring the Pokémon Gekkouga! The Square glass case has double injection construction of hardened glass and TPU to prevent scratches and protect against minor vibrations and impacts! It has a strap hole for attaching a strap. Compatible models: iPhone SE (2nd generation) / 8 / 7, iPhone 11 Pro, iPhone 11 / XR
The AC plug is foldable and can be stored compactly. Power can be supplied from the 2 USB output ports at the same time. It supports fast charging. The maximum output is 2.4A (total of two ports).
The Wireless Charger can charge your devices. Just put your wireless charging device on top of the charger and start charging! The LED turns red when it's on standby and blue when it's charging. It has Overvoltage protection, undervoltage protection and short circuit protection. Input is 5V / 1.5A, output is 5W.
Prices:
Square Glass Cases: 3,168 yen each
USB 2 port AC adapter: 2,178 yen
Wireless Charger: 3,278 yen
Source:
https://www.pokemon.co.jp/goods/2020/09/200918_ph01.html

Article edited on 2020-09-22 06:20:17 by Sunain
Aug 31
Niantic has annnounced that Pokémon GO players that have devices that use Android 5, iOS 10, and iOS 11, as well as iPhone 5s and iPhone 6, will no longer be able to play the game after an update in October 2020.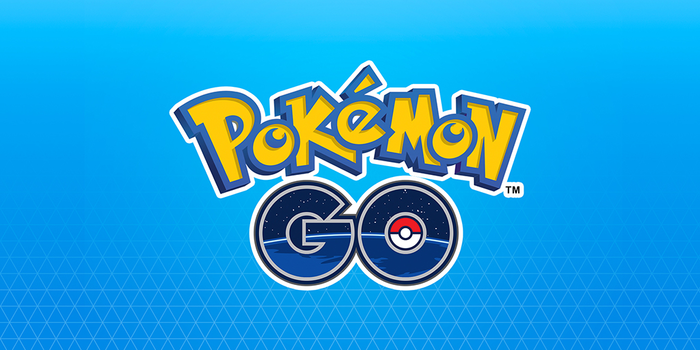 Pokémon GO to discontinue support for Android 5, iOS 10, and iOS 11, as well as iPhone 5s and iPhone 6
Trainers, In an upcoming update to Pokémon GO in October, we will end support for Android 5, iOS 10, and iOS 11, as well as iPhone 5s and iPhone 6 devices. Only Trainers with devices running Android 5, iOS 10, or iOS 11, as well as Trainers with iPhone 5s or iPhone 6 devices, will be affected by this change. Trainers with devices or operating systems not specifically listed here will not be affected and don't need to take any action.
If you're unsure whether your device falls in one of these categories, please check with your device manufacturer.
Trainers using affected devices will no longer be able to access Pokémon GO, including any accumulated PokeCoins or collected items on their accounts, when the version 0.189 update goes live in mid-October. We encourage Trainers using any of the listed devices to consider upgrading them if they wish to continue playing Pokémon GO. Be sure to have your account info and password saved somewhere so you can log back in on a new device!
Note: Even if you're able to install and run Pokémon GO on such devices after the release of version 0.189, we'll no longer be able to provide support if you run into any technical issues.
Source:
https://pokemongolive.com/en/post/ios10-ios11-android5-discontinued-support/

Article edited on 2020-08-31 07:05:45 by Sunain
Jul 22
The official Pokémon website has announced that Pokémon Rumble Rush service had ended and can no longer be played as of July 22nd, 2020.
The game was announced on May 15th, 2019
and was released worldwide on May 22nd, 2019 on Android and July 23rd, 2019 on iOS.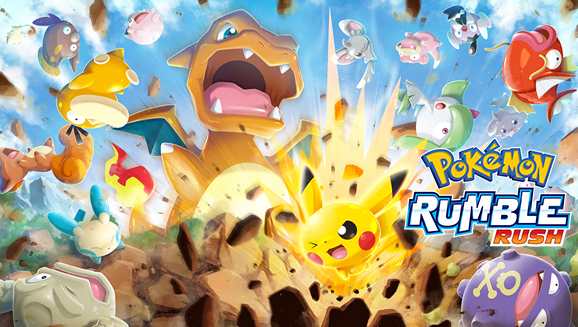 Pokémon Rumble Rush Service Ending
The mobile game is no longer available and game service has ended.
Pokémon Rumble Rush has been retired and services for the mobile game have ended. From this point on, you cannot install it for the first time or update this app. You also cannot play any previously installed version of the app. Additionally, unused Poké Diamonds can no longer be used or redeemed.
Thank you for enjoying Pokémon Rumble Rush.
Source:
https://www.pokemon.com/us/pokemon-news/pokemon-rumble-rush-service-ending/

Article edited on 2020-07-22 02:53:30 by Sunain