Welcome to PocketMonsters.net
PocketMonsters.net
is a fansite dedicated to all things Pokémon (ポケモン) and Pocket Monsters (ポケットモンスター). We are the premier site for news and information about all aspects of the franchise from around the world. We cover the
Anime
,
indexing the music
, the
Trading Card Game
, the
Games
, the
variety shows
, have a
large imageboard
,
forum
and much more.
Follow us on Twitter
and
Subscribe to our RSS Feed
for the latest updates!
Latest News

06 Jun
03 Aug
02 May
20 Nov
29 Jun
15 May
News Tag Filter:
CD
Jun 06
The official Pokémon movie website has updated. Translations follow:

The theme song for "Pocket Monsters the Movie: Everyone's Story" has been decided!
This year, the theme song will be "Breath", which has been written specifically for the movie by Porno Graffitti.
This is a song that carries a warm melody while strings on real instruments are impressively throbbing away alongside a simple track where the number of sounds have been tightened down as much as possible.
It's a song that synchronizes with the movie's story, and that has lyrics that encourage not letting yourself get swept away by the opinions that surround you, not losing sight of your true self, but to continue onwards towards the future you believe in.
A promo video that utilizes the song has also been released: This is a special video that allows you to listen to the sound source earlier than anywhere else.
Porno Graffitti's New Single: "Breath"
Release date: Wednesday July 25th 2018
Start date for digital distro: Friday July 6th 2018
*Limited edition:
CD+DVD SECL-2307~2308 2000 yen
(DVD contains footage from the "ROCK IN JAPAN FESTIVAL 2017" concert from August 2017)
*Regular edition:
CD only SECL-2309 1300 yen
*Anime edition: CD+DVD SECL-2310~2311 1600 yen
(DVD contains the "Breath (movie ver.) music video, which uses footage from "Pocket Monsters the Movie: Everyone's Story")
Comments from Porno Graffitti:
Comment from Akihito Okano
I am extremely honored that I get to handle the theme song.
I am positive that once they've watched this movie, everyone will brighten up and become filled with the strength to head towards tomorrow.
We made this song hoping that it could encourage those people and give them a push forward, even if it only acts as a slight breeze.
I think of it as a pop song that I believe adds flowers to the movie in our own special way.
Comment from Haruichi Shindo
I got the opportunity to consult the director before starting to work on this song.
He told me that this year's movie is a story where the characters that appear all deal with their own respective little problems and manage to overcome them.
It would be great if humans could also change their form and appearance drastically the way Pokémon do when they "evolve", but since they can't, we have no choice but to encourage the people we currently are. This is what I was wondering if I'd be able to express through song.
Porno Graffitti's profile:
Okano and Shindo are from Innoshima Island, Hiroshima. They formed a band while in high school. Then, in 1999, they accomplished a powerful major debut with their first single, "Apollo".
They were immediately widely recognized as a new type of artists, and when they released their 3rd single, "Music Hour", the next year, they became the talk of the town that summer. Their 4th single, "Saudade", was a huge hit, as were singles like "Saboten", "Agehacho", "Melissa", "Ai ga yobu hou e", etc. In 2004, 5 years after their debut, they released their two first best-of albums, "PORNO GRAFFITTI BEST RED'S" and "PORNO GRAFFITTI BEST BLUE'S", at the same time, which not only got them their first no 1 position on the Oricon album charts, they were such record-breaking hits they monopolized both the first AND second position on the chart for two weeks in a row.
In 2013, 15 years after their major debut, they released the best-of album "PORNOGRAFFITTI 15th Anniversary "ALL TIME SINGLES"", which included all their singles, grabbing the no 1 spot on the Oricon Weekly Chart.
In 2015, they released "RHINOCEROS", their 10th original album and their first one in 3 and a half years, and it too grabbed the no 1 spot on both the daily and weekly Oricon charts.
Last year, in March 2017, they held their first solo concert in Taiwan. They were so popular the initially announced first-day concert tickets sold out immediately, so they held a second concert the next day. They were riding on that momentum last summer, so in addition to making energetic appearances at huge music festivals like "ROCK IN JAPAN FESTIVAL 2017", "MONSTER baSH 2017", "SPACE SHOWER SWEET LOVE SHOWER 2017" and the like they also went on a long tour all across Japan, holding 39 concerts in 32 locations, and everything sold out the first day tickets went on sale.
The momentum hasn't stopped yet either, as their latest single "Chameleon Lens", which was released Wednesday March 21st 2018, has become the talk of the town alongside "Holiday Love" on the TV Asahi Network, which it serves as the theme song for.
Porno Graffitti still have fans from multiple generations, and now that they're approaching the 20th anniversary of their debut, they've decided hold outdoors concerts on September 8th and 9th 2018 in their birthplace Hiroshima to kick off the year of their 20th anniversary.
Porno Graffitti's official website
Source:
http://www.pokemon-movie.jp/shudaika/

Article edited on 2018-06-24 11:48:38 by Adamant
Aug 03
The official Pokémon movie website has updated. Translations follow:
The "Pokémon the movie XY&Z: Volcanion and the Ingenious Magearna Music Collection" is Currently on Sale
Here is the original soundtrack to "Pokémon the movie XY&Z: Volcanion and the Ingenious Magearna"! The heatbursts of the battles and the emotional moments that brought tears to your eyes get reborn as high quality sound!! This is the first time an original Pokémon soundtrack is available in Blu-specCD2 format!
The soundtrack also comes with "an original Pikachu drink coaster & character stickers" as a limited first print extra!
*These limited editions of the soundtrack will be available as long as supplies last, and will then be replaced with the standard edition.
The soundtrack is currently on sale with a retail price of 2700 yen (tax included)!
For further informtion, see this page on the
Sony Music Shop
Source:
http://www.pokemon-movie.jp/news/?p=2376
May 02
The soundtrack for the
19th Pokémon Movie - Volcanion and the Ingenious Magearna
has been announced by Sony Music. This album will be the first Pokémon CD to feature the
Blu-Spec CD2
technology. A Blu-spec CD can be played on all standard CD players.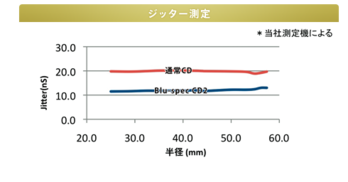 "Blu-spec CD2 employs the Phase Transition Mastering, the technology developed for mastering of Blu-ray discs, to further perfect the acclaimed characteristics of Blu-spec CD. Fully compatible with standard CD players, Blu-spec CD2 completely alters the experience of music."
The CD will be available in Japan on July 27th, 2016 for 2700yen. It's catalog number is MHCL-30391.
The CD has been added to our database and will be updated when more information is revealed
.
Sources:
http://www.blu-speccd2.jp/

Article edited on 2016-05-02 06:05:29 by Sunain
Nov 20

The official website for the
Pocket Monsters XY&Z Character Song Project
, which launched in late October some time prior to the premiere of the Pocket Monsters XY&Z TV series, has updated with the revelation of a third character song,
The Rocket Gang Team Song (ロケット団 団 歌)
, featuring
Musashi
,
Kojiro
,
Nyarth
and
Sonansu
, following the XY&Z opening theme
"XY&Z"
, featuring
Satoshi
, and the XY&Z ending theme
"The Squishy Song"
, featuring
Eureka
. The song will be available at select digital music services from January 20th, 2016.

In addition to this song, the new
"Character Song Room"
subsite on the website, which contains purchase links for the two already-released songs, also teases the existence of three additional songs.
What is the Pokémon Character Song Project?
In order to liven up Satoshi and his friends' adventure, a music laboratory constantly researches music. The songs that have been researched at the laboratory then get sent to everyone that love Pokémon by "The Character Song Project" and the designated executive producer of this character project is, incredibly enough: Good old Tomohisa Sako of "Getta Banban" fame!! The "character song project" will involve a wide variety of characters singing!! Look forward to it!!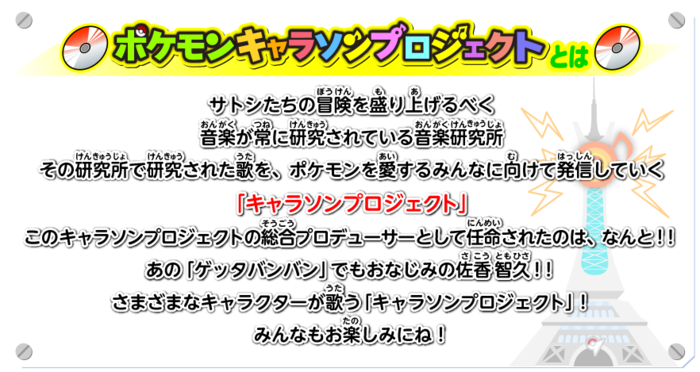 The first Character Song Project CD collection was also announced. Two versions of the CD will be released:
The 1600 yen
Limited Edition
comes with a DVD containing creditless versions of the Pocket Monsters XY&Z OP and ED, as well as a yet announced tretta. The 1300 yen
Standard Edition
will just include the CD.
Details of both these CDs have been added to our database
.
Source:
http://www.pokemon-xyz-charactersongproject.com/

Article edited on 2015-11-26 11:18:25 by Adamant
Jun 29
The Pokémon Company International announced the
Pokémon Jukebox
app for regions outside of Japan. The app is the same as the
Pokémon Ongaku Zukan (ポケモン音楽図鑑)
one released in Japan earlier in the year. The app is free but tracks cost $0.99 for single tracks and $1.99 for medleys. We recommend though if people wish to listen to this Pokémon music that they buy the
CD
's or the
iTunes tracks
which are significantly cheaper and are more useful to use on other devices.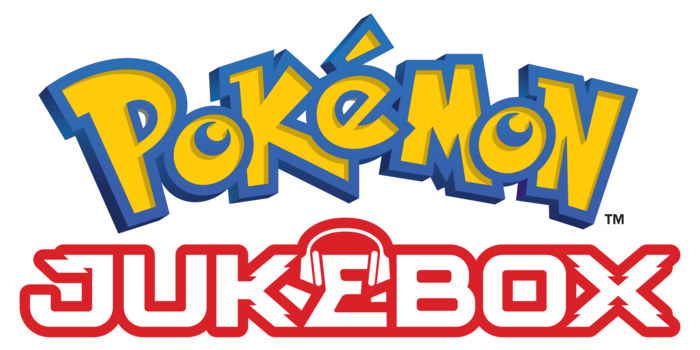 Pokémon Jukebox Launches on Google Play
New Android App Lets Pokémon Fans Listen to Music from Classic and Current Pokémon Video Games - The Pokémon Company International today announced the launch of Pokémon Jukebox, an Android app that lets users listen to music from their favourite Pokémon video games. The app can now be downloaded at no charge on Google Play at the following link: LINK
In Pokémon Jukebox, fans encounter three new Pokémon songs each day which they can listen to at no charge. Songs are also available for users to buy through in-app purchase. The app contains numerous features, including playlist creation, looping, keyword song search, custom tagging, medleys, and more. Everyone from the most committed Pokémon enthusiast to the newest Pokémon Trainer will be coming back for more.
In the first month, Pokémon fans can enjoy over 200 Pokémon songs from the adventures in Pokémon Red, Blue, FireRed, LeafGreen, HeartGold, and SoulSilver. Additional songs are planned to be released from the Pokémon series titles, including Pokémon X and Pokémon Y and Pokémon Omega Ruby and Pokémon Alpha Sapphire!
Pokémon Jukebox features include:
Daily Songs: Access three unlocked songs from various Pokémon series titles each day for no charge.
In-App Song Purchases: Purchase specific songs to make them playable at any time.
Keyword Song Search: Search for songs with keywords and concept tags like "Battle," "Opening," "Route," and others.
Playable Sound Effects: Play preset sound effects along with the music using a built-in sound effects button.
Loop Functionality: Enable an endless loop for songs, just like during normal gameplay, or set the number of loops for each song.
Custom Tagging: Create original tags, such as "Intense Songs," and connect them to any song.
Mix Feature: Set whether songs fade out when they end or immediately jump to the next song without a break.
Medleys: Purchasable medleys play several songs together in one long collection based on themes such as "Battles" or "Routes."
Playlist Creation: Create a playlist of songs to listen to, including shuffle and repeat functionality.
Pokémon Jukebox is not available for Apple devices, but Apple users can continue to purchase Pokémon songs from the iTunes store.
Introducing the Pokémon Jukebox Android App! - YouTube Trailer

Article edited on 2015-06-29 05:14:21 by Sunain
May 15
The official Sony Music Japan website and the official Pokémon Tretta website have announced
new CD's
for the
Movie 18
theme song Tweedia sung by Rei Yasuda (安田レイ) and the third XY ending theme
Gaogao All Stars (ガオガオ・オールスター)
sung by Little Glee Monster. All the CD's will be released in Japan on July 15th, 2015.
Full details of these CD's will be added to our database when they become available
.
There are two Tweedia CD's, a
Time Limited Edition with DVD
and a
Regular Edition
. The Time Limited Edition will also come with a Rayquaza Tretta.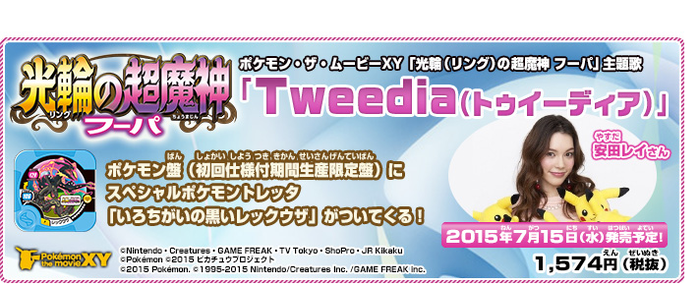 There are 3 CD's that include
Gaogao All Stars
: a
Time Limited Edition
, a
Regular Edition
and a
Limited Edition with DVD
. The Little Glee Monster's 3rd single CD's are currently untitled. A special Satoshi's Pikachu tretta will also be included with the
Time Limited Edition
.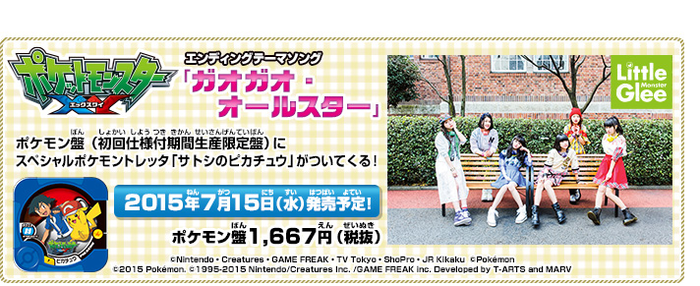 Sources:
http://www.pokemontretta.com/event/e150515_1/
and
http://www.pokemontretta.com/event/e150515_2/

Article edited on 2015-05-15 06:01:38 by Sunain