Welcome to PocketMonsters.net
PocketMonsters.net
is a fansite dedicated to all things Pokémon (ポケモン) and Pocket Monsters (ポケットモンスター). We are the premier site for news and information about all aspects of the franchise from around the world. We cover the
Anime
,
indexing the music
, the
Trading Card Game
, the
Games
, the
variety shows
, have a
large imageboard
,
forum
and much more.
Follow us on Twitter
and
Subscribe to our RSS Feed
for the latest updates!
Latest News

30 Jan
13 Jul
23 Feb
25 May
06 Jan
21 Jul
News Tag Filter:
Diamond and Pearl
Jan 30
The Pokémon Company International and Hulu have announced that the Pokémon Anime is now available to watch on the streaming service. Hulu is available to residents of United States and they can now watch the first 5 episodes of
Diamond and Pearl
for free. The first 2 episodes of
Pokémon the Series: XY
will be available to watch for free soon.

For subscribers of the United States version of Hulu Plus, the entire
Diamond and Pearl
is available with
Pokémon: DP Battle Dimension
,
Pokémon: DP Galactic Battles
and
Pokémon: DP Sinnoh League Victors
becoming available soon.
Pokémon Origins
, the
10th movie Pokémon: The Rise of Darkrai
as well as the 11th, 12th and 13th movies will also be available soon. Hulu Plus costs $7.99 USD a month.
The Latin American Spanish version of the show will also be available on Hulu in the future.
Sources:
http://www.hulu.com/pokemon
and
http://www.pokemon.com/us/pokemon-news/anim_hulu-2014-01-30/

Article edited on 2014-01-30 02:49:44 by Sunain
Jul 13
The official Pokémon website
revealed last week
that the first ever Pokémon Game Show (ポケモンゲームショー) will be held at Tokyo Big Site (東京ビッグサイト) August 17th, 2013 and August 18th, 2013. Admission is free to the event. Robert from Pokémon Smash will also be in attendance and there will be a lottery to determine who can battle them at the event. This will be the first time that people will be able to play the demo for Pokémon X and Pokémon Y.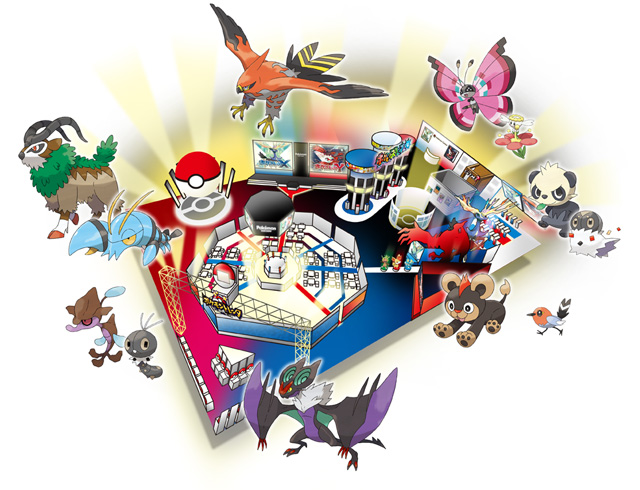 Champions' Pokémon Event Distribution
Players of the Japanese version of Pocket Monsters Black 2 and White 2 will be able to download 1 of the 7 Champions' Pokémon. Below is a chart of the Pokémon that players will be able to choose from and their corresponding Champion and game.
In addition, Limited edition original T-shirts of the Pokémon Game Show, Pokémon Center merchandise and
Pokémon Center 'Pokémon of the Area' Figure Beaded Straps
will be available to purchase.
Pocket Monsters Black 2 White 2 / Scramble U Battle Corners
Areas will be set aside for gamers to play and battle each other in Pocket Monsters Black 2 White 2. Also there will be an area for
Pokémon Scramble U
with vending machines for people to purchase NFC figures. The Pokémon Game Show event also marks the first time that players will be able to get Black Kyurem and White Kyurem NFC figures for the game.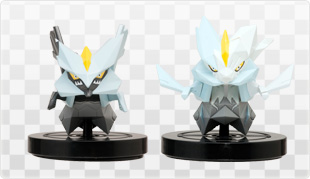 Pokémon Tretta
Visitors will be able to receive a
special Pikachu Rookie Tretta
on a first come first serve basis. To promote the 16th Pocket Monsters movie, a special
Red Genesect Trophy Tretta
can be obtained if players defeat it in the Challenge Cup.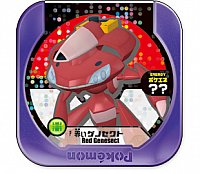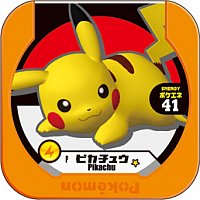 This will also be the first time that people will able to play
Pokémon Tretta Lab for Nintendo 3DS (ポケモントレッタラボ for ニンテンドー3DS)
. The application will be released in Japan on August 10th, 2013. Tretta players are welcomed to bring their Tretta's to try them out in the Tretta Lab.

Article edited on 2013-07-13 08:01:54 by Sunain
Feb 23
Aoni Production announced on Friday February 22nd, 2013 that
Chieko Honda (本多知恵子)
died due to
Multiple myeloma cancer
and had been undergoing medical treatment in hospital at the time. She died on February 18th, 2013. She was best known to Pocket Monsters fans as the voice actor for
Natane (ナタネ)
.
Source:
http://www.aoni.co.jp/
May 25
Four new CDs have been announced and will be released in Japan over the next couple months.
Become a Pointer! (やじるしになって!)
is the new opening theme for
Pocket Monsters Best Wishes Season 2 (ポケットモンスター ベストウイッシュ シーズン2)
which debuts on June 21st, 2012. The song is sung by Rica Matsumoto (松本梨香), the CD catalog number is ZMCP-6093 and it will be released on July 18th, 2012 for 1365yen. The CD contains 5 tracks including the 3rd unique ending theme from Best Wishes
Seven-colored Arch (七色アーチ)
but also the final ending theme from Diamond and Pearl
In Your Heart (君の胸にLaLaLa)
which had yet to be released on CD until now.
Also announced was the
Nintendo DS Pokémon Black 2 White 2 Super Music Complete (ニンテンドーDS ポケモンブラック2・ホワイト2 スーパーミュージックコンプリート)
CD. The CD will contain game background music from the newest games as well as unreleased tracks from from Black and White, Emerald and Platinum. The 4 disc set will contain 174 tracks and will be released in Japan on July 25th, 2012 for 2,625yen.
The
Theatrical Edition Pocket Monsters Best Wishes Feature 'Kyurem VS the Sacred Swordsman Keldeo' and Short 'Meloetta's Sparkling Recital' Music Collection (劇場版ポケットモンスター ベストウイッシュ 長編「 キュレムVS聖剣士 ケルディオ 」&短編「 メロエッタのキラキラリサイタル 」 ミュージックコレクション)
CD was also announced and will feature instrumental music from this years anime movie. Once again Shinji Miyazaki (宮崎慎二) and Akifumi Tada (多田彰文) have composed the music for the movie. Not much information has been released about the CD's as that is normal to reduce movie spoilers. The CD's catalog number is ZMCP-6094 and it will be released on August 3rd, 2012 for 2,940yen.
Finally, Aki Okui (奥井亜紀) is releasing a new CD that contains the first ending theme for Pocket Monsters Best Wishes
Fanfare of the Heart (NEW Arrange ver.)
. The CD is called
OPENER
, its catalog number is ZMCZ-8042, it contains 12 tracks which are mainly other anime themes she has sung, and it will be released on July 25th, 2012 for 2,940 yen.
The CDs have been added to our database and information about them will be updated as it becomes available
.
Sources:
http://www.pokemon.co.jp/info/2012/05/120525_gd01.html
and
http://www.neowing.co.jp/

Article edited on 2012-05-31 03:10:57 by Adamant
Jan 06
Various DVD retailers have added information about the upcoming
Pokémon DP: Sinnoh League Victors
DVD box sets that will be released in Canada and the United States. The sets are still behind Australia though as Magna Pacific announced last month that they'd be releasing the first
Black and White: Collection
DVD set in mid February. Also revealed was the UK release of the 14th movies
Pokémon The Movie: Black - Victini and Reshiram / Pokémon The Movie: White - Victini and Zekrom
. Below is the basic information on the DVD's that were announced.
The DVD's have been added to our database and more information about them can be found there.
14th Movies UK
SLV (Box Set 1)
SLV (Box Set 2)

Release Date: 2012-04-09
DVD DB Link: Click Here
Release Date: 2012-02-28
DVD DB Link: Click Here
Release Date: 2012-05-01
DVD DB Link: Click Here

Article edited on 2012-01-06 10:27:57 by Sunain
Jul 21
The latest ANA short
Pocket Monsters Diamond&Pearl Pikachu's Really Mysterious Adventure (ポケットモンスター ダイヤモンド・パール ピカチュウのふしぎなふしぎな大冒険 )
was
released on DVD
in Japan on Saturday.
A lost Unknown meets Pikachu and Pochama and an Eneco who decide to help it find its way back to its home and friends. They travel through many strange and mysterious realms while on their adventure. Will Unknown return to its realm safely or will Rocket Gang manage to capture it!?
Characters
,
Summary
and
Pictures
from this episode have been added to the
episode guide
. You can also
comment and discuss
this episode on the forum. Also be sure to rate this and other episodes in the
episode guide
.

Article edited on 2011-07-21 09:18:16 by Sunain