Welcome to PocketMonsters.net
PocketMonsters.net
is a fansite dedicated to all things Pokémon (ポケモン) and Pocket Monsters (ポケットモンスター). We are the premier site for news and information about all aspects of the franchise from around the world. We cover the
Anime
,
indexing the music
, the
Trading Card Game
, the
Games
, the
variety shows
, have a
large imageboard
,
forum
and much more.
Follow us on Twitter
and
Subscribe to our RSS Feed
for the latest updates!
Latest News

27 Dec
15 Oct
20 Feb
01 Jun
24 Sep
News Tag Filter:
Facebook
Dec 27
The Pokémon Company and Facebook Gaming announced that they have debuted two new Pokémon games that are exclusively available on Facebook Gaming called: Pokémon Tower Battle, developed by Bombay Play, and Pokémon Medallion Battle, developed by GCTurbo.
The Pokémon Company debuts new games exclusively on Facebook Gaming
We're excited to welcome the beloved and iconic Pokémon franchise as they debut two games on Facebook Gaming this December: Pokémon Tower Battle, developed by Bombay Play, and Pokémon Medallion Battle, developed by GCTurbo.
Pokémon Tower Battle, available now worldwide, is a unique take on the Pokémon franchise: players compete by stacking Pokémon against one another to create the tallest Pokémon towers. As players discover, catch and level-up rare Pokémon, they can compete in real-time against friends or across a global leaderboard. It might seem like a simple physics-based puzzler at first, but the strategic choices in where and how players stack Pokémon will determine the true Tower Battle masters.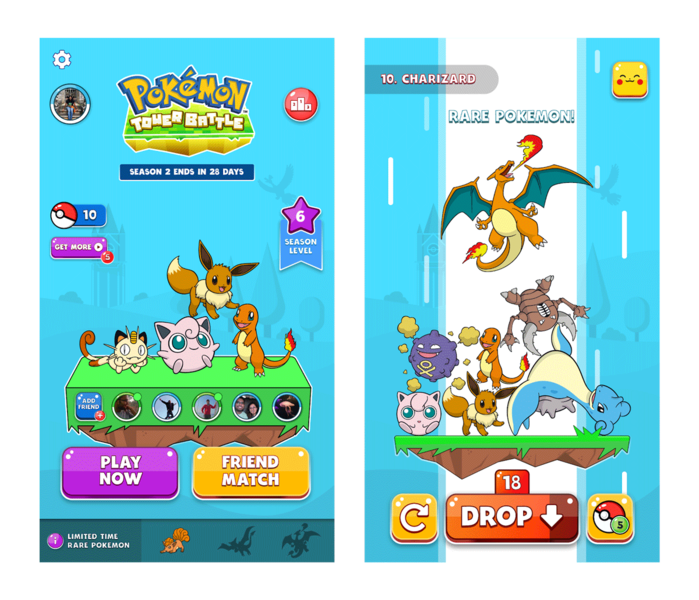 Pokémon Medallion Battle, now available to players in the Asia-Pacific region, is a digital card battle strategy game. In the game, trainers collect, battle and evolve Pokémon in medallion form and embark on a journey with their companions to win gym badges and complete their Pokédex. Players can also discover new Pokémon--introduced every month--to create even better decks.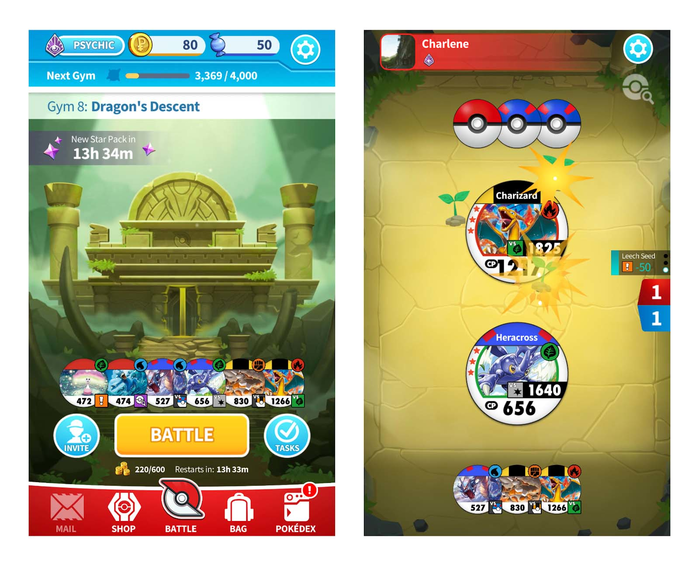 "We are excited to launch two new entries in the Pokémon franchise on Facebook Gaming," said Tsunekazu Ishihara, CEO, The Pokémon Company. "Launching these games through Facebook will allow people all over the world to experience Pokémon in digital form, and we are especially thrilled to collaborate with Facebook Gaming in enabling new audiences to enjoy Pokémon games online."
For those eager to try out Pokémon on Facebook, Tower Battle is now available in all regions through the Facebook Gaming tab and bookmark. Medallion Battle is currently available to players in the Asia-Pacific region*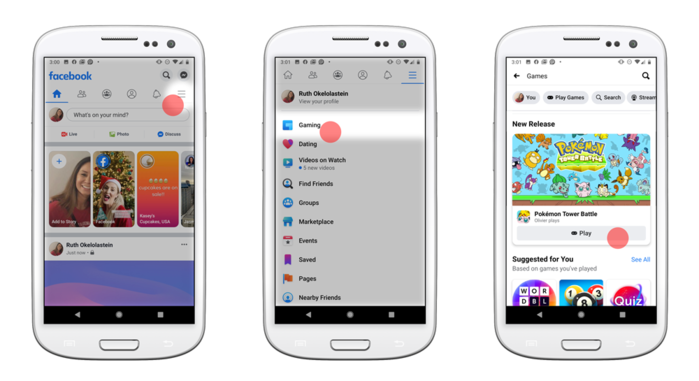 Source:
https://www.facebook.com/fbgaminghome/blog/the-pokemon-company-debuts-new-games-exclusively-on-facebook-gaming

Article edited on 2019-12-27 08:41:00 by Sunain
Oct 15
The official Nintendo Hong Kong website has announced that
Diancie
will be distributed to players of
Pokémon X, Pokémon Y
,
Pokémon Omega Ruby or Pokémon Alpha Sapphire
on October 15th, 2015 and October 29th, 2015. Players needed to login to Facebook in order to receive a code.
Diancie is similar to the one distributed in Japan in 2014 for the 17th Movie in theaters
.
A DVD for the 17th movie will also be available
.
Diancie Information
Level: 100
OT: Universe
Moves:
Diamond Storm
,
Moonblast
,
Reflect
and
Return
Item: Normal Gem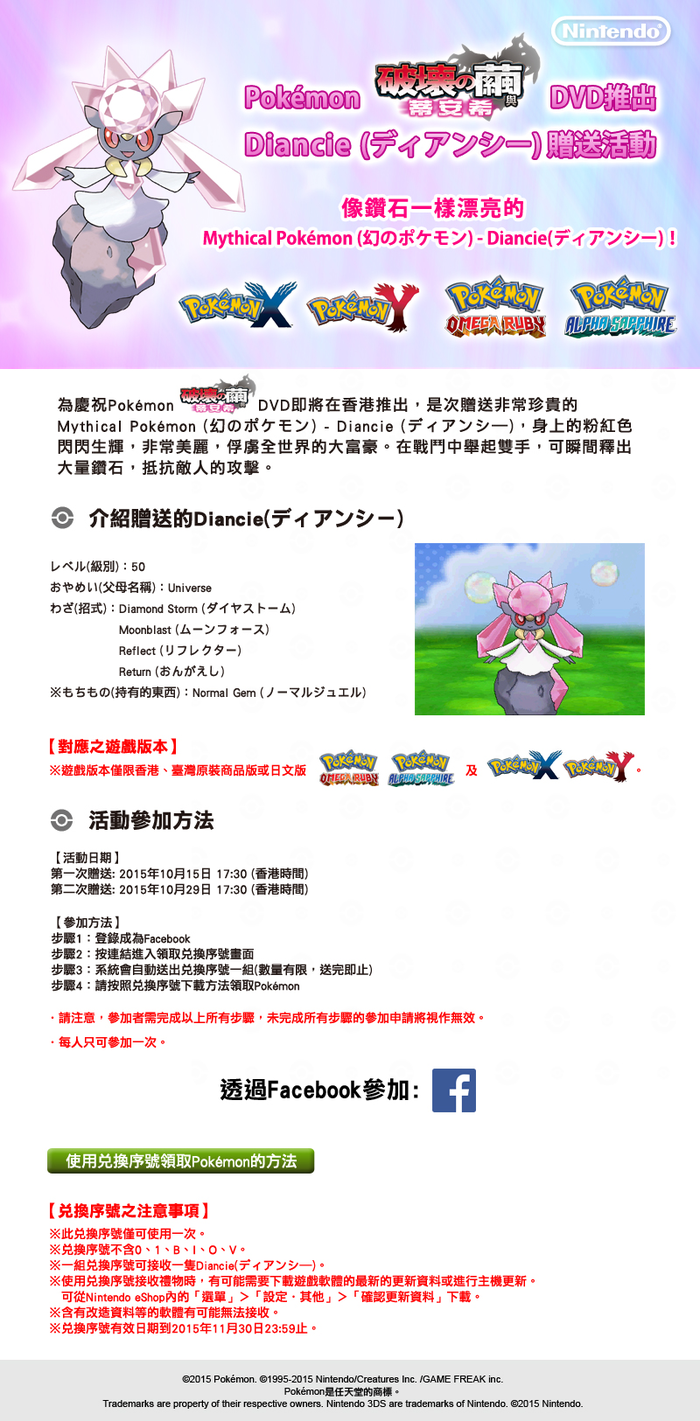 Sources:
http://www.nintendo.com.hk/event/pokemon_event_2015diancie.htm
,
https://www.facebook.com/Nintendo.hk/posts/1671300976419712
and
http://www.nintendo.com.hk/event/pokemon_event_2015diancie_data.htm

Article edited on 2015-10-16 12:28:12 by Sunain
Feb 20
Beyond Home Entertainment has confirmed that the last 4 episodes on the
Pokémon The Series: XY Collection 2 DVD Set
are not included in the set. They have recalled all remaining in stores in Australia but though that have already purchased copies can return their copy when the re-released version is distributed to stores.
Facebook Post
Oops! Our bad, Poké-fans ... we've been made aware of an error on the Pokémon X&Y Collection 2 DVD, which was released two weeks ago. The last four episodes have gone AWOL ... this was due to an incorrect master sent to the manufacturer. If you've already bought a copy, here's what to do: (1) hold onto it; (2) wait until we advise when new (corrected) stock is in stores; and (3) return your copy to your point of purchase for a replacement.
We're really sorry for the inconvenience guys, we hope you still love us, in the same way that we love you (unconditionally that is).
Source:
https://www.facebook.com/BeyondHomeEntertainment/photos/a.397814016983338.1073741825.298828806881860/718138451617558/

Article edited on 2015-02-20 05:27:11 by Sunain
Jun 01
Phillip Smith asked VizMedia on Facebook on May 13th, 2014 if Pokémon Johto League DVD's would be released and VizMedia replied and said that repackaged versions are in the works but no release date was given. From the follow up posts on the thread, it appears that the DVD's will be released late 2014 or early 2015.
Viz and Pioneer initially released Johto DVD's in North America
in the early to mid 2000's but they have since gone out of production and the price of the DVD's on eBay and Amazon has
been seen upwards of a $100 USD per DVD
.
The Johto sets have been reissued a few times in Australia by Beyond Home Entertainment
.
Source:
https://www.facebook.com/OfficialVIZMedia/

Article edited on 2014-06-01 02:35:58 by Sunain
Sep 24
The official English Pokémon Facebook page and Twitter feed launched today and now fans have two more ways to stay in the know about everything going on in the Pokémon world.
Facebook.com/Pokemon
and
http://twitter.com/pokemon
are the addresses for the social media sites. Also be sure to follow our Twitter feed at:
http://twitter.com/PMDotNet
for all the latest information about Pokémon and Pocket Monsters from around the world.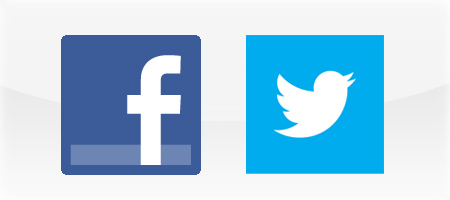 Source:
http://www.pokemon.com/us/pokemon-news/news_socialmedia_announce-2012-09-24/

Article edited on 2012-09-24 12:28:37 by Sunain