Welcome to PocketMonsters.net
PocketMonsters.net
is a fansite dedicated to all things Pokémon (ポケモン) and Pocket Monsters (ポケットモンスター). We are the premier site for news and information about all aspects of the franchise from around the world. We cover the
Anime
,
indexing the music
, the
Trading Card Game
, the
Games
, the
variety shows
, have a
large imageboard
,
forum
and much more.
Follow us on Twitter
and
Subscribe to our RSS Feed
for the latest updates!
News Tag Filter:
Pokémon: Let's Go, Pikachu!
Nov 13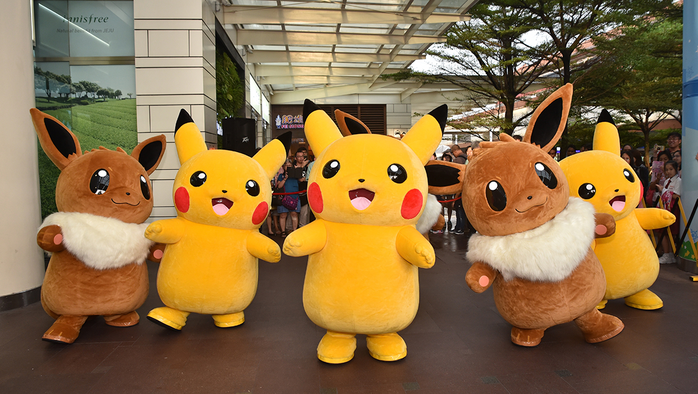 Three malls in Singapore, AMK Hub, Jurong Point and Thomson Plaza will be celebrating the Christmas season with a
Pokémon Christmas Wonderland
event. The event takes places from November 16th, 2018 until December 26th, 2018 where there will be multiple activities for fans to participate in including a Pikachu/Eevee parade, meet and greet times and carnival games. The malls are also decorated with Pokémon related Christmas décor.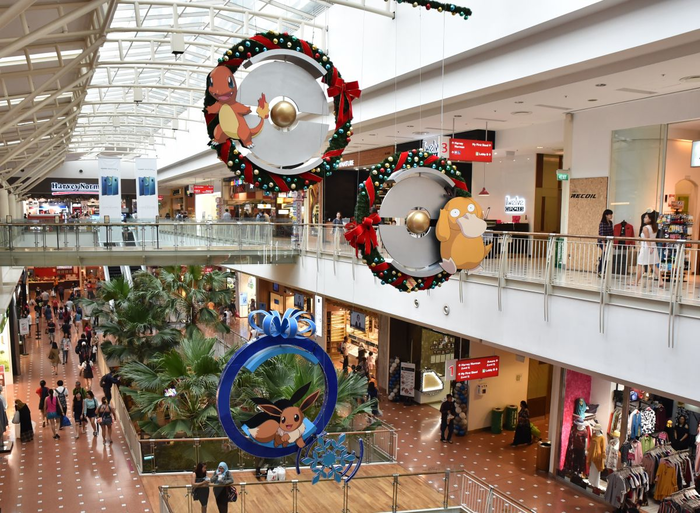 Those that spend $20 at any of the malls or $30 at NTUC Fairprice, Fairprice Xtra and Fairprice Finest, will receive a game pass entry to play the carnival games. A Pokémon: Let's Go, Pikachu! / Let's Go, Eevee trial version will also be setup to play.
Events and Activities:
Activities & Details
AMK Hub
Thomson Plaza
Jurong Point
Pikachu and Eevee Dance Parade
7-9 Dec (Fri-Sun), 3pm
14-16 Dec (Fri-Sun), 7pm
8-9 Dec (Sat & Sun), 7pm
22-23 Dec (Sat & Sun), 7pm
14 Dec (Fri), 3pm
15-16 Dec (Sat & Sun), 3pm
22-23 Dec (Sat & Sun), 4pm
Pikachu Meet & Greet Sessions
24-25 Nov (Sat & Sun), 7pm
1-2 Dec (Sat & Sun), 7pm
8-9 Dec (Sat & Sun), 7pm
15-16 Dec (Sat & Sun), 7pm
21-24 Dec (Fri-Mon), 7pm
8-9 Dec (Sat & Sun), 5pm
15-16 Dec (Sat & Sun), 2pm
30 Nov (Fri), 4pm
1-2 Dec (Sat & Sun), 2pm
7 Dec (Fri), 4pm
8-9 Dec (Sat & Sun), 2pm
14 Dec (Fri), 4pm
15-16 Dec (Sat & Sun), 2pm
21 Dec (Fri), 4pm
22-23 Dec (Sat & Sun), 2pm
Pokémon-themed Carnival Games
3-16 Dec, 12pm-8pm
3-16 Dec, 12pm-8pm
10-23 Dec, 12pm-8pm
Sources:
https://geekculture.co/pokemon-invades-amk-hub-jurong-point-and-thomson-plaza-christmas-2018/
and
https://mothership.sg/2018/11/pikachu-eevee-singapore-amk-jurong-point-tumbler/

Article edited on 2018-11-13 09:55:55 by Sunain
Nov 08
Nintendo has announced that they are doing a
Nintendo Switch Holiday Experience
where they will be setting up kiosks around the United States during the Christmas season which have demos of the latest games for people to try out in person. Super Smash Bros. Ultimate, Pokémon: Let's Go, Pikachu! / Let's Go, Eevee, Super Mario Party, Nintendo Labo, Mario Kart 8 Deluxe, Just Dance 2109 and Overcooked 2 will all be playable.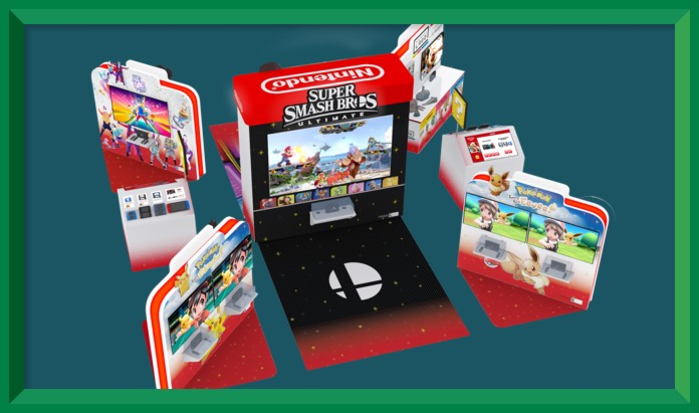 Event locations:
Dates: November 10th, 2018 through December 16th, 2018
Hours: Monday-Thursday 4-9pm, Friday 3-9pm, Saturday 10am-9pm, Sunday 11am-6pm
Arizona - Arrowhead Towne Center - 7700 W Arrowhead Towne Center - Glendale, AZ 85308 - Lower Level - Near Santa Set

California - Del Amo Fashion Center - 3525 W Carson St - Torrance, CA 90503 - Main level between Hugo Boss and Michael Kors

California - Westfield Valley Fair - 2855 Stevens Creek Blvd - Santa Clara, CA 95050 - Level 1 Center Court adjacent to MAC Cosmetics Store

Florida - The Florida Mall - 8001 S Orange Blossom Trail - Orlando, FL 32809 - Between Dining Pavilion and Center Court

Georgia - Mall of Georgia - 3333 Buford Dr - Buford, GA 30519 - Lower Level Belk Court

Illinois - Woodfield Mall - 5 Woodfield Mall - Schaumburg, IL 60173 - Located in Grand Court

Minnesota - Mall of America™ - 60 E Broadway - Bloomington, MN 55425 - The Rotunda

New York - Queens Center - 90-15 Queens Blvd - Elmhurst, NY 11373 - Level 3 Center Court, Near Champs

Pennsylvania - King of Prussia Mall - 690 W. DeKalb Pike - King of Prussia, PA 19406 - Clock Tower Court

Texas - Memorial City Mall - 303 Memorial City Way - Houston, TX 77024 - Begins on Nov. 11 - The Xfinity Fireplace

Virginia - Tysons Corner Center - 1961 Chain Bridge Rd - Tysons Corner, VA 22102 - Lower Level Macy's Court

Nintendo Switch Holiday Experience gives fans a chance to try games—and score a free gift!
Heading to the mall to do some holiday shopping? Be on the lookout for the Nintendo Switch Holiday Experience, coming to select shopping centers around the U.S. starting on Nov. 10. It's a great opportunity to not only try out the hottest Nintendo Switch games of the holiday season, but also get gift ideas for friends and family.
If you are a My Nintendo member and check in at the event, you can also receive a free gift, like a My Nintendo rally towel, a My Nintendo pop socket, a Nintendo Switch tote bag, or Nintendo character stickers! (While supplies last.)
Source:
https://my.nintendo.com/news/e9bebd2024cfdd08

Article edited on 2018-11-09 10:12:07 by Sunain
Nov 07
The Pokémon Company has announced that the Elite Four will return in the upcoming games Pokémon: Let's Go, Pikachu! / Let's Go, Eevee but with a fresh new look!
High resolution images from the press release have been added to an Imageboard thread
.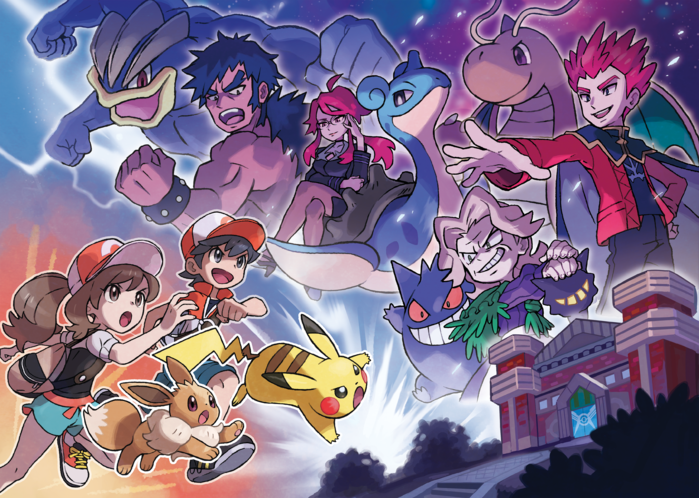 THE ELITE FOUR RETURN WITH A FRESH NEW LOOK
The formidable members of the Pokémon League are back and ready to challenge players of Pokémon: Let's Go, Pikachu! and Pokémon: Let's Go, Eevee! when the games launch on Nintendo Switch later this month. Inspired by Pokémon Yellow: Special Pikachu Edition, the Pokémon: Let's Go, Pikachu! and Pokémon: Let's Go, Eevee! games have given the Kanto region and its inhabitants a major visual update, and the Elite Four are no exception. Check out the new looks for Lorelei, Bruno, Agatha, and Lance in a series of images alongside their cameo appearances in this latest video:
YouTube Trailer - Put Your Skills to the Ultimate Test: Become the Pokémon League Champion!
Source:
https://www.youtube.com/watch?v=ulsNuIXES9s
Nov 01
Nintendo has announced that a Super Smash Bros. Ultimate
Direct
will broadcast on November 1st, 2018 at 10:00am EST / 7:00am PST and it will then be followed by a post-show Nintendo Treehouse: Live presentation which will feature gameplay from the upcoming games Pokémon: Let's Go, Pikachu! / Let's Go, Eevee.
High resolution artwork and screenshots from the Super Smash Bros. Ultimate Direct have been added to an Imageboard thread
.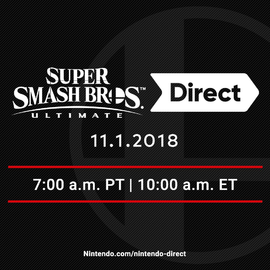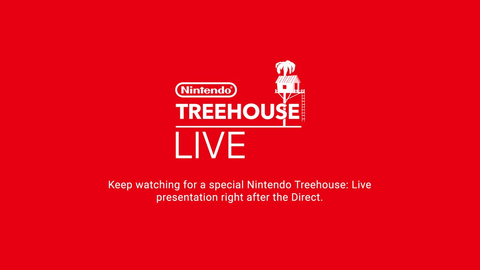 Sources:
https://twitter.com/NintendoAmerica/status/1057271576687595520
and
https://twitter.com/NintendoAmerica/status/1057270899957776384
YouTube Clip - Super Smash Bros. Ultimate Direct 11.1.2018
Source:
https://www.youtube.com/watch?v=fccgHnBQ0YM
YouTube Clip - Super Smash Bros. Ultimate Direct 11.1.2018 - Japanese
Source:
https://www.youtube.com/watch?v=JBqz5vGmMAQ
YouTube Clip - 69: Incineroar – Super Smash Bros. Ultimate
Source:
https://www.youtube.com/watch?v=eE6Agn9d89U
YouTube Clip - Pokémon: Let's Go, Pikachu! and Pokémon: Let's Go, Eevee! - Gameplay - Nintendo Treehouse: Live
Source:
https://www.youtube.com/watch?v=YTHsHQYZuyc
New Revealed Information from Nintendo Treehouse Live
During the Treehouse Live segment, new information about Pokémon: Let's Go, Pikachu! and Pokémon: Let's Go, Eevee! was exclusively revealed.
Some of the highlights revealed in the video include:
Two new moves for Eevee available at a tutor in Celadon City's Pokémon Center: Glitzy Glow and Baddy Bad.
The Fortune Teller can set the Nature of the Pokémon you will encounter.
The IV Judge feature returns.
A Mystery Box that can be obtained once a week.
Super Smash Bros. Ultimate Nintendo Direct Unleashes New Details
New Fighters, Modes, Gameplay Features and DLC Highlighted in Comprehensive Video Presentation; Incentives Offered to Pre-Purchase Digital Version of Game
REDMOND, Wash., Nov. 1, 2018 – In the final
Super Smash Bros. Ultimate
Nintendo Direct video presentation before the game launches exclusively for the
Nintendo Switch
system on Dec. 7, Nintendo blew the lid off of many new modes, fighters and gameplay features of the massive video game crossover event, including details about upcoming DLC. With the reveal of new fighters Ken from the Street Fighter series and Incineroar from the Pokémon franchise, all playable fighters at launch – all 74 of them! – have been unveiled. But more fighters, stages and music tracks will be coming in the form of DLC, which was also announced in the video presentation. To view the Nintendo Direct video in its entirety, visit
https://www.nintendo.com/nintendo-direct
.
Nintendo also announced an incentive for fans to pre-purchase the digital version of the game (and avoid long lines and the holiday rush!). My Nintendo members who pre-purchase the Super Smash Bros. Ultimate game in Nintendo eShop or on Nintendo.com will earn a bonus of 300, or double, Gold Points. This limited-time offer runs now through 11:59 p.m. ET on Dec. 6. The bonus points will be issued on the game's launch day.
"There are still elements of today's presentation that hold a lot of secrets for players to discover, but with the launch of Super Smash Bros. Ultimate only a little more than a month away, this Nintendo Direct presentation is a final look at one of the most massive games Nintendo has ever produced," said Doug Bowser, Nintendo of America's Senior Vice President of Sales and Marketing. "With so much to experience and discover in this game – and with a huge library of other games to choose from – we believe fans are going to be playing a lot of Nintendo Switch this holiday season."
Some of the highlights revealed in the video include:
HadoKEN!: Hailing from the Street Fighter series, Ryu's rival Ken joins the Super Smash Bros. Ultimate roster as an echo fighter. This Ken is based on his appearance in Super Street Fighter II Turbo. While he has some similar moves to Ryu, Ken is a slightly faster fighter and has a different shaped Hadoken.
Incineroar: The final fighter to join the battle in time for the game's launch is Incineroar, the advanced evolution of Litten, who made his first appearance in the Pokémon Sun and Pokémon Moon games. Incineroar uses pro-wrestling moves, culminating in an epic Final Smash called Max Malicious Moonsault, based on his Z- Move from the Pokémon games.





Spirits: In the world of Super Smash Bros. Ultimate, many video game characters lose their forms and become "spirits" that serve as a power-up of sorts for a player's main playable fighter. There is a massive number of wildly different spirits, ranging from Chibi-Robo to Dr. Wily to Tails to Revolver Ocelot, with the giant list of characters going on and on. Players can equip primary and support spirits to power up or add additional abilities like speed or strength to their fighter during battles. Mixing and matching spirits will help players get the upper hand against certain opponents, adding quite a bit of strategy to battles. Equipping a spirit is similar to equipping a charm or accessory in an RPG. It's a way for players to enjoy a massive amount of additional video game characters outside of selecting them as playable fighters.
Spirit Battles: The main way to acquire spirits is to win Spirit Battles. After winning a Spirit Battle, players will have to complete a roulette challenge to acquire that spirit.
Leveling Up Spirits: By battling with spirits by their side, players can level up spirits, giving them extra power and sometimes unlocking enhanced forms. The more leveled up and trained spirits are, the more powerful and useful they are.
Spirit Combinations: With an insane amount of spirits in Super Smash Bros. Ultimate, thousands of combinations can be formed. Players will be constantly surprised and excited by all the spirits that pop up in the game. Because players might collect an abundance of spirits, the game will offer recommendations for primary and support spirits, making the selection process a little bit easier.
DLC: New fighters, stages and music will be coming to Super Smash Bros. Ultimate through the end of February 2020 in the form of paid DLC. For only $5.99, players can purchase one set, which includes a new playable fighter (not an Echo Fighter), a new stage and a variety of music tracks. By purchasing a Fighters Pass for $24.99, players will get access to five yet-to-be-announced sets, which is five new fighters, five stages and multiple music tracks, as they release. Players who purchase a Fighters Pass will also receive an in-game outfit based on Rex from Xenoblade Chronicles 2 starting Dec. 7. Pre-purchasing the digital version of the game with the Fighters Pass in Nintendo eShop or on Nintendo.com before 11:59 p.m. ET on Dec. 6 will earn My Nintendo members 425 bonus Gold Points, or double the usual amount. The bonus points will be issued on the game's launch day.
Early Purchase Bonus: Piranha Plant takes root! The iconic enemy from the Super Mario series is coming to Super Smash Bros. Ultimate for early purchasers. Players can purchase the digital version of the game or register their physical game card on a Nintendo Switch device by Jan. 31, 2019, to gain access to this new fighter when it is available around February 2019 at no additional cost. Piranha Plant, together with a new stage and music tracks, will be available for purchase as DLC in the future. Fans can pre-purchase the game and secure the Piranha Plant reward starting today by visiting http://smashbros.nintendo.com/buy/.
New amiibo: All the new fighters in Super Smash Bros. Ultimate – including DLC! – will get their own amiibo figures. This includes Ken, Incineroar and Piranha Plant, as well as the recently announced Simon Belmont and King K. Rool. The currently scheduled release timing is as follows, with details about future figures on the way:

Inkling, Ridley and Wolf – Dec. 7, 2018
King K. Rool, Ice Climbers and Piranha Plant – Feb. 15, 2019
Isabelle, Pichu, Ken, Young Link, Daisy – 2019






Adventure Mode: World of Light: There may not be a single-player adventure quite like Adventure Mode: Subspace Emissary from Super Smash Bros. Brawl, but something has caused the numerous video game characters in the game to lose their bodies and transform into spirits. While today's Nintendo Direct video provides some sneak peeks, Masahiro Sakurai, the director of the Super Smash Bros. series, wants to keep parts of this new adventure mode secret until the game launches…
Assist Trophies: In Super Smash Bros. Ultimate, assist trophies do exactly what their name suggests – they assist players in battle! Each assist trophy is based on a recognizable video game character and unleashes a variety of different powers, both offensive and defensive. The total number of assist trophies in the game is 59, representing characters like Guile from the Street Fighter series, Isaac from the Golden Sun RPGs, the Fly Swatter from Mario Paint and Spring Man from ARMS.
Mii Fighters: When playing as a Mii Fighter, players can customize their outfits and voice options. Some new Mii Fighter outfits have also been added to Super Smash Bros. Ultimate.
Wireless and Online Play: Super Smash Bros. Ultimate lets players battle together with friends and family members via local wireless* or online**. "For Fun" and "For Glory," which existed in Super Smash Bros. for Wii U and Super Smash Bros. for Nintendo 3DS, are no longer options. Instead, matchmaking is based on three factors: Preferred Rules, which lets players choose their rules for battle and pair up with others with similar preferences, Global Smash Power, an online leaderboard that pits players against others with a similar score, and Proximity, players who are close to each other geographically.
Two-Player Co-op: Two fighters are better than one! When playing Super Smash Bros. Ultimate online, two players can team up on one Nintendo Switch system online and take on other teams with the same setup.
Smartphone Features: With the Nintendo Switch Online app*** on smartphones, players can voice chat with others in battle arenas. A mobile service called Smash World is also being developed. Instead of focusing on stats, the new service allows players to post and watch videos, as well as other fun features. More details about the service will be revealed in the future.
Elite Smash: Once a player's Global Smash Power is high enough, she or he will be invited to compete in elite in-game battles. These VIP matches are for the best of the best and offer some serious competition.
Smash Tag: Everyone who competes online will need to create a unique Smash Tag. By beating a fellow fighter, players will receive their Smash Tag to display on their profile. Collecting a bunch of Smash Tags is a great way to show off high-level Super Smash Bros. Ultimate accomplishments.
Short Messages: Players can select pre-determined short messages, assign them to the control pad and send them to other players before and after battles. The game offers a wide selection of varied preset messages.
Spectator Mode: As in previous games, players can watch other players battle in Spectator Mode. Analyzing the battles of other players can be helpful in learning new strategies and techniques.
Background Matchmaking: Players can play other modes while they search for an online battle. Not every mode will be available while waiting, but it's a great way for players to keep occupied between online battles.
Battle Arenas: Players can create custom battle arenas when playing online that allow them to compete against other players in a more intimate setting. In a battle arena, there are options to join a battle, wait in line or spectate.
Other Features: There is a wide variety of other modes and settings in Super Smash Bros. Ultimate, including:

Help – Living in the easy-to-access dashboard, Help mode offers in-game guides and tips.
Mob Smash – This mode lets players battle an army of fighters on different stages. Players can even select the music tracks associated with a given stage that they want to listen to while battling.
Replay – Players can save replays of their battles and even create shareable videos from them.
Tips – This menu offers quick tips and tricks that players will see on loading screens. When viewing, the tips can be sorted by category or fighter.
Challenges – By completing specific challenges, players earn in-game rewards. In Super Smash Bros. Ultimate, the challenges are arranged to look like a comic book.
Battle Records – The Records menu tracks battle history, with the option to view battle data separately for online and offline play.
Shop – Players can redeem in-game currency for music tracks, spirits and a variety of different items.
Language Support – Super Smash Bros. Ultimate supports 11 different languages. Applicable fighter voices and names are specific to whatever language is selected.
Custom Balance – When battling against other players on the same system, players can adjust the strength of their fighters. This completely optional feature comes in handy if players want to adjust strength to ensure a fair fight.

Early Hands-On Events: Fans can check the game's site for information about a variety of upcoming hands-on events. At these special events, players will have the chance to choose from all 74 fighters.
For more information about Super Smash Bros. Ultimate, visit
https://www.smashbros.com
.

Article edited on 2018-11-01 11:57:48 by Sunain
Nov 01
The official English Pokémon website has posted an interview they conducted with GAME FREAK's Junichi Masuda and Kensaku Nabana about the games Pokémon: Let's Go, Pikachu! and Pokémon: Let's Go, Eevee!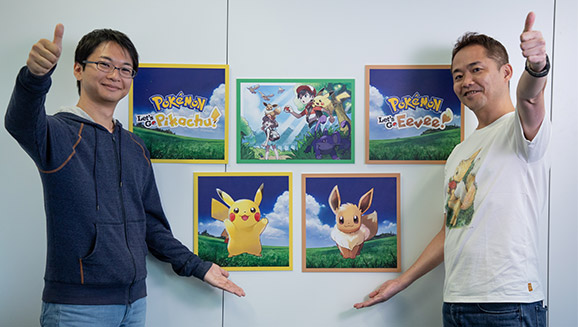 Meet the Makers of Pokémon: Let's Go, Pikachu! and Pokémon: Let's Go, Eevee!
GAME FREAK's Junichi Masuda and Kensaku Nabana share their insight into the development of the latest Pokémon adventure.
The first Pokémon RPG adventure for Nintendo Switch, Pokémon: Let's Go, Pikachu! and Pokémon: Let's Go, Eevee!, is almost here, and the excitement continues to grow. To learn more about the process that went into the adventure's creation, we had a chat with two members of GAME FREAK inc.—the developers of the games. Join us as we talk to Junichi Masuda, one of GAME FREAK's founders and the director of Pokémon: Let's Go, Pikachu! and Pokémon: Let's Go, Eevee!, and Kensaku Nabana, the games' lead environment designer. Both creators were kind enough to share their thoughts on the production of these upcoming titles.
Creative Inspiration
Pokemon.com:
Where does the original creative spark for a new Pokémon adventure usually come from? What are the first things you work on when get that spark?
Junichi Masuda:
I think that no matter who you are, if you are a creative person, a new project begins with the desire to do something specific or figure out the solution to a specific problem. For example, we have Nintendo Switch, which can be used in the living room as a home console. So we have the issue of getting people into the room to play the game. That's where we started with this project—through that concept.
The ideas of connecting the games to Pokémon GO, of creating the Poké Ball Plus to be able to use it to catch Pokémon, and of two-player multiplayer were ideas we came up with to solve that problem. We had this goal in mind and then thought about what kinds of features to implement that would meet that goal. It's the same when I create music. I always try to think about who the listener will be and what situation they will be in when listening to the music, and then I make music to fulfill that kind of image in my mind.
Pokemon.com:
Mr. Masuda, these are the first games you've directed for Nintendo Switch. What opportunities afforded by the new hardware were you most intrigued by?
Masuda:
At first glance, it's a complicated piece of hardware—you can connect it to the television, you can take it out with you in handheld mode, there's a touch screen, you can take off the controllers, there are gyro motion controls, and there are a lot of other elements. So in the face of those complications, the approach we took was to look at the ways we could simplify things. We took the idea of using a single controller to play the game to make that all feel less complicated, and that also opened the path to having this kind of local two-player multiplayer where you can share the controllers.
Of course, from a technology perspective, there's the increased power of the hardware, which really allowed us to have much better visuals than we've had before. The communication technology in the system also proved very valuable. For example, we use Bluetooth to allow Trainers to transfer Pokémon from Pokémon GO into Pokémon: Let's Go, Pikachu! and Pokémon: Let's Go, Eevee!, which is something we wouldn't be able to do without that technology. Behind the scenes, it's kind of a complicated setup, but we always try to make it feel very simple for the player.
A Living World
Pokemon.com:
The world of Pokémon feels more active than ever in these games, giving the sense of a living, breathing place. Was that a priority during development, and if so, why did you feel it was important?
Masuda:
Because you don't battle wild Pokémon in these games, we wanted to come up with ways to encourage people to run in and go find the Pokémon they want to encounter. Having Pokémon appear in the world lets the player see the ones they want to catch and encourages them to do so, but it also makes the world feel, like you say, more alive and richer as a result.
Pokemon.com:
A lot of personality shines through in the way each Pokémon moves and acts. Were there any Pokémon that proved especially challenging in this regard? And do any Pokémon stand out to you as favorites in the way they animate?
Masuda:
There are two parts to how we gave the Pokémon's movements and actions a lot of personality. There are, of course, the animations that each Pokémon has, but there are also the patterns in which they move. That was something I came up with near the end of last year. I developed a basic set of rules for how all the Pokémon should move, such as how many steps they should take before they stop and let out a cry or what their behavior pattern is for when they move again.
Once I handed this set of rules over to the programmers, they added their takes on how the individual Pokémon would move for an extra layer of personality. One of the things that was memorable to me was watching one of our movement programmers. He was referring to a video of rabbits walking around when he was creating the movement for Nidoran, which ended up influencing how that Pokémon moves. I wound up really liking Nidoran's final animation.
Pokemon.com:
There's a lot of focus on the two main Pokémon in these games—they're featured on the cover, they boast unique moves, and players have new ways to interact with them. Is this bond between Trainer and first Pokémon something you've always wanted to emphasize more?
Masuda:
It was something we definitely aimed for in these games—to really increase that ability to form a bond with your partner Pokémon even more than you have been able to in the past. Not only can the Trainer do things to feel they're getting closer to their Pokémon, but the Pikachu and Eevee partner Pokémon in the games do things to make them feel closer to the Trainer. It's kind of a back-and-forth relationship.
Revisiting the Past
Pokemon.com:
With this return to the Kanto region and the events of Pokémon Yellow: Special Pikachu Edition, how do you strike the right balance between familiarity and newness? How do you decide which details to change and which to keep the same?
Masuda:
Our approach to development of these games was to appeal to a broad audience. One of the big reasons for that is there are a lot of younger players who maybe didn't have their own smartphones and couldn't join in on the Pokémon GO boom. Because of this, Pokémon: Let's Go, Pikachu! and Pokémon: Let's Go, Eevee! might be their first time playing a Pokémon video game.
So I wanted to use Pokémon Yellow: Special Pikachu Edition as a base to introduce the original 151 Pokémon to them—to have them experience catching and training Pokémon, which are core gameplay elements of the Pokémon series. Now, there are a lot of features that were added in later Pokémon games, such as Eggs, Abilities, and held items, that didn't exist at the time of Pokémon Yellow: Special Pikachu Edition. However, we want kids today to experience something similar to what kids enjoyed 20 years ago. Of course, there are aspects, such as link battling and trading, where we updated the feel to be something more appropriate to modern tastes.
Pokemon.com:
What were some of the challenges in bringing these classic environments into a three-dimensional world for the first time? Which locales do you think look especially good or interesting in this new visual style?
Kensaku Nabana:
One of the most difficult aspects of updating all the environments and maps for the new hardware and graphic style was that we wanted to keep it nostalgic for fans of the originals while also making it something that looks very inviting and appealing for younger kids. It should always be very clear where you can go, where you can't go, where Pokémon would appear, and where they wouldn't appear.
I think there was a lot of simplicity in those older pixel graphics, which made things like that obvious to the player. The graphics helped communicate things to the player, so you'll see there are quite a few things that we left mostly unchanged. We updated the way you can move around, but we made it very clear where you can go and where you can't go and where you might find Pokémon.
In terms of locales that I think look especially good or interesting, one thing that we did this time around was go back and update all the towns. We redesigned them, pretty much, giving all the towns their own personalities. I think players will have a lot of fun discovering how the locations have changed.
Pokemon.com:
Mr. Masuda, you previously directed another pair of games set in the Kanto region with Pokémon FireRed and Pokémon LeafGreen on the Game Boy Advance. What lessons did you learn from that experience that you were able to bring to these games? And what different goals did you have in mind for the Pokémon: Let's Go, Pikachu! and Pokémon: Let's Go, Eevee! video games?
Masuda:
The base concept behind Pokémon FireRed and Pokémon LeafGreen was very different from what we are going for with Pokémon: Let's Go, Pikachu! and Pokémon: Let's Go, Eevee! Back then, the primary focus was to creates games that could connect with Pokémon Ruby and Pokémon Sapphire, which were the other titles available on the Game Boy Advance. This time around, we're defining what the modern living-room Pokémon RPG experience might be when you play on a home console on a big-screen TV. We're starting from very different places, and as a result, I think you'll see the direction is quite different.
At the same time, probably because of the popularity of Pokémon the Series, I think most Pokémon fans prefer the less scary, kind of cuter, and more inviting look that the animated series provides. So the feel of the world changed to be a little less scary, and the Pokémon started to look less monsterlike and more like the impression that people get from Pokémon today. We're taking those ideas and continuing to implement them in these new games.
Behind the Scenes
Pokemon.com:
It's been five years since you last served as director—on Pokémon X and Pokémon Y. Why were these the right games for you to return to that role?
Masuda:
I was the one who worked on the base game concept document for Pokémon GO, and even in that original concept, I had the idea of introducing new Pokémon through the mobile game. I wanted to realize that goal by creating games that could connect with Pokémon GO and feel somewhat similar to it without feeling like we were copying it. Given my involvement in Pokémon GO's development, I felt that I was probably the best person to direct these games.
It was also interesting to work with Nintendo Switch. There's a lot of technology packed into the hardware that we were all trying to discover at GAME FREAK. For example, developing the Poké Ball Plus and working with Bluetooth to facilitate the connection with Pokémon GO were both very interesting things that I had a chance to work on as the director this time.
But at the same time, it's important to have the younger generation at GAME FREAK take over the development of Pokémon as a series. I do believe this will probably be, in terms of the main Pokémon RPGs, the last time that I work as the director.
Pokemon.com:
You also served as the composer. What was your approach to enhancing/remixing the soundtrack for the Pokémon: Let's Go, Pikachu! and Pokémon: Let's Go, Eevee! video games?
Masuda:
When first approaching the idea of remixing or rearranging the music that I had originally created for Pokémon Red and Pokémon Green, I knew that I would need someone who really understood how I made that music and who is also very familiar with Pokémon. Also, due to the sheer number of songs, I would need someone who could handle that workload and would be able to rearrange the tracks in a classical music style without making huge, sweeping changes.
The person who I got to handle this was Shota Kageyama. He's a musician who's worked on Pokémon games in the past at GAME FREAK. He's really good at making dramatic music, and he's also very consistent and fast in delivering his work. I talked with him, and we came up with a style of music that we felt would be most appropriate for these games.
Again, with the concept of a Pokémon RPG in the modern living room, the music is always going to be on—you're probably not going to turn off the sound like you might on a handheld system. Because the music will be heard throughout the room, everyone will be able to hear it. So we wanted something that would feel kind and inviting—something that everyone in the household would be comfortable hearing.
We've used various music styles in the past, such as heavy metal or techno, and those are obviously things that certain people really like. At the same time, however, those styles can be divisive or intimidating to others. With that in mind, we wanted the music to feel inclusive, and I think Mr. Kageyama did a great job in achieving that.
One of the more interesting things that Mr. Kageyama did comes in the form of how he respected the original music while injecting his own variations on the themes. Most of the songs use the same key and tempo as the original versions, and he keeps things very similar for the first pass of the tune. After the initial loop happens, though, Mr. Kageyama's arrangement kicks in, allowing his own style to come through. I think it'll be very interesting for fans of the original soundtrack to listen to how it's changed.
Parting Words
Pokemon.com:
What do you hope new Pokémon players get out of these games? How about longtime fans?
Masuda:
It's kind of the same for both audiences, really, but this is the first time that a Pokémon RPG is going to be in the living room on a modern home console. That's really the focus of how we approached the development. I think seeing the Pokémon in HD visuals on a big-screen TV is going to be a lot of fun for traditional fans as well as new players.
The other big thing in these games is, obviously, pretending to throw a Poké Ball to catch Pokémon using either the Poké Ball Plus or a Joy-Con. It's similar to the Pokémon GO style of catching, but we've evolved it to be an even more immersive experience. It lets you feel like you're a Trainer really catching Pokémon in the games. I think that's going to be a lot of fun for all players. My hope is that everyone will enjoy it—not just by themselves, but also with their friends or family joining in on the fun with the two-player gameplay.
Nabana:
As a fan of the original Pokémon RPGs, I want first-time players to get to know the setting and world of Pokémon and what it's like to be a Pokémon Trainer. I want them to go out and catch, train, and battle Pokémon—to enjoy all the different elements of the Pokémon RPGs.
For the longtime fans like myself, there's obviously the goal of completing the Pokédex. This time, the way you catch the original 151 Pokémon is very different from how it was in the past, so I think it'll be quite a challenge. The experience also feels very fresh because the technique of catching Pokémon is different in these games.
Other than that, we have some interesting content for longtime fans who are more interested in battling. After you finish the main story, there are Master Trainers that exist throughout the Kanto region. There's one for each of the different species of Pokémon—and each is the master of that Pokémon. That's what they call themselves. They've raised their Pokémon to be extremely strong, and you can go out and challenge them.
For example, if you find a Charmander Master, you challenge that Master Trainer with a Charmander of your own. To defeat that Charmander Master, you need a deep knowledge of how the Pokémon battle system works and you need to have a strong Pokémon. If you do manage to defeat them, you claim the title of Charmander Master for yourself. You can then travel throughout the Kanto region to collect all these different Master Trainer titles.
Source:
https://www.pokemon.com/us/pokemon-news/meet-the-makers-of-pokemon-lets-go-pikachu-and-pokemon-lets-go-eevee/

Article edited on 2018-11-01 02:56:52 by Sunain
Oct 27
Junichi Masuda and Kensaku Nabana from GAME FREAK answered some of viewers questions received via Twitter and Facebook in this exclusive interview posted by Nintendo AU/NZ.
Developers of the #PokemonLetsGo games - Junichi Masuda and Kensaku Nabana from GAME FREAK - answered some of your questions in this exclusive AU/NZ interview! #NintendoSwitch

Learn more at the official gamesite: https://t.co/J31SZgCE3M pic.twitter.com/uWe0jShdRh

— Nintendo AU NZ (@NintendoAUNZ) October 27, 2018
Dylan: What is your favourite aspect about designing a game? And what are some areas or places that you would like to use as inspiration for the future?
Masuda: In the beginning we visit different places for research. That's when I get new ideas and have moments when I think to myself, "Maybe seeing something like this in the game will make everyone happy." I personally like this part at the start of the process. It's fun and exciting.
Which geographical locations have been inspiring... is a difficult question to answer. When I travel, I learn about the history and interesting building at the places I visit. I have had inspiration from various places around the globe. There have been moments when I though to myself, I would like this place to be a part of our next game. So when I visit different places, I try to learn a lot. Unfortunately I haven't been to Australia or New Zealand yet... I'd like to go there.
Nabana: What do I enjoy the most... Well, I do all things to do with designing and modelling and I enjoy all of it. So if you ask me what I enjoy most it is difficult to answer... But if I must... Once we know the concept of the game from Masuda-san, we crate initial illustrations. That moment when we move from step 0 to step 1 is probably the most enjoyable part for me.
Peddy: How are players encouraged/rewarded for carrying their Pokémon around in the new Poké Ball Plus?
What good things will happen... well, if you put your Pokémon in it, you will hear it cry. It will surely enhance your adventure. If your friends also have Poké Ball Plus, you can have fun conversation with them, asking each other which monsters are in their Poké Ball Plus. And if you bring back your Pokémon into Pokémon: Let's Go, Pikachu! and Pokémon: Let's Go, Eevee!, there will be a nice little surprise. Please try it for yourself and see.
Stacee: The ultimate question: Pikachu or Eevee?
Nabana: (Holding Eevee Plush) No, no, I say Eevee.
Masuda: (Holding Pikachu Plush) No, no, I say Pikachu.
Nabana: No, this one. Eevee!
Masuda: The idol of this sereis has got to be... (Pikachu)
Nabana: But look at this! So soft and fluffy. Pikachu isn't like this.
Masuda: No, look at these cute cheeks!
Nabana: Well, they are both cute.
Masuda: Yes, both are cute. It's pretty hard to chose one. Which one is everyone else's favourite?
Masuda: (Holding Pikachu Plush) "Choose me!"
Nabana: (Holding Eevee Plush) How about Eevee?!
Barx: Which Pokémon would you want to have as a partner that can follow you around in real life like in Pokémon: Let's Go, Pikachu! and Pokémon: Let's Go, Eevee?
Masuda: Psyduck! Psyduck!
Nabana: Perhaps Eevee... but maybe Flareon after all. It would be so nice to cuddle it on a cold day in winter. Masuda: (Wouldn't it burn you?)
Nabana: I'm sure it will adjust itself to the right temperature.
Zachary: Which evolution of Eevee is your favourite?
Masuda: Hmm... Eevee will not evolve this time. It doesn't want to, because it wants to enjoy the adventure with you. But, if you're asking about wild Eevee... I guess it would be Sylveon.
Nabana: (Holding Flareon Plush) This is Flareon. See, it's so soft, fluffy and cute.
Masuda: (Touching Eevee Plush) (But this one is soft and fluffy too.)
Nabana: But Flareon looks warmer.
Masuda: You don't like the cold!
Nabana: No I don't. It would be so warm to cuddle.
Samuel: Was it nostalgic to work on Pokémon: Let's Go, Pikachu! and Pokémon: Let's Go, Eevee! since it is going back to the Kanto region?
Masuda: Yes of course I felt nostalgic. Even seeing one of the lines that a trainer says, I felt very nostalgic remembering it from the past. Not only nostalgic, but I also felt that we were creating something from our memories. Nabana here used to play Pokémon Red and Green as a primary school student. Creating something with people like him has been fun too. This whole experience has made me feel nostalgic, and it also has been fun.
Owen: How does Pokémon GO park work?
Masuda: You can send your Pokémon to Pokémon GO Park by linking Pokémon GO and Nintendo Switch to correspond. Using Pokémon GO, you can choose the Pokémon you want to send, push a few buttons and send it to GO Park. Pokémon set to GO Park all hang out and have fun there. I would really like for everyone to check it out.
Final thoughts?
Masuda: Pokémon: Let's Go, Pikachu! and Pokémon: Let's Go, Eevee! will be best enjoyed set up with a TV monitor in your living room. Use Pokémon GO and help your friends or parents catch Pokémon. It's a game to be enjoyed in your living room with others, laughing and having fun. Please try it.
Source:
https://twitter.com/NintendoAUNZ/status/1055987444875751426

Article edited on 2018-10-27 10:24:27 by Sunain