Welcome to PocketMonsters.net
PocketMonsters.net
is a fansite dedicated to all things Pokémon (ポケモン) and Pocket Monsters (ポケットモンスター). We are the premier site for news and information about all aspects of the franchise from around the world. We cover the
Anime
,
indexing the music
, the
Trading Card Game
, the
Games
, the
variety shows
, have a
large imageboard
,
forum
and much more.
Follow us on Twitter
and
Subscribe to our RSS Feed
for the latest updates!
Latest News

15 Jul
09 Jul
04 Jul
27 Jun
26 Jun
21 Jun
News Tag Filter:
Pokémon GO
Jul 15
Niantic has announced that they will be supporting the One Piece Kumamoto Revival Project which manga artist
Eiichiro Oda
is involved with. The
2016 Kumamoto earthquakes
were a series of earthquakes, including a magnitude 7.0 mainshock, which severely damaged Kumamoto and Ōita prefectures in Japan. To promote the ONE PIECE Kumamoto Revival Project, there will be a few promotions in Pokémon GO.
On July 22nd, 2019, ONE PIECE will celebrate its 22nd anniversary and Pokémon GO will celebrate its 3rd anniversary since its launch in Japan. In commemoration of this collaboration, Pikachu wearing a red ribbon straw hat will appear for a limited time all over the world and a red ribbon straw hat will be available as an outfit for trainers from July 22nd, 2019 until July 29th, 2019.
"ONE PIECE Kumamoto Revival Project"
https://op-kumamoto.com/
Sources:
https://pokemongolive.com/ja/post/strawhat/
and
http://www.pref.kumamoto.jp/kiji_28503.html
Straw Hat Pikachu Arrives in Pokémon GO from July 22 through July 29
Trainer, If you enjoy collecting Pikachu wearing amusing hats in Pokémon GO, there's still one piece to that puzzle that you need. Luckily, the latest in the grand line of behatted Pikachu is arriving soon in the form of Straw Hat Pikachu!
From July 22, 2019, at 1:00 p.m. through July 29, 2019, at 1:00 p.m. local time, this special Pikachu will appear in the wild, giving Trainers plenty of chances to add it to their crew. Pikachu's kicky straw hat is perfect for keeping the burning sun at bay during these sunny summer months. If you want to coordinate your avatar's outfit with Pikachu, there will be a matching straw hat available in the Style Shop.
You're sure to treasure this new addition to your team, so don't miss out—get ready to head out on another grand Pokémon GO adventure!
Source:
https://pokemongolive.com/en/post/strawhat/

Article edited on 2019-07-19 08:11:53 by Sunain
Jul 09
The Pokémon GO Fest 2019 Dortmund took place from from July 4th, 2019 to July 7th, 2019 in Dortmund, Germany. Niantic posted a write-up of the events that took place during that event.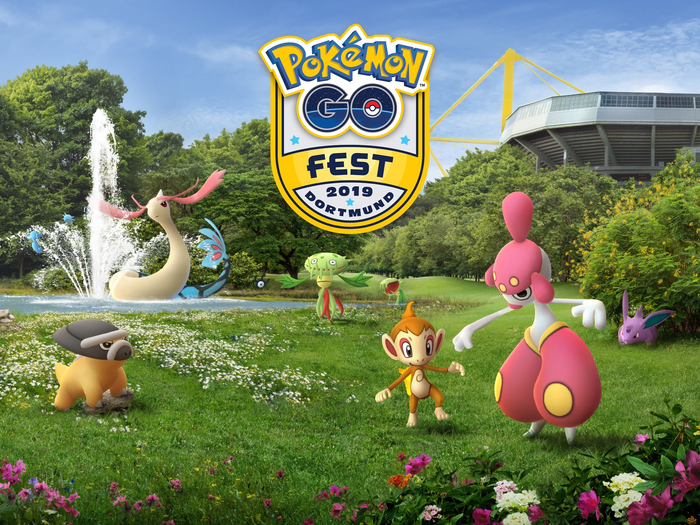 Summer Adventures Continue at Pokémon GO Fest 2019 Dortmund!
Trainers, We are in awe of the welcome Pokémon GO received this past weekend. Our first-ever Pokémon GO Fest in Europe was incredible. Thank you for an exciting weekend in Dortmund! More than 85,000 attendees attended over the four-day event and 200,000 Trainers played in the surrounding Dortmund area.
It was inspiring to see so many friendships come to life and adventure together, both in Dortmund and around the world. Globally, Trainers completed Team Valor Leader Candela's portion of Professor Willow's Global Challenge to unlock XP rewards for all Pokémon GO players.
Over the course of four days, Trainers at Westfalenpark walked nearly 400,000 kilometers and caught more than 28 million Pokémon. We want to thank all of the passionate Trainers in Dortmund and all over the globe who helped continue our summer adventures and made this Pokémon GO Fest one for the books!
Here are just a few of the highlights from this week's activities.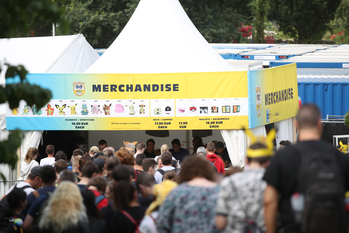 Pokémon GO Fest 2019 - Dortmund Special Research
Ticketed attendees had the privilege of experiencing the very special research that was first unveiled at Pokémon GO Fest Chicago 2019. Professor Willow first greeted the player upon entering the park and recruited their help to investigate the Mythical Pokémon Jirachi! Through the act of making friends, sending gifts, and returning lost Pokémon to their rightful habitats, Trainers were then able to wake up Jirachi from its slumber and catch it.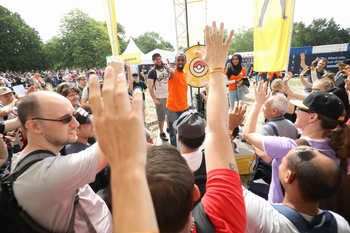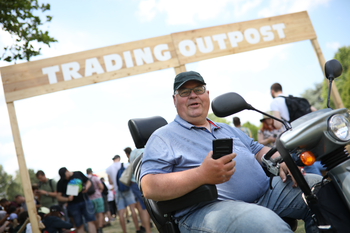 Habitats, Trades, Battles, Autographs!
Throughout Westfalenpark, there were four diverse habitats for Trainers explore: Mysterious Woods, Steel Factory, Rocky Terrain, and Boat Lake. In the Mysterious Woods, Trainers found oddly shaped bubbles floating in the air while encountering Pokémon such as Ralts and Paras. We paid homage to the industrial history of Dortmund through the Steel Factory habitat, where Pokémon like Voltorb and Skarmory appeared. Trainers showed off their skills while navigating the Rocky Terrain habitat while taking the perfect GO Snapshots of Diglett and Onix in the cave. Trainers cooled off at Boat Lake, which featured an active geyser, and provided the perfect place for Water-type Pokémon like Clamperl and Carvanha.
Trainers working towards completing their Pokédex headed over to the Trading Outpost. There, attendees used their five special trades to collect Pokémon from all over the world!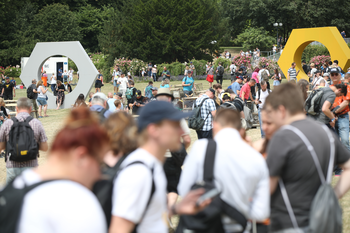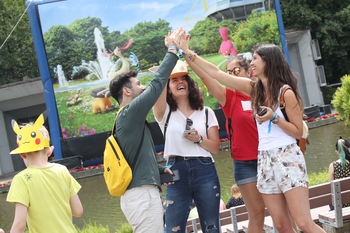 Champions were made at Dortmund's very own Battle Ground! After many hard-fought battles, Trainers basked in their glory by taking commemorative pictures in the Champion's Circle.
Youtube Content Creators joined the festivities for autograph sessions daily including: Trainer Tips, MYSTIC7, REVERSAL, Spieltrend, and Keibron! Attendees with tickets were able to attend daily signings where they could meet, chat with, and get an autograph.
The Group Photo was not a moment to be missed. The turnout had Candela thrilled! It was the perfect ending to an awesome day of playing Pokémon GO together.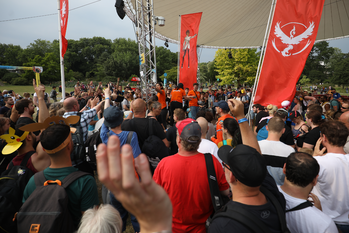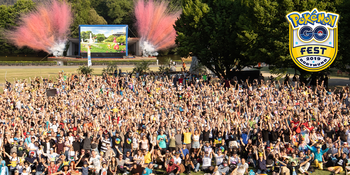 Global Challenge
Congratulations to all Trainers who took part in the second part of the Global Challenge! Pokémon GO Fest Dortmund attendees and Trainers around the world alike worked hard throughout the four-day event and successfully completed Candela's XP Research Challenge. Candela has been running around yelling "Let's GO!" all weekend. She even got Professor Willow to join in on the celebrations!
She wants us to let you all know that she says,
"Trainers—your fiery passion inspires me! We can do anything if we set our minds and our hearts to it. Let's keep up this determination and support Team Leader Blanche too!"
Look forward to the following bonuses to be active from Tuesday, July 9, 2019, at 1 p.m. until Tuesday, July 16, 2019, at 1 p.m. PDT:
3x Catch XP
2x Raid XP
3x Hatch XP
1 Hour Lucky Eggs
In addition to those bonuses, Entei will be available in raids on Sunday, July 14, 2019, from 4 p.m. to 7 p.m local time. Players will receive up to five free Raid Passes during the event. If you're lucky, you might encounter Shiny Entei!
Thank you, Trainers.
We couldn't have done this without you. This was our biggest Pokémon GO Fest yet and we hope you had just as an amazing time as we did! Please look forward to the final Pokémon GO Fest in Yokohama and be prepared to tackle Blanche's challenge. They're depending on you!
Oh...and one more thing…
What was up with that strange balloon in the skies of Dortmund?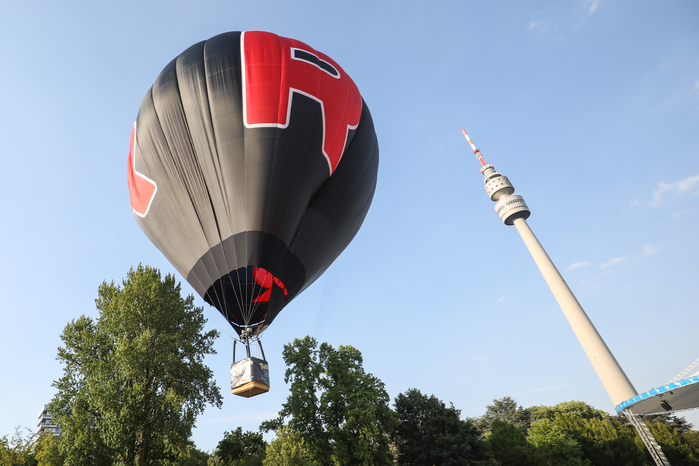 Source:
https://pokemongolive.com/post/gofest-dortmund-2019

Article edited on 2019-07-09 01:46:06 by Sunain
Jul 04
Niantic has officially confirmed that from July 10th, 2019 at 1:00 p.m. PDT to July 31, 2019 at 1 p.m. PDT, players of Pokémon GO will be able challenge Armored Mewtwo in raids.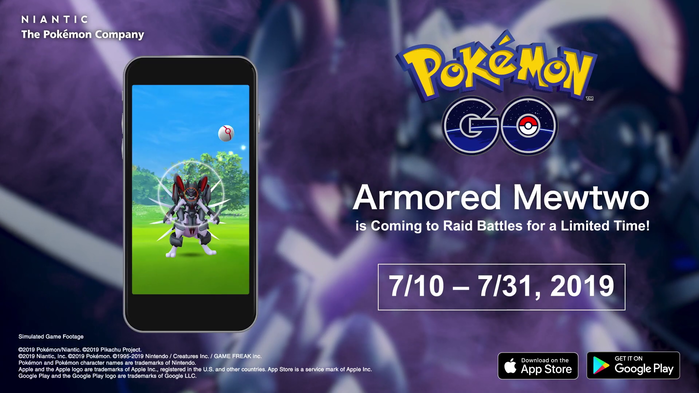 Harness the power of Armored Mewtwo!
Trainers, Mewtwo returns...with a new look. For a limited time, you can encounter this Psychic-type Pokémon in five-star raids.
Date + Time
• Armored Mewtwo will appear in five-star raids from July 10 at 1:00 p.m. PDT to July 31 at 1 p.m. PDT
Features
• For the first time in Pokémon GO, Armored Mewtwo will be available to challenge in raids for a limited time!
Avatar Items
• Do you consider yourself a Mewtwo Trainer? Show off your prowess for power and aesthetics with some stylish new items coming to the Style Shop!
Don't miss this chance to encounter Armored Mewtwo. Are you up for the challenge?
Source:
https://pokemongolive.com/en/post/armoredmewtworaids2019/
YouTube Clip - Armored Mewtwo Appears in Pokémon GO Raid Battles for a Limited Time!
Source:
https://www.youtube.com/watch?v=D7nbsoa9PNk

Article edited on 2019-07-04 09:13:39 by Sunain
Jun 27
Pokémon GO is celebrating the games 3rd anniversary with new features and events from June 28th, 2019 through September 2nd, 2019.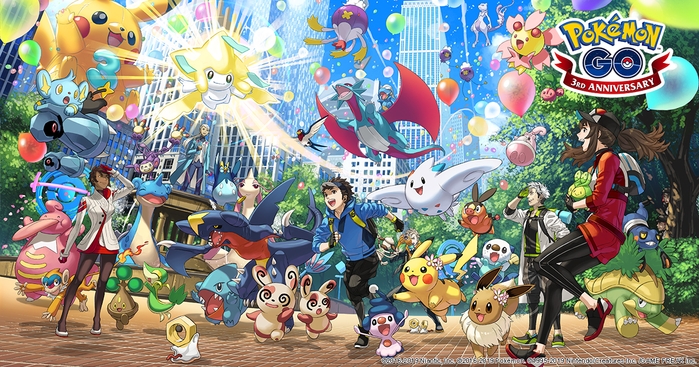 Happy third anniversary, Pokémon GO!
Trainers, They say third time's the charm. Pokémon journeys begin with a choice between three Pokémon. Your journey in Pokémon GO involved joining one of three teams. Today, we celebrate the third anniversary of Pokémon GO's release! Throughout this incredible journey, we've made countless memories along the way.
To commemorate this incredible milestone, you can look forward to these exciting features!
New features starting on June 28 at 1 p.m. PDT
Shiny Alolan Pokémon — You'll have a chance of encountering the following Shiny Alolan Pokémon: Rattata, Sandshrew, Vulpix, Diglett, Meowth, Geodude, Grimer, and Exeggutor.
Team leader avatar items — Avatar items featuring the team leaders' personal styles will be available in the Style Shop.
From June 28, 2019, at 1 p.m. PDT to July 6, 2019, at 1 p.m. PDT
A familiar face returns to the party! — Once per day, you might have the chance to encounter a Pikachu wearing a party hat when you take a GO Snapshot photo! Pichu wearing a party hat will also be available to hatch from 7 km eggs.
From June 28, 2019, at 1 p.m. PDT to September 2, 2019, at 1 p.m. PDT
Jump-Start Research — Looking to get up to speed with your research? Do you have a friend who wants to play but feels they've missed out on too much in Pokémon GO? Don't worry! Trainers can complete new Special Research for helpful rewards that will jump-start their new or continuing adventures. This Special Research is only available this summer for players at level 10 or higher, so be sure to let your friends know about this opportunity to join in and get special rewards.
Raid bonuses — Take down Raid Bosses faster and earn extra bonus Premier Balls to catch them with when you raid with friends.
Decreased Stardust costs for trading — Trading Pokémon will cost ¼ less Stardust.
Remember, Trainers: play more with your friends this summer to get the most out of raids and trading! We couldn't have reached this epic milestone without you all. Thank you, Trainers, for your continued passion for Pokémon GO and for joining us on this amazing adventure. In the words of our favorite professor, "Let's GO!"
Source:
https://pokemongolive.com/post/birthday2019

Article edited on 2019-06-27 01:57:55 by Sunain
Jun 26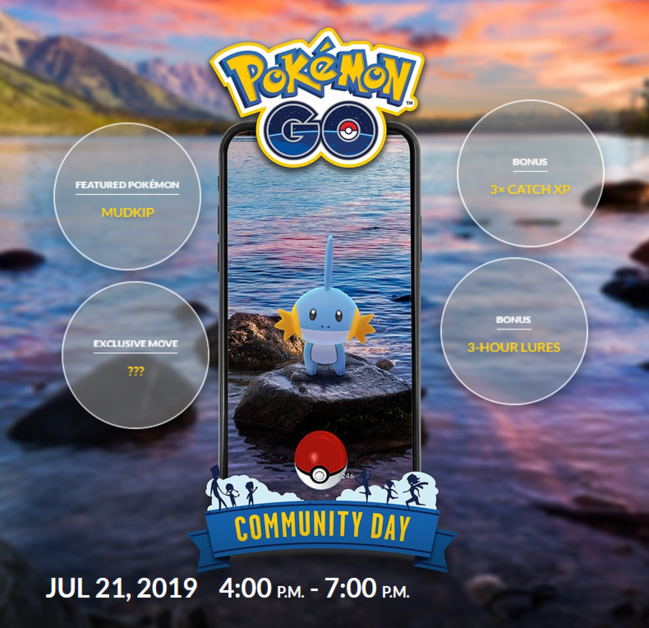 Niantic have announced the details for the 18th Pokémon GO Community Day which takes place on July 21st, 2019 at 4:00 PM until 7:00 PM EST. The featured Pokémon for this day is Mudkip. Mudkip will appear in the wild more frequently for three hours that day. If you evolve Marshtomp into Swampert during the three hour window, your Swampert will know the charge move, Hydro Cannon. The 3x Catch XP and 3-hour Lures bonuses will also be available that day.
Source:
https://pokemongolive.com/events/community-day/
Mudkip Promo Clip
Original Source:
https://twitter.com/PokemonGoApp/status/1143929848173215744

Article edited on 2019-07-17 08:14:50 by Sunain
Jun 21
Niantic has announced that from July 1st, 2019 until September 1st, 2019, Latias, Latios, Kyogre and Groudon will be available as Research Breakthrough encounters. Spinda with a new pattern will be available in Field Research and players can also encounter Shiny Spinda.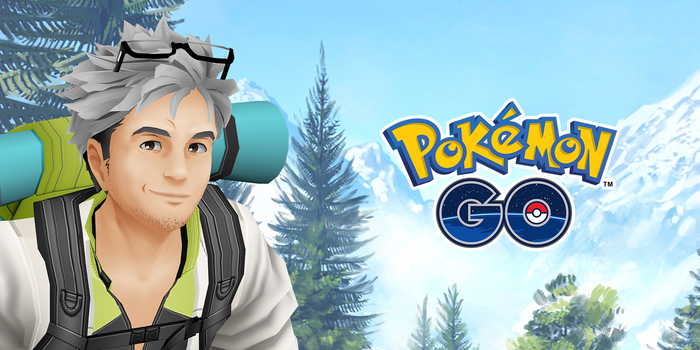 Research Breakthrough, new Spinda form, and EX Raid updates!
Trainers, We're excited to share a few changes to Field Research rewards and EX Raids in the coming weeks!
Field Research Updates
From July 1, 2019, at 1 p.m. PDT (GMT −7) to September 1, 2019, at 1 p.m. PDT (GMT −7), Latias, Latios, Kyogre, and Groudon will be available as Research Breakthrough encounters.
Spinda sporting a new pattern will be available in Field Research, and if you're lucky, you might encounter a Shiny one!
EX Raid Updates
Starting on June 23, 2019, at 8 a.m. PDT, Trainers who receive EX Raid Passes will encounter Speed Forme Deoxys in EX Raids!
Are you new to EX Raids? You can become eligible to receive an EX Raid Pass when you win a Raid Battle at a qualifying Gym! To see whether a Gym can host EX Raids, take a look at the Gym's details. If you triumph in a qualifying Raid Battle and receive an invitation to an EX Raid, you can check your EX Raid Pass for the date and time when you'll be able to challenge Speed Forme Deoxys.
Let's GO!
Source:
https://pokemongolive.com/en/post/junejulyaugustupdate2019/

Article edited on 2019-06-21 10:57:18 by Sunain