Welcome to PocketMonsters.net
PocketMonsters.net
is a fansite dedicated to all things Pokémon (ポケモン) and Pocket Monsters (ポケットモンスター). We are the premier site for news and information about all aspects of the franchise from around the world. We cover the
Anime
,
indexing the music
, the
Trading Card Game
, the
Games
, the
variety shows
, have a
large imageboard
,
forum
and much more.
Follow us on Twitter
and
Subscribe to our RSS Feed
for the latest updates!
News Tag Filter:
Pokémon Rumble Rush
Mar 02
There will be some maintenance on March 3rd and 4th, 2020 to prepare for the latest Software update of Pokémon Rumble Rush and the update for the game will bring it to Version 1.5.0.
Pokémon Rumble Rush – Version 1.5.0 - Patch Notes:
Updated welcome gifts—you can get Mew and more. We're adding new welcome gift for weeks 2-4.
Added the new Battle Royale feature. We're adding Battle Royale, a new auto battling tournament for four teams of three Pokémon each. Battle Royale have their own Swap Shops where you can get a range of items.
Added the new Socket Plus item. We're adding the new Socket Plus item, which will increase a Pokémon's power gear sockets from one to two. You can get Socket Plus in a Battle Royale Swap Shop.
Added the new Poké Glam feature. We've added new items called Poké Glam to let you decorate your Pokémon. You can get Poké Glam in a Battle Royale Swap Shop.
Added player titles. You can get titles from playing Battle Royale.
Added Poké Diamond perks. You can get a range of items by spending a fixed amount of Poké Diamonds.
Adjusted Boss Pokémon encounters. We're adjusting encounters so that the Boss Pokémon is infrequently replaced by a rare Pokémon while you're playing a stage that is not a daily stage.
Improving tutorial. Some of the text in the tutorial is being improved.
Adjusting Coin Rush attempts. We're fixing it so that your remaining number of attempts does not decrease when you return to the balloon during Coin Rush.
Changing the Brawny power gear from a stat power gear to a style power gear.
Improving the presentation of ore opening.
Fixing some bugs.
Source:
https://apps.apple.com/ca/app/pok%C3%A9mon-rumble-rush/id1453000198

Article edited on 2020-03-04 09:29:20 by Sunain
Dec 02
The official Pokémon website has announced that a new update is coming for Pokémon Rumble Rush where over 100 new Pokémon will be added to the game. It was announced on December 2nd, 2019 that the update would come out on November 27th, 2019, but as of this post, the last update for the game was on November 21st, 2019.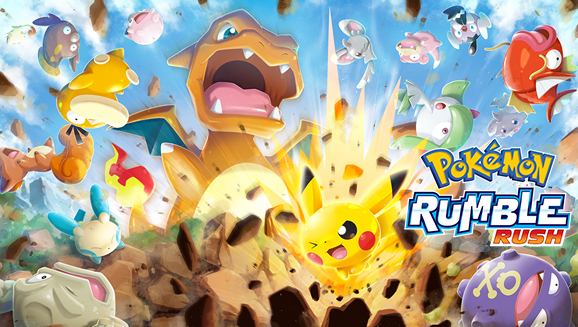 Mewtwo and New Gears Arrive in Pokémon Rumble Rush
A big update includes more Pokémon, new gears, gameplay updates, and more.
Look forward to more excitement in Pokémon Rumble Rush, starting November 27. More than 100 new Pokémon will be added to the game—including Alolan Raichu and Golisopod. Plus, the Legendary Pokémon Mewtwo has begun to appear, including as a special gift. There'll also be new Pokémon power gears that can greatly increase the CP of certain Pokémon. Also check out new style power gears, like Grappler, which causes your Pokémon to deal more damage the closer it is to its foes.
This update also includes some gameplay tweaks. The amount of damage per second you dealt will be displayed on the screen when you clear a stage. Also, the total damage done to a Super Boss using summon gears will also be displayed as well as the max damage you have dealt to one Pokémon.
Whether you haven't tried Pokémon Rumble Rush or stepped away for a while, now's a great time to rumble! You can check it out for iOS devices on the App Store and for Android devices on Google Play.
Source:
https://www.pokemon.com/us/pokemon-news/mewtwo-and-new-gears-arrive-in-pokemon-rumble-rush/

Article edited on 2019-12-02 04:09:12 by Sunain