Welcome to PocketMonsters.net
PocketMonsters.net
is a fansite dedicated to all things Pokémon (ポケモン) and Pocket Monsters (ポケットモンスター). We are the premier site for news and information about all aspects of the franchise from around the world. We cover the
Anime
,
indexing the music
, the
Trading Card Game
, the
Games
, the
variety shows
, have a
large imageboard
,
forum
and much more.
Follow us on Twitter
and
Subscribe to our RSS Feed
for the latest updates!
Latest News

08 Sep
12 Aug
16 Jul
14 May
07 May
News Tag Filter:
Sales
Sep 08
Sensor Tower Store Intelligence data
has revealed that Pokémon Masters revenue surpasses $25 Million in its first week since release on August 29th, 2019. This makes it the second best mobile game launch for The Pokémon Company as Pokémon GO made approximately $56 million during its first week.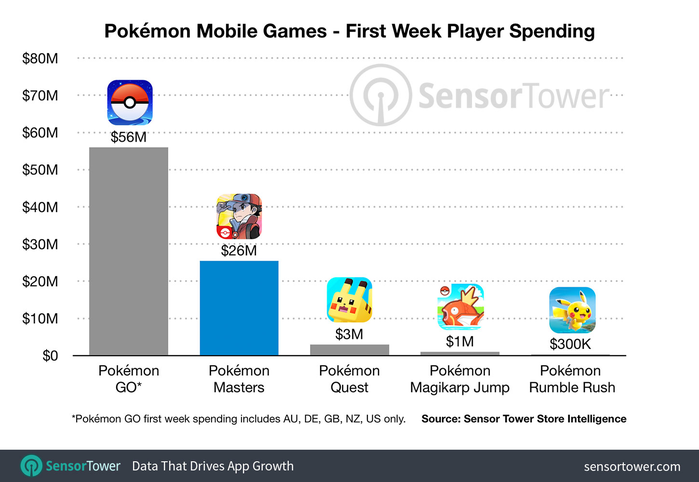 Source:
https://sensortower.com/blog/pokemon-masters-revenue-first-week

Article edited on 2019-09-08 09:35:11 by Sunain
Aug 12
According to the August 2019 Issue of License! Global Top 150 Global Licensors, The Pokémon Company International is now the 23rd most profitable retail licensor worldwide selling over $2.8 billion USD in licensed products worldwide in 2018.
This is down from $3.3 billion USD in 2017.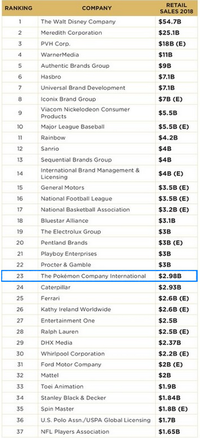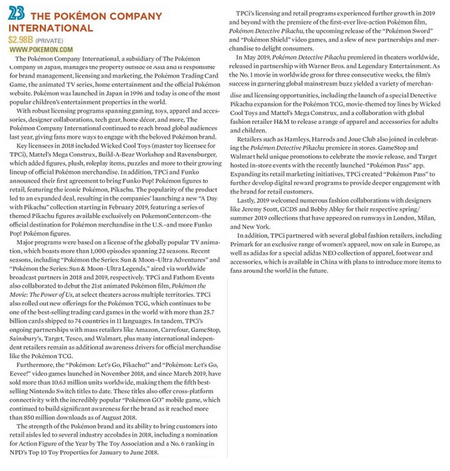 The Pokémon Company International - $2.98 Billion - 2018
The Pokémon Company International, a subsidiary of the The Pokémon Company in Japan, manages the property outside of Asia and is responsible for brand management, licensing and marketing, the Pokémon Trading Card Game, the animated TV series, home entertainment and the official Pokémon website. Pokémon was launched in Japan in 1996 and today is one of the most popular children's entertainment properties in the world.
With robust licensing programs spanning gaming, toys, apparel and accessories, designer collaborations, tech gear, home décor, and more, The Pokémon Company International continued to reach broad global audiences last year, giving fans more ways to engage with the beloved Pokémon brand.
Key licensees in 2018 included Wicked Cool Toys (master toy licensee for TPCi), Mattel's Mega Construx, Build-A-Bear Workshop and Ravensburger, which added figures, plush, roleplay items, puzzels and more to their growing lineup of official Pokémon merchandise. In addition, TPCi and Punko announced their first agreement to bring Funko Pop! Pokémon figure to retail, featuring the iconic Pokémon, Pikachu. The popularity of the product led to an expanded deal, resulting in the companies' launching a new "A Day with Pikachu" collection starting in February 2019, featuring a series of themed Pikachu figures available exclusively on PokemonCenter.com - the official destination for Pokémon merchandise in the U.S. - and more Funko Pop! Pokémon figures.
Major programs were based on a license of the globally popular TV animation, which boasts more than 1,000 episodes spanning 22 seasons. Recent seasons, including "Pokémon the Series: Sun and Moon - Ultra Adventures" and "Pokémon the Series: Sun and Moon Ultra Legends," aired via worldwide broadcast partners in 2018 and 2019, respectively. TCPi and Fathom Events also collaborated to debut the 21st animated Pokémon film, Pokémon the Movie: The Power of Us, at select theaters across multiple territories. TPCi also rolled out new offerings for the Pokémon TCG, which contines to be one of the best-selling card games in the world with more than 25.7 billion cards shipped to 74 countries in 11 languages. In tandem, TPCi's ongoing partnerships with mass retailers like Amazon, Carrfour, GameStop, Sainsbury's, Target, Tesco, and Walmart, plus many international independent retailers remain as additional awareness drivers for official merchandise like the Pokémon TCG.
Furthermore, the "Pokémon Let's Go, Pikachu!" and "Pokémon Let's Go, Eevee!" video games launched in November 2018, and since March 2019, have sold more than 10.63 million units worldwide, making them the fifth best-selling Nintendo Switch titles to date. These titles also offer cross-platform connectivity with the incredibly popular "Pokémon GO" mobile game, which continued to build significant awareness for the brand as it reached more than 850 million downloads as of August 2018.
The strength of the Pokémon brand and its ability to bring customers into retail aisles led to several industry accolades in 2018, including a nomination for Action Figure of the Year by The Toy Association and a No. 6 ranking in NPD's Top 10 Toy Properties for January to June 2018.
TCPi's licensing and retail programs experienced further growth in 2019 and beyond with the premiere of the first-ever live-action Pokémon film, Pokémon Detective Pikachu, the upcoming release of the "Pokémon Sword" and "Pokémon Shield" video games, and a slow of new partnerships and merchandise to delight customers.
In May 2019, Pokémon Detective Pikachu premiered in theaters worldwide, released in partnership with Warner Bros. and Legendary Entertainment. As the No. 1 movie in worldwide gross for three consecutive weeks, the film's success in garnering global mainstream buzz yielded a variety of merchandise and licensing opportunities, including the launch of a special Detective Pikachu expansion for the Pokémon TCG, movie-themed toy lines by Wicked Cool Toys and Mattel's Mega Construx, and a collaboration with global fashion retailer H&M to release a range of apparel and accessories for adults and children.
Retailers such as Hamleys, Harrods and Joue Club also joined in the celebrating the Pokémon Detective Pikachu premiere in stores. GameStop and Walmart held unique promotions to celebrate the movie release, and Target hosted in-store events with the recently launched "Pokémon Pass" app. Expanding its retail marketing initiatives, TPCi created "Pokémon Pass" to further develop digital reward programs to provide deeper engagement with the brand for retail customers.
Lastly, 2019 welcomed numerous fashion collaborations with designers like Jeremy Scott, GCDS and Bobby Abley for their respective spring/summer 2019 collections that have appeared on runways in London, Milan, and New York.
In addition, TPCi partnered with several global fashion retailers, including Primark for an exclusive range of women;s apparel, now on sale in Europe, as well as adidas for a special adidas NEO collection of apparel, footwear and accessories, which is available in China with plans to introduce more items to fans around the world in the future.
Source:
https://secure.viewer.zmags.com/publication/b0a2d8f9#/b0a2d8f9/42

Article edited on 2019-08-12 08:57:59 by Sunain
Jul 16
Mewtwo Strikes Back Evolution
debuted in Japanese theaters on July 12th, 2019 and it was up against Disney's Toy Story 4 for their opening weekend. Movie 22 placed second behind Toy Story 4. It was shown on 408 screens and 454000 tickets were sold for Saturday and Sunday, generating 553 million yen. This placed it 110.6% above last years movie
Everyone's Story
in it's first week and it ended up with a final revenue of 3.9 billion yen, so it's a decent start for Movie 22. Toy Story 4 made 1.3 billion yen in the same weekend.
Source:
https://eiga.com/ranking/

Article edited on 2019-07-16 06:16:04 by Sunain
Jul 16
Theaters in five remaining territories still showing "Pokémon Detective Pikachu" propelled the adventure movie past US$436m worldwide, a new record for films based on video games. Cinemas in Norway, New Zealand, Slovenia, Portugal and Colombia generated US$6,994 over the weekend of July 12-14, 2019 per data published by Amazon's Box Office Mojo.
The movie has made $143.3 million USD (domestic, as of July 14th, 2019) and $286 million USD (foreign, as of July 7th, 2019) combing for US$436m. Pokémon Detective Pikachu overtakes Warcraft in terms of both critical response and box office revenue.
Source:
https://news.yahoo.com/pok-mon-detective-pikachu-becomes-highest-grossing-video-103240549.html

Article edited on 2019-07-16 05:56:34 by Sunain
May 14
Pokémon Detective Pikachu was released officially worldwide on May 10th, 2019 and it debuted in 1st place, toppling
Avengers: Endgame
. As of May 12th, 2019, the movie has made $166,765,242 worldwide, domestically $54,365,242 accounting for 32.6% and foreign $112,400,000 accounting for 67.4% of the ticket sales.
International Sales - May 3th, 2019 to May 12th, 2019
Country
Distributor
Release Date
Opening
Weekend
Total Gross
as of
Australia
WB
5/9/19
$3,514,851
$3,514,851
5/12/19
Belgium
-
5/8/19
-
$153,000
5/8/19
China
Legend
5/10/19
$39,879,448
$40,322,497
5/12/19
Colombia
WB
5/9/19
$568,144
$568,144
5/12/19
France
WB
5/8/19
-
$1,600,000
5/8/19
Iceland
Samfilm
5/10/19
$46,381
$46,381
5/12/19
Indonesia
WB
5/8/19
-
$271,000
5/8/19
Italy
WB
5/9/19
$179,162
$2,881,599
5/12/19
Japan
Toho
5/3/19
$4,112,878
$10,000,000
5/8/19
Lithuania
ACME
5/10/19
$59,518
$66,484
5/12/19
Netherlands
WB
5/8/19
-
$266,000
5/8/19
Nigeria
F1
5/10/19
$6,435
$6,435
5/12/19
Norway
SF Norge
5/10/19
$744,499
$744,499
5/12/19
Portugal
Lusomundo
5/9/19
$292,630
$292,630
5/12/19
Slovakia
ContFilm
5/2/19
$15,489
$15,489
5/5/19
South Korea
-
5/9/19
-
$844,012
5/5/19
Turkey
WB
5/10/19
$168,393
$168,393
5/12/19
Ukraine
Kinomania
5/9/19
$722,056
$722,368
5/12/19
Vietnam
QueenCGV
5/10/19
$582,913
$582,913
5/12/19
Source:
https://www.boxofficemojo.com/movies/?page=intl&id=detectivepikachu.htm
Pokémon Detective Pikachu moved from 3rd place to 1st place in its second week,
this time beating
Detective Conan: The Fist of Blue Sapphire
and
Avengers: Endgame
.
Ticket Sales - Japan Weekend of May 11th, 2019 to May 12th, 2019:
Rank
Previous
Rank
Movie Title
Distributor
Theaters
Weeks in
Theaters
1
3
Pokémon Detective Pikachu
Toho / Warner Brothers
349
2
2
2
Avengers: Endgame
Disney
365
3
3
1
Detective Conan: The Fist of Blue Sapphire
Toho
363
5
Source:
https://eiga.com/ranking/

Article edited on 2019-05-14 04:56:26 by Sunain
May 07
Pokémon Detective Pikachu was released in Japanese theaters on May 3rd, 2019 and it made 457 million yen on 317,000 ticket sales for Saturday and Sunday. For the entire 4 day weekend, it brought in 948 million yen (approximately $8.6 million USD) on 676,000 ticket sales. This was enough for it to place 3rd in box office sales for that weekend behind
Detective Conan: The Fist of Blue Sapphire
and
Avengers: Endgame
.
Ticket Sales - Weekend of May 4th, 2019 to May 5th, 2019:
Rank
Previous
Rank
Movie Title
Distributor
Theaters
Weeks in
Theaters
1
2
Detective Conan: The Fist of Blue Sapphire
Toho
363
4
2
1
Avengers: Endgame
Disney
365
2
3
-
Pokémon Detective Pikachu
Toho / Warner Brothers
349
1
Source:
https://eiga.com/ranking/

Article edited on 2019-05-07 01:22:57 by Sunain