Welcome to PocketMonsters.net
PocketMonsters.net
is a fansite dedicated to all things Pokémon (ポケモン) and Pocket Monsters (ポケットモンスター). We are the premier site for news and information about all aspects of the franchise from around the world. We cover the
Anime
,
indexing the music
, the
Trading Card Game
, the
Games
, the
variety shows
, have a
large imageboard
,
forum
and much more.
Follow us on Twitter
and
Subscribe to our RSS Feed
for the latest updates!
Latest News

20 Sep
26 Aug
27 Jul
27 Nov
06 Sep
13 Jun
News Tag Filter:
The Pokémon Company
Sep 20
The Pokémon Company has created a new website called the Dynamax Camera which explains that users can take a photo and it adds one of 50 Dynamax variants to the photo. Pokémon will be adding to the service including new Pokémon.
Photo Examples: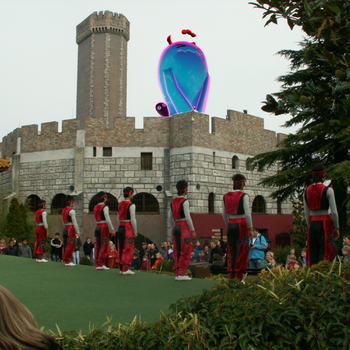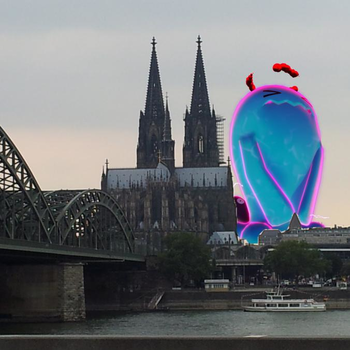 Source:
https://dmaxcamera.pokemon.co.jp/ja/

Article edited on 2019-09-20 06:52:47 by Sunain
Aug 26
Various retailers have posted details of the
Pokémon Sword and Pokémon Shield: The Official Galar Region Strategy Guide
which will be released on November 22nd, 2019 for $24.99 USD / £15.99.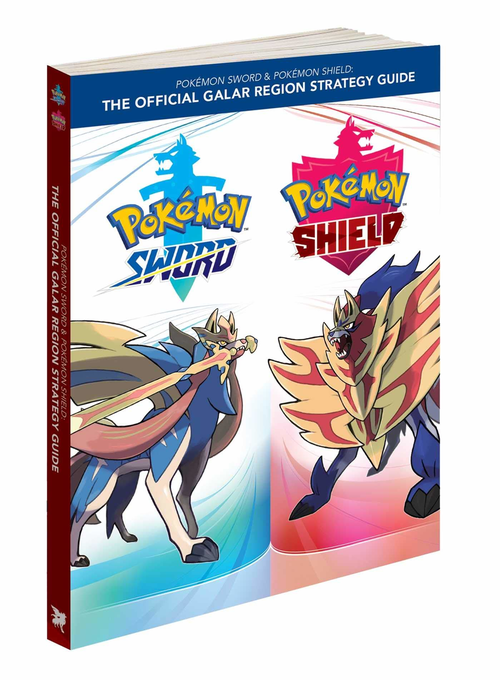 Pokémon Sword and Pokémon Shield: The Official Galar Region Strategy Guide
The official strategy guide from Pokémon for the Pokémon Sword and Pokémon Shield video games.
Get the tips you need for each part of your journey with the step-by-step walkthrough and hints in Pokémon Sword & Pokémon Shield: The Official Galar Region Strategy Guide. From your first experiences as a Trainer and all through your adventure, this guide will help you every step of the way!
Along the path, you'll encounter different Gym Leaders to defeat, a vast Wild Area full of a variety of Pokémon, and mysteries of legendary proportions. But you'll be ready for it all with this guide!
Here's what you'll find inside:
Complete walkthrough of the new Pokémon adventure!
Lists of moves, items, and more — including how to get them!
Info on all of the new features, including Dynamaxing and Max Raid Battles!
Guides to the Wild Area and all you can do there!
Pullout map of the region!
Details:
Paperback: 352 pages
Publisher: The Pokemon Company International (November 22, 2019)
Language: English
ISBN-10: 160438204X
ISBN-13: 978-1604382044

Article edited on 2019-08-26 08:16:29 by Sunain
Jul 27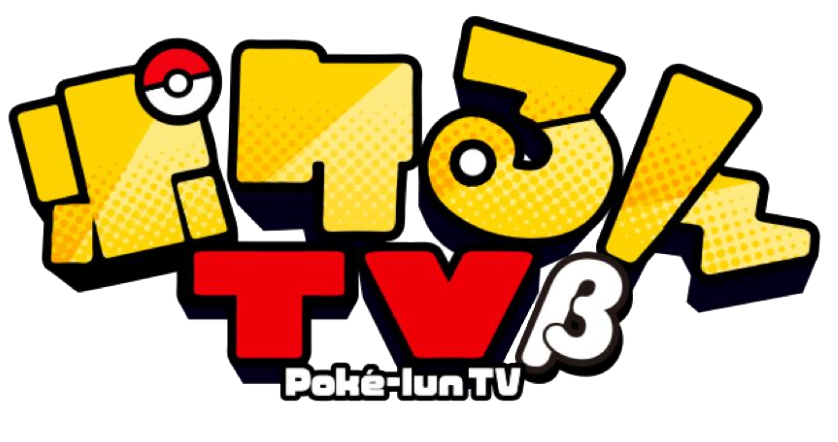 The Pokémon Company and UUUM announced today that they are collaborating together to work on a new YouTube Channel called
Poké-lun TV Beta (ポケるんTV β)
. The channel will create Pokémon videos targeted at children.
The channels hosts are:
Moe-chan (も えちゃん)
,
Takkun (たっくん)
and
Hono-chan (ほのちゃん)
.
Source:
https://www.pokemon.co.jp/corporate/PostImages/8769874e9f3bee62896519e6de78f7082640cd40.pdf

Article edited on 2018-07-27 07:21:25 by Sunain
Nov 27
The Pokémon Company announced via a press release on November 24th, 2017, that cumulative shipments of 76 Pokémon games over multiple systems has now reached a total of 300 million copies worldwide.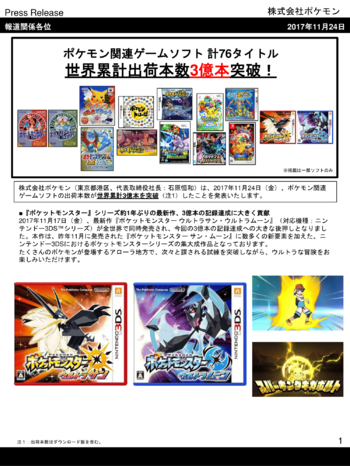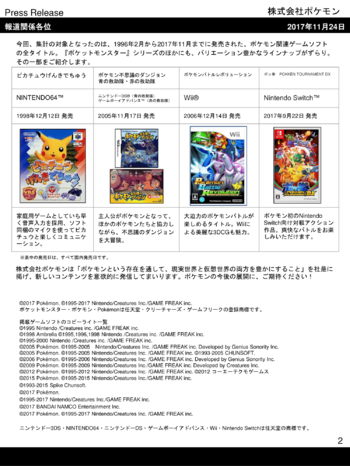 Source:
http://www.pokemon.co.jp/corporate/press/objects/pdf/poke_171124.pdf
TOTAL POKÉMON VIDEO GAME SALES SURPASS 300 MILLION UNITS
The Pokémon Company today announced that more than 300 million Pokémon™ video games have been sold worldwide. This milestone includes 76 video games launched since 1996, beginning with the release of Pokémon Red and Pokémon Green for the Nintendo Game Boy™ system. The Pokémon Ultra Sun and Pokémon Ultra Moon games, which are the newest titles in the core video game series, launched on November 17 exclusively on the Nintendo 3DS™ family of systems, helping the franchise reach this remarkable milestone.
In Pokémon Ultra Sun and Pokémon Ultra Moon, a brand-new story unfolds, featuring Necrozma alongside the Legendary duo of Solgaleo and Lunala. Ominous dark clouds begin to spread in the tropical Alola region setting, and the secrets of Necrozma and Alola, which were never disclosed in previous games, finally come to light.

Article edited on 2017-11-27 10:21:15 by Sunain
Sep 06
Yuji Nakamura of Bloomberg Technology interviewed The Pokémon Company CEO Tsunekazu Ishihara and talked about the future of Pokémon video games. Below are excerpts from that
interview
.
Pokémon GO:
The interview confirmed once again that Trading and one-on-one battles are coming to Pokémon GO.
"We've only accomplished 10 percent of what Pokémon and Niantic are trying to do, so going forward we will have to include fundamental Pokémon experiences such as Pokémon trading and peer-to-peer battles, and other possibilities."
"Depending on location, there are many Pokémon with different characteristics. So what do we do with those and the real world? One view is to have chilly Pokémon in a cold climate, but then that would also mean that people born on a tropical island won't be able to catch them. So we are always thinking of how to find the right balance between game design, how our Pokémon should exist, and how players feel about their collections."
"Right now, if you go to the coast you can catch water Pokémon. For example, if you have a setting for electric-type Pokémon (such as Pikachu) to appear at power plants, is that really a good idea for you to find one in such a location -- is it safe, and is it OK regionally? We see it as a very realistic problem."
"On the other hand, it has created a lot of social problems. When too many people gather, it causes mass confusion. Also this isn't limited to Pokémon Go, but the issue of staring at smartphones while walking is something we have to focus on and think about."
Pokémon Game for the Nintendo Switch:
The announcement caused Nintendo's stock price to jump as much as 3 percent in U.S. trading, as investors bet the new title will boost Switch sales.
"With the Switch, we see it as a chance to create Pokémon that goes deeper and with a higher level of expression. As a result, that makes it an extremely important platform."
"Right now we're using 7 to 8 inch screens, but on a high-definition TV you can express a whole different world with graphics and sound."
"Until now, games were made as one for one person, but now you can go home and play with everyone -- so how do we tackle these themes, and how do we make sure it's not complicated?"
"I can't say that we'll release accessories, but I'd like to think of that possibility."
"Unlike smartphones, the Switch is not a game device that assumes that there's constant network connectivity. So from our perspective, it's really not that different from DS or 3DS in terms of connectivity."
Augmented Reality and the Future of Pokémon
Augmented Reality could play a significant role in games other than Pokémon GO.
"With current AR, even if you say Pikachu is there, no one really thinks that. But that reality is just one step away. For example, you'll be able to find Pikachu, and it can sense this table and jump on it, and you can see its shadow on the table, and then it faces you and starts talking to you. We will see the birth of this reality that is another step up from the current Pokémon Go. And I've only mentioned the visual aspect, but you can add haptic and rumble technology to that."
"Voice-activated assistants are increasing. Whether it is Google Home or Amazon or Apple Homepod, there are many of them and we could see these dialogue-based devices give birth of a new form of entertainment."
"Switch is just one of the possible platforms. I think we will open up more possibilities from all these platforms. Playing in a more realistic way should be possible."
Source:
https://www.bloomberg.com/news/articles/2017-09-05/pokemon-s-ceo-hints-at-big-plans-for-games-on-smartphone-switch

Article edited on 2017-09-06 12:50:33 by Sunain
Jun 13
Nintendo, The Pokémon Company and Game Freak revealed during the
Nintendo Spotlight: E3 2017
that Game Freak is developing a "core" Pokémon game for the Nintendo Switch. Tsunekazu Ishihara of The Pokémon Company announced the game during the broadcast.
YouTube Clip - Nintendo Spotlight: E3 2017 - Transcript
"I have one more announcement. Game Freak has begun developing a core RPG Pokémon title on Nintendo Switch. It may not release for more than a year but we hope you'll look forward to it all the same." (Tsunekazu Ishihara ,The Pokémon Company)
YouTube Clip - Nintendo Spotlight: E3 2017
Source:
https://youtu.be/M2mZS_p4A7Y?t=520

Article edited on 2017-06-18 03:14:46 by Sunain