Welcome to PocketMonsters.net
PocketMonsters.net
is a fansite dedicated to all things Pokémon (ポケモン) and Pocket Monsters (ポケットモンスター). We are the premier site for news and information about all aspects of the franchise from around the world. We cover the
Anime
,
indexing the music
, the
Trading Card Game
, the
Games
, the
variety shows
, have a
large imageboard
,
forum
and much more.
Follow us on Twitter
and
Subscribe to our RSS Feed
for the latest updates!
Latest News

18 Oct
06 Jul
29 Jun
01 Mar
08 Jul
News Tag Filter:
Toys
Oct 18
McDonald's has announced that their Happy Meals in the United States will contain Legendary Pokémon figures and Pokémon TCG promo cards for a limited time until November 12th, 2018.
An activity sheet and coloring sheet from this Happy Meal has been added to an Imageboard thread
.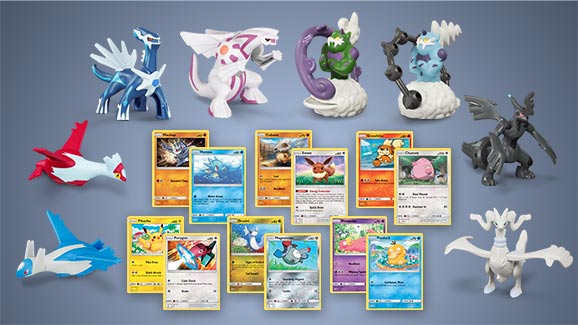 Figures:
Latios, Latias, Dialga, Palkia, Zekrom, Reshiram, Tornadus, Thundurus
TCG Cards:
Pikachu, Porygon, Dratinit, Magnemite, Slowpoke, Psyduck, Machop, Horsea, Cubone, Eevee, Growlithe, Chansey
Get Happy with Pokémon at McDonald's
For a limited time, look for Legendary Pokémon figures and Pokémon TCG promo cards in McDonald's Happy Meals.
Something legendary is coming to McDonald's. Through November 12, Happy Meals at participating McDonald's restaurants will feature a toy figure of a Legendary Pokémon, as well as 1 of 12 cool promo cards for the Pokémon Trading Card Game. The cards feature a special foil treatment that can only be found in McDonald's Happy Meals.
The Legendary Pokémon-themed Happy Meals won't be around long, and they're only available while supplies last. Enjoy the fun of Pokémon the next time you open a Happy Meal at McDonald's!
Source:
https://www.pokemon.com/us/pokemon-news/get-happy-with-pokemon-at-mcdonalds/
Happy Meal Commercial
Happy Meal Toy Video
Source:
http://www.happymeal.com/#toys

Article edited on 2018-10-18 09:05:41 by Sunain
Jul 06
Starting on July 13th, 2018, the first Pokémon in the
Pokémon fit
palm sized plush toy lineup will be available to purchase at the Pokémon Centers in Japan. The first 30 Pokémon will be available in July but by November 2018, the remaining 121 Pokémon will become available. 151 Kanto Pokémon to be available to buy and collect as part of this Pokémon fit series. Each plush toy costs 1100yen.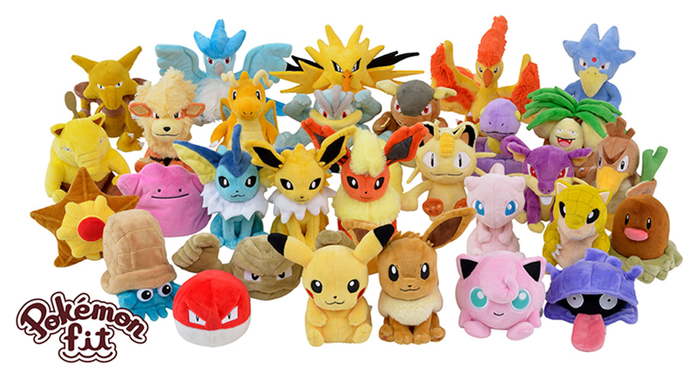 Source:
http://www.pokemon.co.jp/info/2018/07/180706_p02.html

Article edited on 2018-07-06 08:58:20 by Sunain
Jun 29
McDonalds Japan has revealed its Pokémon Happy Set line of toys that will be available starting on July 6th, 2018. The price of a Happy Set is between 460 and 500 yen depending on which food is purchased. There are 8 different toys in the set and each one comes with a Move Disc that matches the Pokémon type.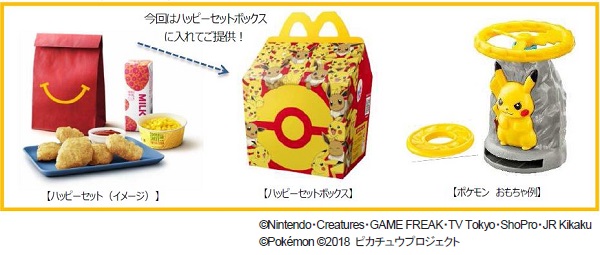 This Happy Set box design features Pikachu and Eievui all over the box. There are also cut outs of Pikachu, Eievui and Lugia on the back of the box which can be placed and played with on a Monster Ball pattern on the side of the box.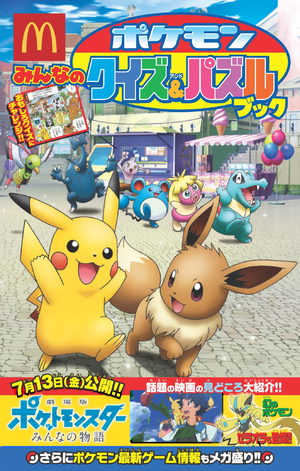 Pokémon Everyone's Quiz and Puzzle Book (ポケモン みんなのクイズ&パズルブック)
Those that purchase the Pokémon Happy Set on July 7th and 8th, 2018, a Pokémon Everyone's Quiz & Puzzle Book will be included which is filled with fun information such as latest information on the movie, manga, quizzes and puzzles. 1 book per Happy Set will be distributed while supplies last.
High resolution pictures from this Happy Set have been added to an Imageboard thread
.
McDonalds Happy Set - July 2018 - Toys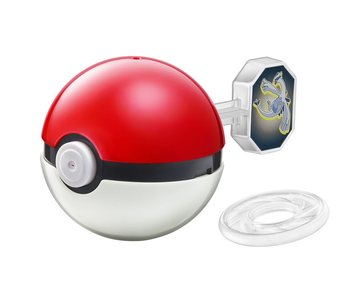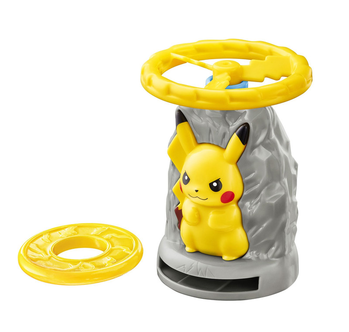 Monster Ball Target Hit Water Gun / Pikachu's Go! Thunderbolt
モンスターボールのまとあて水でっぽう / ピカチュウのいけ!10まんボルト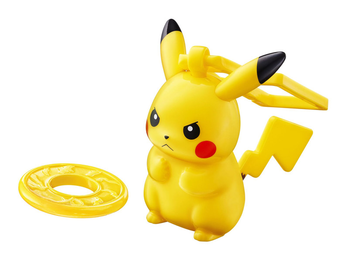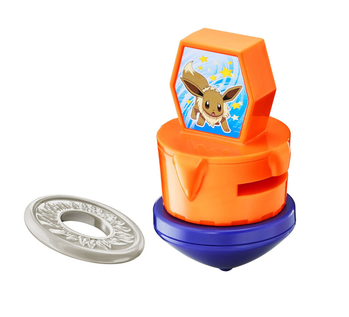 Pikachu Target Hit Keyring / Eievui's "Fire! Swift"
ピカチュウのまとあてキーリング / イーブイのはなて!スピードスター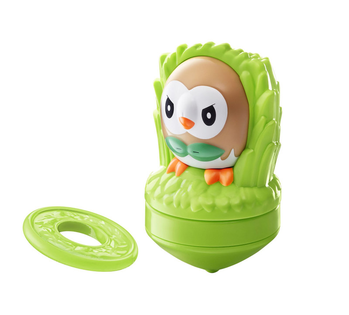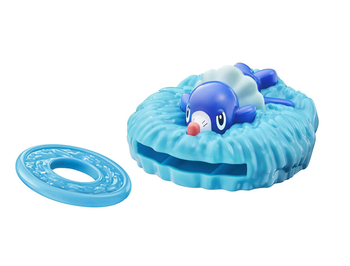 Mokuroh's Spin! Razor Leaf / Ashimari's Quick! Aqua Jet
モクローのまわる!はっぱカッター / アシマリのとびだす!アクアジェット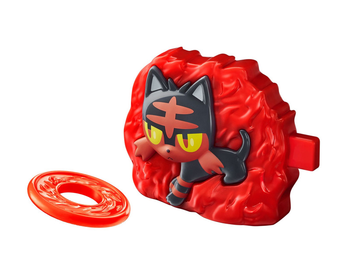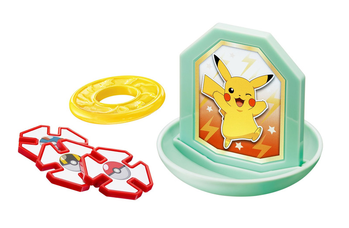 Nyabby's Quick! Flamethrower / Pikachu's Balance Puzzle
ニャビーのとびだす!かえんほうしゃ / ピカチュウのバランスパズル
Source:
http://www.mcdonalds.co.jp/family/happyset/new01/
YouTube Clips - McDonalds Happy Set
Original Sources:
https://www.youtube.com/watch?v=-R6eCHtoLso
and
https://www.youtube.com/watch?v=1rXbFANaK90

Article edited on 2018-07-09 08:50:25 by Sunain
Mar 01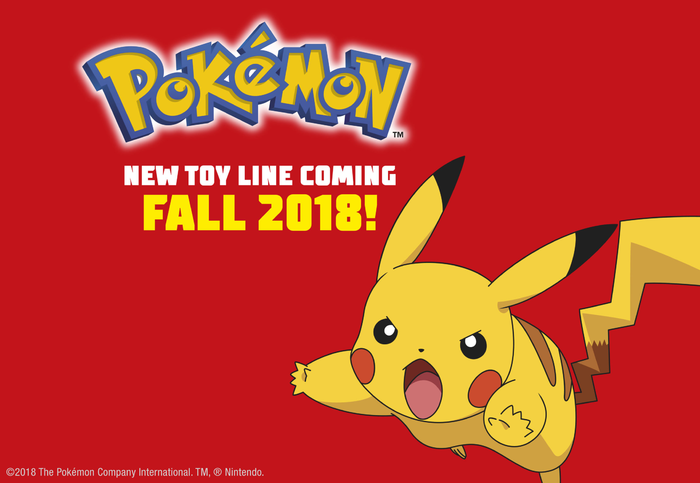 Wicked Cool Toys is excited to debut an exciting line of action figures, plush, roleplay items and other toys based on the hit Pokémon animated series! Arriving at retail locations in worldwide markets (excluding regions in Asia) in fall 2018.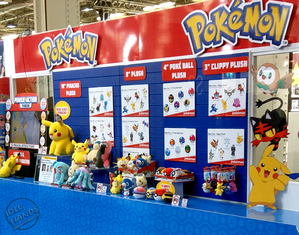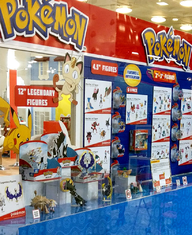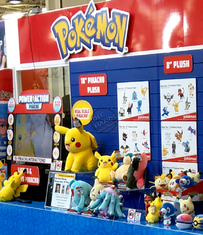 Some of the products were showcased at the UK Toy Fair 2018 and pictures of the products are available on the
Idle Hands blog post
and some of the pictures are
also available on an Imageboard thread
.
Source:
https://www.wickedcooltoys.com/brands/pokemon/

Article edited on 2018-03-01 01:02:35 by Sunain
Mar 01
The Pokémon Company International announced today that Pokémon has
followed up its record-breaking sales performance in 2016
with continued growth in Europe throughout 2017 for its Pokémon Trading Card Game (TCG) and toys.
According to figures recorded by the NPD Group Toys retail tracking service, Pokémon is the number one Strategic Trading Card Game property in Europe, with total sales exceeding €100 million. Total sales for such games in Europe in 2017 were over €122 million, giving Pokémon a phenomenal 82% share of the market.
Pokémon TCG sales continued to rise in key territories, with growth of 42% in the United Kingdom, 56% in Spain and an incredible 644% in Italy. Pokémon toys [HB1] also saw a significant rise in sales in 2017, with an increase of 54% in the UK, 14% in Germany and 146% in Italy.
Pokémon gained additional recognition at the UK Toy Fair in London by winning two separate awards. The Pokémon Trading Card Game collected Pocket Money Toy of the Year at the Toy Industry Awards, organised by the British Toy & Hobby Association and Toy Retailers Association. Additionally, the new line of Pokémon toys [AD2] made by Wicked Cool Toys and distributed by Character Options was crowned the winner of the Toy Fair 2018 Editor's Choice Award, which was voted on by media visiting the show.
Simon Benton, VP of Pokémon TCG Sales Europe, said: "2017 was another exceptional year for the Pokémon Trading Card Game. We are the number one Strategic Card Game in Europe, and the UK toy industry voted the Pokémon Trading Card Game the top Pocket Money Toy of the Year. The continued success is testament to the fantastic support of all our retailers and the Pokémon TCG's huge appeal, and with further expansions and promotions planned, we expect another strong performance in 2018."
Peter Murphy, senior director of marketing at The Pokémon Company International, said: "Wicked Cool Toys' first Pokémon master toy range has been fantastically well received by retailers and the media at the recent toy fairs in London and Nuremberg. The huge interest in the new toy line is hugely encouraging, and we expect sales to continue to rise when the range launches later this year."
The global phenomenon of Pokémon was first launched in Japan in 1996 as a role-playing game for Nintendo's Game Boy system and reached the United States and Europe in 1998–99. The first Pokémon games introduced the original 151 Pokémon. Today, the Pokémon universe includes more than 800 Pokémon that players can catch, trade, and battle against their opponents with in the quest to become a top Pokémon Trainer.
Pokémon has since grown into one of the most popular entertainment properties in the world. It is one of the most successful video game franchises of all time, with more than 300 million video games sold worldwide. In addition, 23.6 billion TCG cards have been shipped to 74 countries in 11 languages, and over 450,000 players take part in Pokémon events every year. There are also more than 900 episodes of the animated TV series, soon starting its 21st season.

Article edited on 2018-03-01 11:21:52 by Sunain
Jul 08
McDonalds Japan has announced that their Happy Sets for July 2017 will include Pokémon toys based off the
20th Pocket Monsters movie
. There are 6 different toys to collect and they will be available for approximately 3 weeks while supplies last starting July 14th, 2017.
Happy Set Toys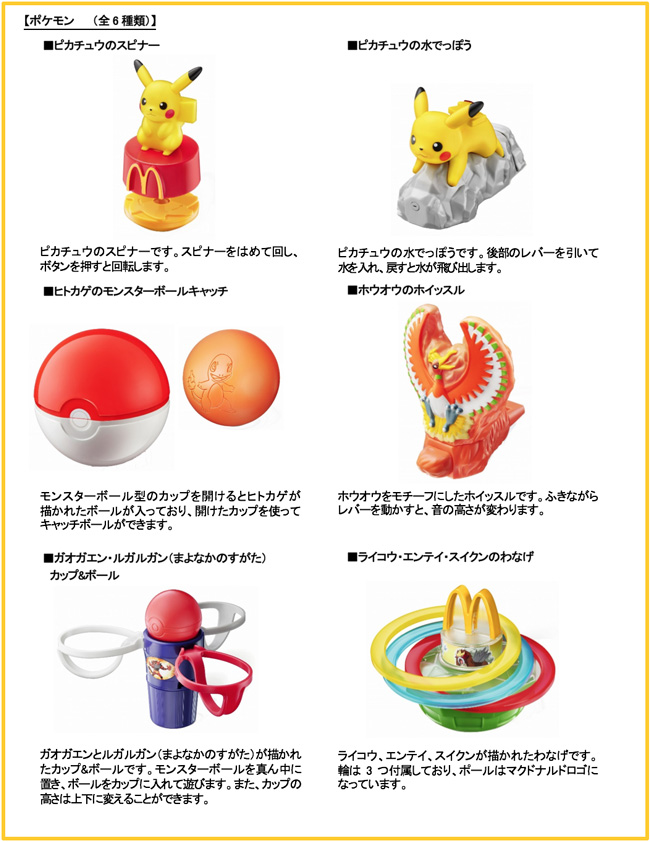 Pikachu Spinner (ピカチュウのスピナー)
Pikachu Water Gun (ピカチュウの水でっぽう)
Hitokage Monster Ball Catcher (ヒトカゲのモンスターボールキャッチ)
Ho-oh Whistle (ホウオウのホイッスル)
Gaogaen Lugarugan Cup and Ball (ガオガエン・ルガルガン カップ&ボール)
Raikou, Entei, Suicune Ring Toss (ライコウ・エンテイ・スイクンのわなげ)
YouTube Commercial - McDonalds Happy Set - July 2017
Source:
http://www.mcd-holdings.co.jp/news/2017/promotion/promo0705a.html

Article edited on 2017-07-09 04:21:48 by Sunain