Welcome to PocketMonsters.net
PocketMonsters.net
is a fansite dedicated to all things Pokémon (ポケモン) and Pocket Monsters (ポケットモンスター). We are the premier site for news and information about all aspects of the franchise from around the world. We cover the
Anime
,
indexing the music
, the
Trading Card Game
, the
Games
, the
variety shows
, have a
large imageboard
,
forum
and much more.
Follow us on Twitter
and
Subscribe to our RSS Feed
for the latest updates!
Latest News

16 May
16 Apr
25 Oct
21 Oct
08 Feb
17 Aug
News Tag Filter:
Voice Actor
May 16
Talent company Artvision announced that voice actor Satoko Kito (木藤聡子) died on May 1st, 2020 while under medical care. She was 58 years old. She was born on January 18th, 1962 in Tokyo, Japan.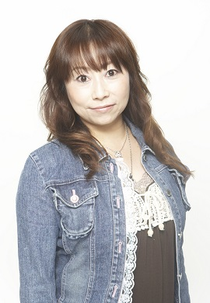 She is best known to Pocket Monsters fans as the voice of
Misa
in the Japanese version of the anime. She was also know for voicing Ramika in Vampire Hunter D and Asami-chan in Anpanman.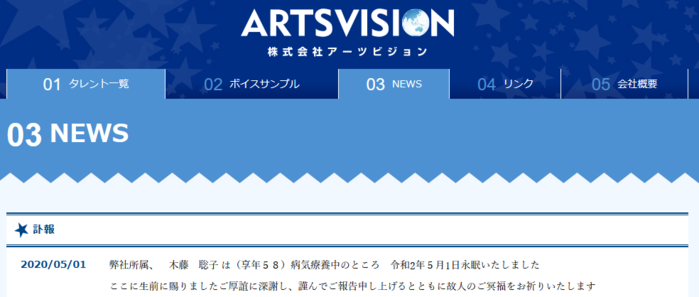 Obituary
Satoko Kito (58), who was a member of our agency, passed away on May 1st, 2020 while under medical care.
We would like to express our deepest gratitude for the kindness she gave us during her lifetime and that she may rest in peace.
訃報
弊社所属、 木藤 聡子 は(享年58)病気療養中のところ 令和2年5月1日永眠いたしました
ここに生前に賜りましたご厚誼に深謝し、謹んでご報告申し上げるとともに故人のご冥福をお祈りいたします
Source:
https://www.artsvision.co.jp/news/5650/

Article edited on 2020-05-16 07:34:56 by Sunain
Apr 16
Talent company Air Agency announced today that voice actor Keiji Fujiwara died on April 12th, 2020 due to cancer. He was 55 years old. A private funeral was held by his family. He was born on October 5th, 1964 in Tokyo, Japan.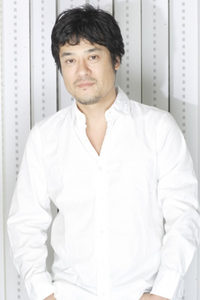 He is best known to Pocket Monsters fans as the voice of
Matsubusa, head of Magma Gang
in the Japanese version of the anime and also as the voice of Mewtwo in the latest Super Smash Bros games. He also played other very notable roles such as Axel in Kingdom Hearts, Ardyn in Final Fantasy XV, Reno in Final Fantasy VII: Advent Children and Final Fantasy VII Remake.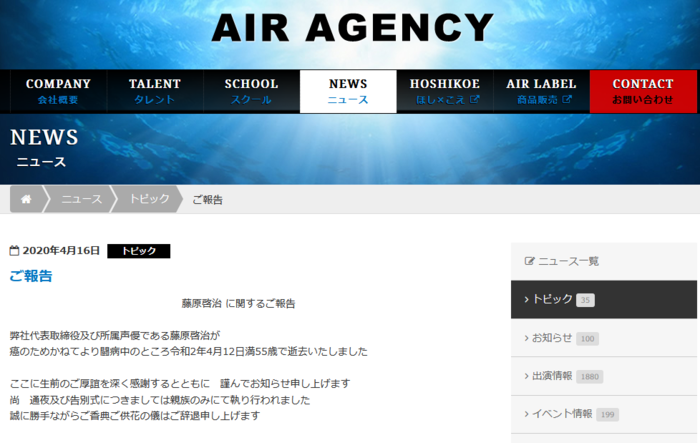 Report on Keiji Fujiwara
Keiji Fujiwara, the president of our company and one of our voice actors, has died at the age of 55 on April 12th, 2020 after battling cancer for some time.
As we announce this, we would like to express our deepest gratitude for his kindness during his lifetime. The wake and funeral service will be conducted by his family. We regret to inform you that we will not accepting flowers for the funeral.
AIR AGENCY Co.
藤原啓治 に関するご報告
弊社代表取締役及び所属声優である藤原啓治が
癌のためかねてより闘病中のところ令和2年4月12日満55歳で逝去いたしました
ここに生前のご厚誼を深く感謝するとともに 謹んでお知らせ申し上げます
尚 通夜及び告別式につきましては親族のみにて執り行われました
誠に勝手ながらご香典ご供花の儀はご辞退申し上げます
株式会社 AIR AGENCY
Source:
https://www.air-agency.co.jp/topic/20200416_11900

Article edited on 2020-05-16 07:42:47 by Sunain
Oct 25
The official Pocket Monsters anime website has updated. Translations follow:
A Certain Pair of "Lovely Charmy Villains" Will be Appearing in the New Series as Well:
The Lovely Charmy Villains that are after Satoshi's Pikachu, the Rocket Gang,
will be appearing in the new series as well!
They'll be appearing in the different regions, chasing after Satoshi and Go on their adventures!
It seems the Rocket Gang's cherished mechs will be appearing as well!
Look forward to seeing what kinds of mechs these are once the anime starts!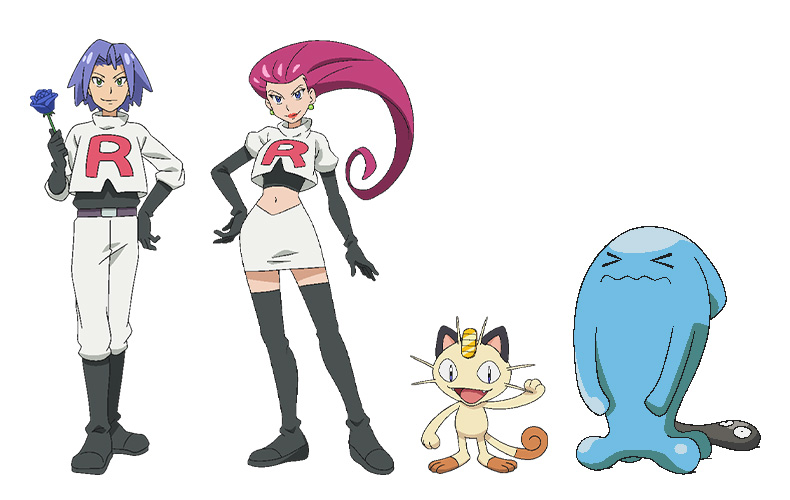 The voice actors for Rocket Gang also provided the following commentaries on Twitter:
Voice actor comments:

Megumi Hayashibara, voice of Musashi:
"We'll be on cleaning duty in the corner, we'll occasionally get messed up and have our hair burned off while trying to get Pikachu, and Nyarth will even dress up as a Kimawari if necessary! I just really love that we Rocket Gang members got to butt our heads into this new "Pocket Monsters" world as well. (laughs)"


Shinichiro Miki, voice of Kojiro:
"We should ask for opinions on how you guys would like to see the Rocket Gang act in the future! (laughs) In this new series you'll get a Rocket Gang you'll love quoting over and over - we'll even disguise ourselves as the opposite sex sometimes. There's also going to be these really "fun" bits during our introduction, so I want you to pay attention to those as well."


Inuko Inuyama, voice of Nyarth:
"Since the Rocket Gang trio aren't characters from the video games, I believe they'll get more and more attention and active roles if you speak up and make it clear you want them to, so please, please make sure to keep supporting them! (laughs) Thank you in advance!"

Sources:
https://www.tv-tokyo.co.jp/anime/pocketmonster/news/index.html#217601
,
https://twitter.com/anipoke_PR/status/1187700332270256129
,
https://twitter.com/anipoke_PR/status/1187700583823626241
and
https://twitter.com/anipoke_PR/status/1187700837746757632

Article edited on 2019-10-25 02:52:13 by Adamant
Oct 21

Rica Matsumoto, the voice actor known for the role of
Satoshi
in the Pocket Monsters anime, was appointed as a Cool Japan Ambassador and received a letter of appointment from
Naokazu Takemoto
, the Minister of State for Science and Technology Policy in Tokyo on October 21st, 2019.
The Cool Japan Ambassador is an effort to help people with international communication skills, such as foreigners who like Japan and Japanese who are active overseas, to cooperate in disseminating information on Japan's appeal and culture. 47 people, including Matsumoto, have been appointed, many of whom are international experts in the fields of food and tourism, which helps to further expansion of Japan's fans.
Regarding the reason for Matsumoto's appointment, Minister Takemoto explained the role of the main character Satoshi in the popular anime Pocket Monsters is important and that, "Since she's world famous and has many fans who are children, we want to increase the number of people who are fans of Japan." Matsumoto was enthusiastic about getting the job and said, "I hope everyone will understand the Japanese culture and it connects the world with a smile!"
Matsumoto, after receiving the letter of appointment, said, "When I received the certificate, I felt like I was "doing my best!" and I felt touched and started to cry a bit."
In recent years, Matsumoto has been an active singer and has performed overseas. Since the anime Pocket Monsters has many theme songs, it is highly recognized both in Japan and abroad. "It's amazing that people from overseas can sing in Japanese. I try to remember and speak the language of the country I'm in, but everyone says "Speak in Japanese." Everyone wants to learn Japanese and speak in Japanese even at autograph sessions."
Sources:
https://article.auone.jp/detail/1/5/9/20_9_r_20191021_1571643291781612
and
https://www.cao.go.jp/cool_japan/ambassador/ambassador.html

Article edited on 2019-10-21 02:48:39 by Sunain
Feb 08
Japan's Daily Sports newspaper announced on Friday, February 8th, 2019, that voice actor Kinryu Arimoto (有本欽隆) died on Friday, February 1st, 2019 from esophageal cancer. He was born on February 11th, 1940 in Tottori, Japan and was 77 years old.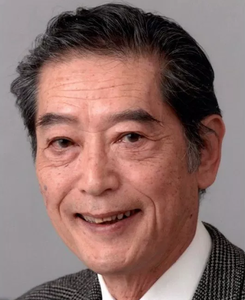 Pocket Monsters anime fans will know him from his roles as
Ford
from the Orange Islands episode
The Little Coil on the Prairie!
and
Denjirō
from the Gold and Silver episode
The Poppo Man and his Carrier Poppo!
.
Source:
https://www.daily.co.jp/gossip/2019/02/08/0012049713.shtml

Article edited on 2019-02-12 09:39:30 by Sunain
Aug 17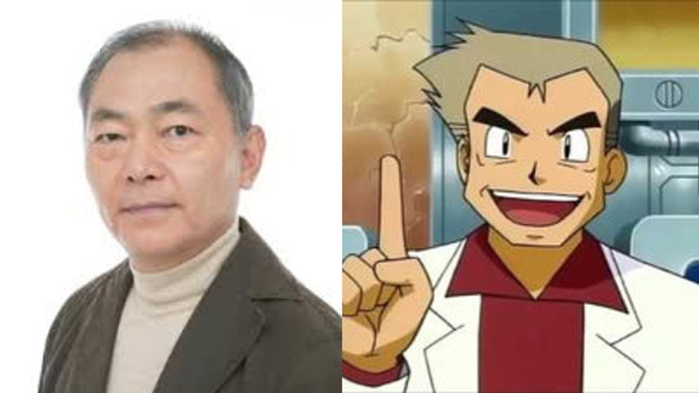 The official website for talent agency Aoni Production just reported that veteran voice actor Unsho Ishizuka, who was represented by them, passed away from
Esophageal cancer
on August 13th, 2018 at age 68.
Ishizuka is primarily known for his roles as
Professor Okido
in the Pokémon anime series and as Dino F. Golzine in Banana Fish, but has a long resume of major roles. In the Pokémon anime, his biggest additional roles are those of the narrator,
Adeku
and
principal Okido
.
Source:
Aoni Production
, via
Nijimen.net

Article edited on 2018-08-17 12:13:38 by Sunain