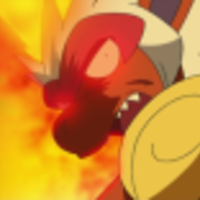 AuraKshatriya
Registered Users
| | |
| --- | --- |
| Registered On | 19 April 2009 12:31:17 |
| Eps Rated | |
| Imageboard Posts | 15 |
| Forum Posts | 191 |
| Site Updates | |
User Sig
_______________________________________________________________
Recent Activity
Forum Posts
25 Mar 2011 05:05 PM

Registered Users


Joined:19 Apr 2009
Forum Posts:191


This episode really had a genuine flare. It obviously was centered around getting Emonga, with Iris being isolated with it to gain it's trust, but Emonga's personality, and how it actually bonded with Iris and her Kibago was really amusing. There's much more I could say about this episode, but I don't think I'd be able to fit in absolutely everything I liked about this one. Great episode, it really helped show just how amazing the Pokemon anime is.
05 Aug 2010 03:09 PM

Registered Users


Joined:19 Apr 2009
Forum Posts:191


Part 1 was an interesting start to things. There was some minor character development early on, too. Ironically, copying Satoshi`s Counter Shield was the one thing I hoped Shinji wouldn`t do, yet it seemed like something he would. Drapion seems like it`ll be a powerful opponent, and judging by the preview for next week, will play a greater role in the battle. I`m definitely looking forward to how this turns out. Hopefully they`l have something cool to surprise us by the end.

On a side note, it`s awesome the Glion`s returned, glad to see the leave wasn`t permamnent. But it seems to have gotten a lot bigger xD
15 Jul 2010 11:34 PM

Registered Users


Joined:19 Apr 2009
Forum Posts:191


I suspected this in the previous episode with Naoshi (though I still liked the episode quite a lot), but it seems they`re really rushing things to get to the conclusive fight with Satoshi and Shinji. They didn`t even show most of Magmarashii`s fight against Armaldo, and in this situation, they instantly got rid of Airmd. Aside from that, though, the episode qas quite entertaining. Sawamular put up a great fight, and in my opinion should`ve at least tied with Ringuma. As for Emperto, the fact that it didn`t stop standing strong even when it was defeated is something that really impressed me, out of almost all the battles thus far in the series, even. Shinji saying it was a good battle afterwards also shows he`s starting to soften up a bit. And of course, I`m still interested in the new mystery Darkrai trainer idea. All in all, a good episode.
02 Jul 2010 01:36 AM

Registered Users


Joined:19 Apr 2009
Forum Posts:191


Quote From: Sunain

The official website has posted a synopsis for this episode stating there will be new information on the Black and White series as well as the climax for Satoshi.

サトシの旅もクライマックスへ!シンオウ地方最後のバトル、シンオウリーグが遂に幕を明ける!サトシとピカチュウの夢の結末は…!?▽アニメ新シリーズの衝撃情報を発表!

Satoshi's journey reaches the climax! The final battle in the Sinnoh Region and finally the end of the Sinnoh League! The conclusion of Satoshi and Pikachu's dream is...!? Shocking news about the new anime series will be announced.

Source: http://www.tv-tokyo.co.jp/program/detail/19406_201007011900.html

I really do hope they don`t end Satoshi`s journey here, to be honest I really think it`s far too soon, we`ve been with this show for so long, there`s no reason to stop.

Aside from that, this episode was one of my favourites in a long, long time. The introduction of such an ominous character, even controlling a Darkrai, with such litte information really provides some phenomenal suspicion and foreshadowing. Additionally, seeing Heracross, one of my, if not my favourite of Satoshi`s Johto Pokemon battle in close-combat using Focus Punch like that was incredibly fun to watch. This is becoming what seems to be the greatest Pokemon League Tournament, Satoshi is even splicing in his older Pokemon with his new, and the story is better than every before. I`ll definitely be watching this episode again in the future.
22 May 2010 08:54 PM

Registered Users


Joined:19 Apr 2009
Forum Posts:191


I honestly would`ve liked to see Naosh win the Grand Festival. Hopefully he`ll do better in the Sinnoh League, he`s a very interesting character in my opinion.

As for the episode, despite the crimson colour during Hikari`s last attack seemingly coming from no where, it was fun to watch nonetheless, and a good way to debut Erlade.
Imageboard Posts