Pokémon Mystery Dungeon: Gates to Infinity Announced
The English version of the
newest Mystery Dungeon game Pokémon Mystery Dungeon: Magnagate and the Infinite Labyrinths (ポケモン不思議のダンジョン ~マグナゲートと∞迷宮~)
has been announced.
Pokémon Mystery Dungeon: Gates to Infinity
will be released in North America on
March 24th, 2013
for Nintendo 3DS and eShop. Below are further details.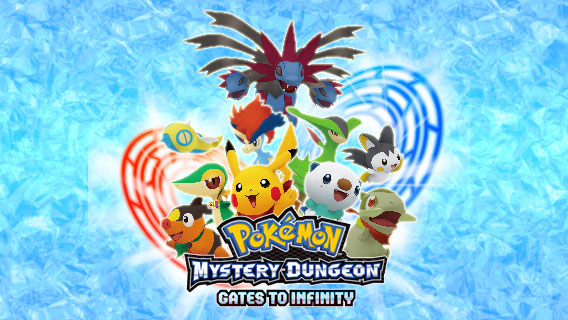 News Press Release
Discover the incredible 3D world of Pokémon Mystery Dungeon: Gates to Infinity, where Pokémon speak and amazing adventures are always nearby! What's more, you will become a Pokémon yourself! You'll meet all kinds of Pokémon throughout the game, both in the towns you'll visit and the Mystery Dungeons you'll explore.
Have fun exploring more than 20 dungeons filled with all kinds of Pokémon, treasure, and surprises! Each of the dungeons you'll explore has unique characteristics, including the Pokémon you'll find, the number of floors in the dungeon, and the types of terrain you'll have to deal with. Some of the Pokémon you battle will offer to join your team, too!
In addition to the dungeons you'll delve into during the main story, you can use the Nintendo 3DS Camera to discover Magnagates—entrances to new dungeons—by scanning everyday objects around you!
Join up with people nearby who are also playing Pokémon Mystery Dungeon: Gates to Infinity to explore and battle through dungeons together! Up to four people can play at a time. You can play as any of the Pokémon on your team—you don't have to battle as your main Pokémon character.
Pokémon Mystery Dungeon: Gates to Infinity arrives for the Nintendo 3DS system on March 24th, 2013, both in stores and in the Nintendo eShop.
Source:
http://www.pokemon.com/us/pokemon-video-games/pokemon-mystery-dungeon-gates-to-infinity/
POKÉMON MYSTERY DUNGEON: GATES TO INFINITY TO RELEASE ON MARCH 24 FOR NINTENDO 3DS
Dec. 20, 2012 - On March 24, the popular Pokémon Mystery Dungeon series will make its debut on the Nintendo 3DS hand-held system with Pokémon Mystery Dungeon: Gates to Infinity. With vibrantly detailed 3D graphics and more than 20 Mystery Dungeons that change every time they are entered, nearly limitless adventure awaits players and their Pokémon friends in this new game.
Become one of five popular Pokémon from the fan-favorite franchise – Pikachu, Snivy, Oshawott, Tepig or Axew – and journey through infinite dungeons, battle and befriend other Pokémon, collect treasures and explore the game's vast, beautiful world – all in amazing 3D. In Pokémon Mystery Dungeon: Gates to Infinity, there are many labyrinths called Mystery Dungeons that change their form every time a player enters. Pokémon, items and treasure within a Mystery Dungeon will change location every time a player re-enters.
Players can gain access to additional Mystery Dungeons through "Magnagates." To open the Magnagates, players scan circular objects in the real world using the Nintendo 3DS Camera, allowing them to continue their adventure, even after they have completed the main Mystery Dungeons.
Pokémon Mystery Dungeon: Gates to Infinity also introduces wireless multiplayer features to the series. More details on this functionality will be shared in the future.
Pokémon Mystery Dungeon: Gates to Infinity will be available in retail stores, and also as a download from the Nintendo eShop for Nintendo 3DS.
Source:
http://press.nintendo.com/articles.jsp?id=36581