Pokémon National Zukan Pro Genesect Password / Kyurem Tretta Pucks
The official Japanese Pokémon National Zukan Pro website has announced the password to unlock
Genesect
in the application. Users can enter the password
QUHDPHEU
to unlock it.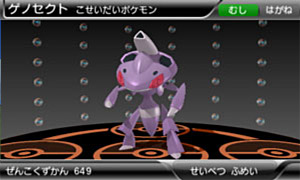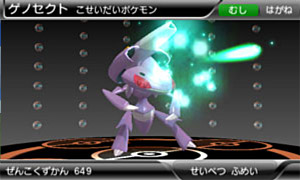 Source:
http://www.pokemon.co.jp/ex/zenkokuzukan_pro/genesect/
Black Kyurem and White Kyurem Tretta Pucks
The Next Generation World Hobby Fair 2013 held in Tokyo, Nagoya, Osaka and Fukuoka will be having a Tretta Pokémon Challenge Cup. If players defeat Black Kyurem or White Kyurem in the Challenge Cup, they will get a trophy tretta of that particular Pokémon that they defeated.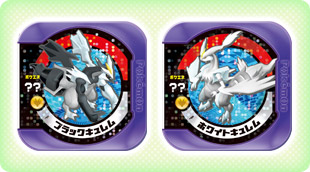 Nagoya Tournament - January 20th, 2013 - 9:00 til 16:00 - Nagoya Dome
Tokyo Tournament - January 26th, 2013 and January 27th, 2013 - Makuhari Messe Hall
Fukuoka Touranment - February 3rd, 2013 - 9:00 til 16:00 - Fukuoka Yahoo! JAPAN Dome
Osaka Tournament - February 10th, 2013 - 9:00 til 16:00 - Kyocera Dome Osaka
Source:
http://www.pokemon.co.jp/info/2013/01/130111_e01.html