Official movie website updates with info on more Movie 17 related events
The official movie website has updated with details on new movie-related events. Translations follow:
MonColle Photo Contest
The section on the
previously announced MonColle photo contest
has been updated with further information now that the first of the two contests has started accepting entries.

The June 15th episode of Pokémon Get TV will show you how to take funny MonColle pictures!
The June 15th episode of "Pokémon Get TV" will be a Pokémon movie special! In the episode's "Funny MonColle Pictures" segment, you will be shown how to take funny photos! Use it as inspiration for your contest entries!
*Pokémon Get TV airs every week Sunday 7:30am on the TV Tokyo Network channels. Program content and airtime may differ depending on your region.

The "Cocoon of Destruction and Diancie" Special Monster Collection Pack will go on sale July 19th for 2200 yen! The toyline also has many other Pokémon from the movie as well as mega evolved Pokémon!
Pokémon Tretta Giveaway
Go watch "The Cocoon of Destruction and Diancie/Pikachu, What Kind of Keys are These?" in theaters and get a special "Diancie" Pokémon Tretta for free!
Of course, it will be available for both kids and adults! The Tretta will be gven out to the first 3 million viewers at a national level on a first-come-first-serve basis!
This is a special Pokémon Tretta you can't get from normal Tretta machines! It's also the first time Diancie is available as a tretta!
The Diancie you get from this tretta knows
Moonblast
, just like the Diancie in the movie! It also comes in a
Precious Ball
Those who attend theatrical showings of Pokémon the Movie X/Y "The Cocoon of Destuction and Diancie"/"Pikachu, What Kind of Keys are These?", which premieres in theaters all across Japan Saturday July 19th, will be given a special Pokémon Tretta featuring the movie's star Diancie as an attendance gift!
*The gift is limited to the first 3 million visitors on a national level. Distribution will end once supplies are exhausted. *The Diancie being given away here can only be used in "The Pokémon Tretta 02", which will be available from Thursday June 10th, and later systems .
The Fairy Type Diancie is strong against the Fighting Type and the Dark Type! Use this special "Diancie" tretta to catch Darkrai and Lucario in "The Pokémon Tretta 02"!
Search for the Diamond Country's Princess
Experience a "Riddle Event" in a giant amusement park at Yomeuri Land and Hirakata Park!
Search for the Diamond Country's Princess
2014.7.19-8.31
Solve the riddles, and the legendary Pokémon will appear!
The Diamond Ore Country exists deep underground. The country's princess, Diancie, hears about the legendary Pokémon Xerneas , and visits a certain amusement park.
However, Diancie is abducted by someone mysterious who suddenly appear! Without its princess, the Diamond Ore Country will eventually collapse. But to save Diancie, the riddles left behind in the amusement park must be solved!
Now is the time! Put your courage and wits to the test and save the princess of the diamond country!!!!
Corocoro Comic Tie-in
Riddle-solving X Pokémon:
Do you know the answer to the riddle on the
Riddle-solving X Pokémon
entry on
page 25
of the
July issue of Monthly Corocoro Comic
? Enter the final answer
here
! The answer is a 5 character word. Enter it in the given field and click the button. Please write it out in all katakana. The deadline is Monday July 14th. Winners will have the prizes shipped to them.
Winners will be selected by lottery among those who give the right answer! 5 winners will be given a set consisting of a Pokémon Mega Ring, a MonColle Pikachu figure and a Diancie plushie, all provided by Takara Tomy!
Event details
This year, the event will be held in both Tokyo and Osaka! They will run between Saturday July 19th and Sunday August 31st!
At Yomiuri Land (Tokyo)
:
All park passes give you one free attempt. Further attempts are 300 yen a piece (park entrance ticket comes in addition to this)
At Hirakata Park (Osaka)
:
Attempts are 300 yen upon the presentation of a Free Pass, a Ride Ticket or a single clip from a Clip Ticket 7. Park entrance ticket comes in addition to this.
Those who complete the riddle event will be given an exclusive set of "Diancie glitter stickers"! Challenge the event and get this prize!
Also, all participants will receive a "Pokemon the Movie XY Original Sun Visor" of their liking (while supplies last).
Nice to Meet Pikachu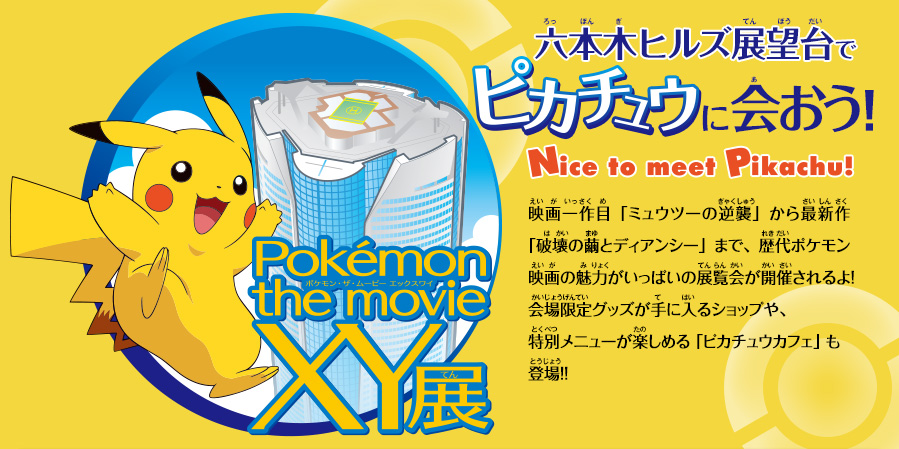 Meet Pikachu at the Roppongi Hills Observation Deck
A grand exhibition of historical Pokémon movie highlights, from the original "Mewtwo Strikes Back" to the most recent "Diancie and the Cocoon of Destruction", will be held! There will also be a shop where you can buy merchandise not sold outside this event, as well as a "Pikachu Cafe" with a special menu!!
Event details:
Period: Saturday July 19th 2014 to Sunday August 31st 2014. 44 days total.
Location: Roppongi Hills Observation Deck "Tokyo City View", Roppongi Hills Mori Tower, Floor 52
Time of day: 10:00-22:00 (no new visitors will be admitted after 21:30)
Entry price: 1500 yen (One person), 1000 yen (university students and high schoolers), 500 yen (children age 4 until middle school). Includes admission to the observation deck.
Sources:
http://www2.pokemon-movie.jp/moncolle_photo/
,
http://www.pokemon-movie.jp/topics/present.php
,
http://www.pokemon-movie.jp/nazotoki/
and
http://www.pokemon-movie.jp/topics/pokemonten-xy.php