Welcome to PocketMonsters.net
PocketMonsters.net
is a fansite dedicated to all things Pokémon (ポケモン) and Pocket Monsters (ポケットモンスター). We are the premier site for news and information about all aspects of the franchise from around the world. We cover the
Anime
,
indexing the music
, the
Trading Card Game
, the
Games
, the
variety shows
, have a
large imageboard
,
forum
and much more.
Follow us on Twitter
and
Subscribe to our RSS Feed
for the latest updates!
Latest News

30 Jul
27 Jul
23 Jul
20 Jul
16 Jul
Upcoming Episodes
New titles are revealed in various publications such as: TV guides, childrens' magazines, anime magazines, promotional posters and videos, official websites and official television programs. Titles and their translations are added to our
episode guide
and the chart below when the titles are revealed.
Jul 30
The Pokémon Company International has announced that the dubbed version of Movie 21 is called
Pokémon the Movie: The Power of Us
and it will be coming to theaters worldwide in late 2018. It will be in US theaters on November 24th, 2018, November 26th, 2018, November 28th, 2018 and December 1st, 2018.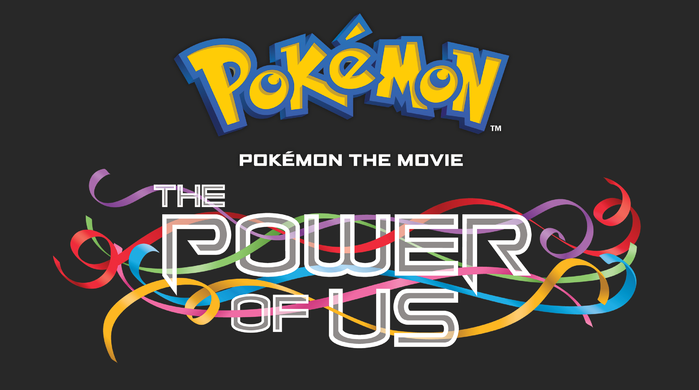 The Pokémon Company International and Fathom Events Partner to Bring Pokémon the Movie: The Power of Us to Cinemas in Select Locations Worldwide
First Trailer Unveiled for the New Animated Pokémon Movie, Coming to Theatres as a Limited Release Later This Year
Today, The Pokémon Company International announced that it is once again partnering with Fathom Events to bring a new animated film, Pokémon the Movie: The Power of Us, to select cinemas in multiple territories as a limited theatrical release. The agreement with Fathom Events, the recognized leader in event cinema distribution, follows a successful cinema event collaboration last year that showcased Pokémon the Movie: I Choose You! and garnered strong attendance worldwide.
Based on the globally popular Pokémon brand, Pokémon the Movie: The Power of Us follows Ash and Pikachu as they join forces with a diverse new cast of characters to rescue a seaside town from a series of threatening incidents. Filled with unique challenges and thrilling Pokémon battles, and set during a festival celebrating the Legendary Pokémon Lugia, this heartwarming film illustrates the value of teamwork and putting aside each other's differences.
"Pokémon the Movie: The Power of Us gives fans and families an opportunity to come together in witnessing new plotlines, characters, and settings unfold in the Pokémon world," said J.C. Smith, senior director of consumer marketing at The Pokémon Company International. "We can't wait to bring the magic of Pokémon to life on the big screen again with Fathom Events' expertise in event cinema."
The highly anticipated Pokémon the Movie: The Power of Us will be shown in movie theatres in select markets. More information on the cinema events, including participating movie theatres, screening dates, and ticketing, will be available soon. Since debuting as Pokémon the Movie: Everyone's Story in Japan, where the Pokémon franchise originated, the movie has already received widespread viewership.
"We are excited to work with The Pokémon Company International on their latest entry in animation by debuting Pokémon the Movie: The Power of Us outside of Japan," said Ray Nutt, CEO of Fathom Events. "We look forward to delivering another high-quality Pokémon experience that will delight fans nationwide and abroad."
Pokémon the Movie: The Power of Us Poster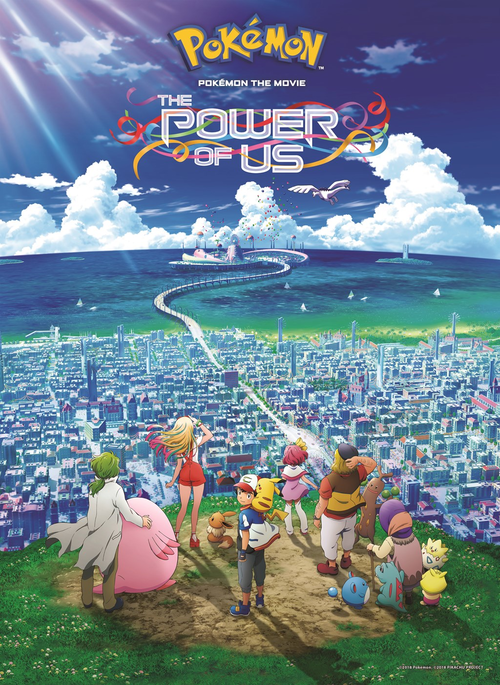 YouTube Clip - Pokémon the Movie: The Power of Us Teaser Trailer
Source:
https://www.youtube.com/watch?v=DIadDB5tfTs

Article edited on 2018-07-30 11:11:53 by Sunain
Jul 27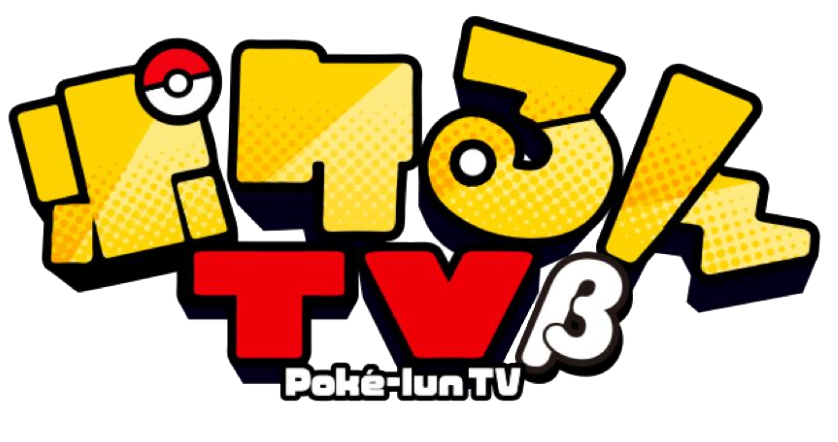 The Pokémon Company and UUUM announced today that they are collaborating together to work on a new YouTube Channel called
Poké-lun TV Beta (ポケるんTV β)
. The channel will create Pokémon videos targeted at children.
The channels hosts are:
Moe-chan (も えちゃん)
,
Takkun (たっくん)
and
Hono-chan (ほのちゃん)
.
Source:
https://www.pokemon.co.jp/corporate/PostImages/8769874e9f3bee62896519e6de78f7082640cd40.pdf

Article edited on 2018-07-27 07:21:25 by Sunain
Jul 23
Niantic has announced that Pokémon which are traded in Pokémon GO have a chance to become sparkly Lucky Pokémon.
Lucky Pokémon Are Ready for a New Adventure!
Trainers, Professor Willow has made an important new discovery about Pokémon! His findings suggest that Pokémon can take on a new trait when they are traded. The trait's origin is a mystery, and you can experience it soon in Pokémon GO!
According to his research, there is a chance that Pokémon, when traded, can become sparkly Lucky Pokémon. It seems that Lucky Pokémon require less Stardust to power up, which means they can reach a higher CP much faster than other Pokémon. Plus, a Lucky Pokémon can be detected by the Pokédex, so you can keep track of them!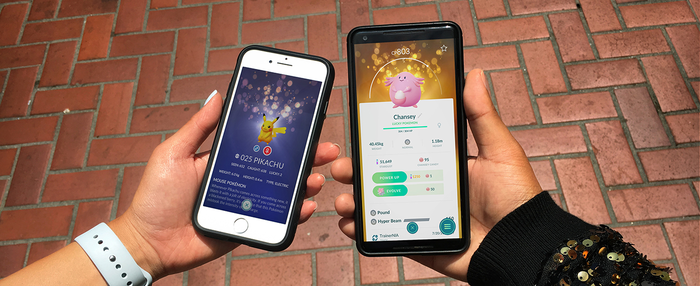 The longer the Pokémon spends inside a Trainer's Pokémon storage, the higher the chance of them becoming Lucky Pokémon when they are traded. Whether or not being in storage causes Pokémon to become Lucky Pokémon remains a mystery, but be sure to stay posted for more results from the professor's research.
With the discovery of Lucky Pokémon, Gifts also can include special new surprises. Trainers who send Gifts to friends will now receive XP for doing so and Gifts also have a chance of containing Stardust!
It's time to begin a new journey with Lucky Pokémon! Share a photo of your new find with #LuckyPokemon on your preferred social media channels. Stay safe, and happy exploring!
Source:
https://pokemongolive.com/en/post/luckypokemon/

Article edited on 2018-07-27 07:00:46 by Sunain
Jul 20
The
Let's Go! Cup (Let's Go! ピカチュウ・Let's Go! イーブイ)
online competition for
Pokémon Ultra Sun and Ultra Moon
has been announced on the Pokémon Global Link website. Full details are listed below and on our
7th Generation Online Competitions
page which will be updated as new tournaments are announced.
Let's Go! Cup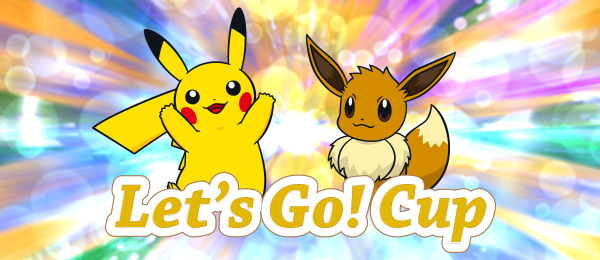 Information
Region: International
Registration Period: Thursday, July 26th, 2018 at 00:00 UTC, through Thursday, August 2nd, 2018, at 23:59 UTC
Tournament Period: Friday, August 3rd, 2018 at 00:00 UTC, through Sunday, August 5th, 2018, at 23:59 UTC
Ranking Results Announcement: August 2018
Player divisions: This competition does not have age divisions.
Compatible Games: Pokémon Ultra Sun and Pokémon Ultra Moon
Battle Type: Single Battle
Banned Pokémon: Eligible Pokémon are limited to National Pokédex No. 25 and No. 133.
Entry Gift: Qualified participants will receive a mobile-sized wallpaper featuring the Pokémon that was selected to battle the most times during the competition. To qualify, players must complete at least one battle.
Description
The two stars of Pokémon: Let's Go, Pikachu! and Pokémon: Let's Go, Eevee! are getting together this summer for a fun Online Competition. In the Let's Go! Cup, only these two famous Pokémon will be eligible to participate. Choose which Pokémon you want and head into battle to reach the top of the leaderboards!
Competition Rules
• Pokémon brought in via Poké Transporter are permitted.
• Items are permitted.
• Register one of your Pokémon to your Battle Team.
• All Pokémon in this competition will automatically become Lv. 50 for the duration of each match.
• A 5-minute time limit for each player will automatically be enforced in-game, beginning at the start of each battle. When a player's time limit expires, that player will lose the game.
• At the beginning of each turn, players have 30 seconds to select a move. If a player has not made their selections at the end of this period, the game will automatically make a selection for the player.
• Players may battle up to 10 games per day of the competition. Any unplayed games will carry over to the following day. A new day begins at 00:00 UTC.
Sources:
https://3ds.pokemon-gl.com/information/9523f814-8dd2-49d4-96db-439f588ddaf0

Article edited on 2018-08-05 09:14:36 by Sunain
Jul 20
Niantic has published the
Three-Strike Discipline Policy
for players of Pokémon GO that have been found to be cheating. Full details are posted below.
Pokémon GO - Three-Strike Discipline Policy
At Niantic, we strive to create a friendly and fair gameplay experience for all players. As part of that commitment, we enforce a three-strike policy against cheating. This policy may provide offenders with a series of disciplinary actions that gradually increase in severity and provide multiple opportunities to change their behavior. If offenders reform their ways, they are welcomed back into the game. However, if offenders continue cheating, they will be permanently removed from the game in accordance with the Pokémon GO Terms of Service.
For the purposes of this policy, we define cheating as behaviors that violate the Pokémon GO Terms of Service and Trainer Guidelines, such as falsifying location (GPS location spoofing) and accessing Pokémon GO clients or backends in an unauthorized manner, including through the use of third-party software or add-ons.
A strike serves as a warning. Everyone can make mistakes. That's why we have created this policy to enable offenders to learn from their mistakes and change their ways. If you have been issued a strike, don't ignore it. Take action to ensure that you do not commit any further transgressions. If you believe that your account was compromised or hacked, please see this article for tips on securing your account.
Keep in mind that offenders are not always offered three strikes. Some misbehaviors may result in immediate account termination without prior warning.
Strike 1: Warning
Disciplinary actions:
If this strike is issued, you will see a warning message within the Pokémon GO app informing you that we have detected cheating on your account.
In addition to this warning, your gameplay experience may be degraded in the following ways for the duration of the warning:
You may not be able to encounter rare Pokémon in the wild. These Pokémon may not appear on the map or on the Nearby Pokémon tracker.
You may be excluded from receiving new EX Raid Passes.
Duration:
This strike will last for approximately 7 days. After this period, your gameplay experience will fully be restored.
Strike 2: Suspension
Disciplinary actions:
If your account is issued a second strike, you will temporarily lose access to your Pokémon GO account. When attempting to log into the game, you'll be presented with a message stating that your account is suspended. You will not be able to bypass this message.
Duration:
This strike will last for approximately 30 days. After that period, your account access will be restored.
Strike 3: Termination
Disciplinary actions:
If you receive the first and second strikes and continue to cheat, your account will be permanently banned.
Duration:
Permanent
Appealing your punishment
If you believe your account has been terminated in error, you may appeal the termination. We will respond to your appeal after a complete investigation of your account. Please note that due to the high level of accuracy in our detection systems, very few terminations are ever overturned.
Source:
https://support.pokemongo.nianticlabs.com/hc/en-us/articles/360001743487-Three-Strike-Discipline-Policy
Jul 16
The official Pokémon website has announced that Meloetta will be distributed to players of Pokémon Ultra Sun, Pokémon Ultra Moon, Pokémon Sun, or Pokémon Moon who are attending the Pokémon World Championships 2018 in Nashville, Tennessee, United States on August 24th, 2018 through August 26th, 2018.
Get the Melody Pokémon Meloetta at Worlds
The Mythical Pokémon Meloetta will raise its voice in Nashville this August at the Pokémon World Championships! Nashville is famous for the many talented musicians whose names were made there, making it the perfect place for Meloetta to take the stage. All Pokémon World Championship attendees can get a performance-ready Meloetta holding a Metronome and knowing a full set of musical moves. This is a momentous event, as Meloetta is the first Mythical Pokémon to be given out as a Pokémon World Championship event.
If you're attending the Pokémon World Championships on August 24–26 and want to add this special Meloetta to your Pokémon collection, remember to bring your system in the Nintendo 3DS family and your copy of Pokémon Ultra Sun, Pokémon Ultra Moon, Pokémon Sun, or Pokémon Moon. You can get only one Meloetta per game. Meloetta will be available outside of the main event hall, so you don't need a Worlds entry badge to receive the Pokémon.
Look for signs at the Pokémon World Championships for distribution times and instructions on how to get Meloetta. Meloetta
Level: 50
Ability: Serene Grace
Held Item: Metronome
Moves: Celebrate, Relic Song, Round, Sing
Source:
https://www.pokemon.com/us/play-pokemon/worlds/2018/pokemon-distribution/

Article edited on 2018-07-16 05:02:01 by Sunain