Welcome to PocketMonsters.net
PocketMonsters.net
is a fansite dedicated to all things Pokémon (ポケモン) and Pocket Monsters (ポケットモンスター). We are the premier site for news and information about all aspects of the franchise from around the world. We cover the
Anime
,
indexing the music
, the
Trading Card Game
, the
Games
, the
variety shows
, have a
large imageboard
,
forum
and much more.
Follow us on Twitter
and
Subscribe to our RSS Feed
for the latest updates!
Latest News

03 Feb
02 Feb
01 Feb
30 Jan
Upcoming Episodes
New titles are revealed in various publications such as: TV guides, childrens' magazines, anime magazines, promotional posters and videos, official websites and official television programs. Titles and their translations are added to our
episode guide
and the chart below when the titles are revealed.
Feb 03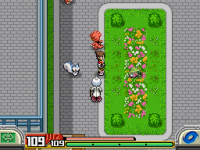 Pokemon Ranger: Shadows of Almia allows you to download very rare and special extra missions by connecting to Nintendo Wi-fi Connection. An exciting new mission - "For the Bride and Shaymin!" - is coming March 1st, 2009 to Ranger Net.
To play this extra mission, you need to play through the game until you reach the end. To receive this extra mission on March 1st, go to Ranger Net from the main menu and download it via Nintendo Wi-Fi Connection. This extra mission is only available March 1st, 2009 through April 30th, 2009!
Unlike Special Mission, this Extra Mission does not allow you to transfer Shaymin to your copy of Pokemon Diamond Version or Pokemon Pearl Version.
Source:
http://www.pokemonranger.com/

Article edited on 2009-02-03 04:38:29 by Sunain
Feb 03
Cartoon Network will be holding a day long marathon of Pokemon Battle Dimension starting at 6am on February 16th, 2009. All times are Eastern (GMT -5).
Sources:
Zap2it
&
Cartoon Network

Article edited on 2009-02-03 01:20:42 by Sunain
Feb 03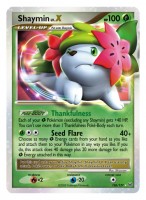 The official TCG website has posted information about another new card to the 'Platinum' set. Click on the card to get a higher resolution.
In its Land Forme, Shaymin LV.X (Platinum, 126/127) can lend a hand to other Grass-type Pokémon in play. Its Thankfulness Poké-Body gives each of your Grass-type Pokémon an additional 40 Hit Points. Shaymin can't use Thankfulness on itself or other Shaymin, but watch the rest of your Grass Pokémon grow like weeds. Shaymin LV. LV.X's Seed Flare attack strikes for 40 damage, and allows you to choose any number of Grass Energy cards from your hand and attach them to your Pokémon in any way you like. If you do, you get to add another 20 damage for each Grass Energy you attached. This strengthens the Seed Flare attack and also assists other Pokémon in play. The Gratitude Pokémon is a definite team player!
Feb 02
Pocket Monsters SPECIAL Volume 31 has been announced on Shogakukan's website. The next volume is scheduled to be released on
March 27th, 2009
. The volume will go on sale for 460yen and its ISBN is 9784091407993. Volume 31 is written by Hidenori Kusaka (日下秀憲) and illustrated by Satoshi Yamamoto (山本サトシ).
Source:
http://skygarden.shogakukan.co.jp/skygarden/

Article edited on 2009-02-02 04:56:03 by Sunain
Feb 01
The latest episode of Pokémon Sunday,
Diamond & Pearl Returns 'The Strongest Koiking and the Most Beautiful Hinbass!' / Updating the Rare Idol Guide with Sanada-san part 2! / Pokémon Game Arena 'Enter Pokésun Company's Strongest Play-off King, Group Member Baba!' (ダイヤモンド&パールリターンズ「最強のコイキングと最も美しいヒンバス!」 サナダさんと一緒にレアアイドル図鑑を作ろう第2弾!ポケモンゲームアリーナ「ポケサンカンパニー最強決定戦王者の馬場隊員が登場!」)
, aired on Sunday in Japan.
This weeks Pokémon Revival episode is 最強のコイキングと最も美しいヒンバス!(The Strongest Koiking and the Most Beautiful Hinbass!) which is the twenty-first episode of Diamond & Pearl. Satoshi and friends are continuing their way towards Floaroma Town for Hikari's next Pokémon contest. Their journey takes them into Jubilife City again where they meet two girls with a Koiking and Hinbass.
In today's episode, Sanada-san returns for another episode to continue updating the Rare Idol Guide. He convinces Shoko-tan to pose for a few pictures before going out of the studio to find more of his idols.
Pictures
from this episode have been added to the
episode guide
. You can can also
comment and discuss
this episode. Also be sure to rate this and other episodes in the
episode guide
.

Article edited on 2009-02-01 10:01:21 by Sunain