Welcome to PocketMonsters.net
PocketMonsters.net
is a fansite dedicated to all things Pokémon (ポケモン) and Pocket Monsters (ポケットモンスター). We are the premier site for news and information about all aspects of the franchise from around the world. We cover the
Anime
,
indexing the music
, the
Trading Card Game
, the
Games
, the
variety shows
, have a
large imageboard
,
forum
and much more.
Follow us on Twitter
and
Subscribe to our RSS Feed
for the latest updates!
Upcoming Episodes
New titles are revealed in various publications such as: TV guides, childrens' magazines, anime magazines, promotional posters and videos, official websites and official television programs. Titles and their translations are added to our
episode guide
and the chart below when the titles are revealed.
Dec 16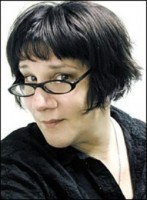 Rumours have been circulating around the Internet for the past day or so that voice actor Maddie Blaustein, most commonly known to Pokémon fans as the voice of Meowth for 8 seasons, had died. 4Kids posted a news article confirming the news reported by Serebii.net.
"It is with great sadness that we note the passing of our friend and colleague Maddie Blaustein. Maddie was a voice actress for hit shows such as Pokémon, Chaotic: M'arrillian Invasion, Dinosaur King, and Sonic X. She was a wonderful actress, friend and inspiration. Her talent, friendship and laughter will be missed by all.
In Loving Memory Of
Maddie Blaustein
1960-2008"
Source:
http://www.4kids.tv/buzz/view/2005
Dec 13
The latest episode of Pokémon Sunday,
Diamond & Pearl Returns 'Leave It to Takeshi!' / 'Director Lucario's Pokemon Card, Part 2' / Pokémon Game Arena 'Group Member Akiyama Displays his True Power in Pokésun's Strongest Match' (ダイヤモンド&パールリターンズ「タケシにおまかせ!」 「ルカリオ部長のポケモンカード作り第2弾」 ポケモンゲームアリーナ「ポケサン最強決定戦で秋山隊員が真の実力を発揮!?」)
, aired on Sunday in Japan.
This weeks Pokémon Revival episode is タケシにおまかせ!(Leave It to Takeshi!) which is the fourteenth episode of Diamond & Pearl. Satoshi and friends are continuing their way towards the Oreburgh Gym. Takeshi looks at his guide book and finds out that the city is right over the mountains. Satoshi wants to climb the mountain now so that he can battle the gym leader right away.
In this weeks episode, Lucario continues his tasks from the previous episode. Movie 12 teaser trailer airs and brief news clip of the female, 'Notched-Ear Pichu' is shown.
Pictures
from this episode have been added to the
episode guide
. You can can also
comment and discuss
this episode. Also be sure to rate this and other episodes in the
episode guide
.

Article edited on 2008-12-13 09:25:10 by Sunain
Dec 12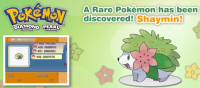 Shaymin, the 492nd Pokemon, is the newest mysterious Pokemon. Like Manaphy and Darkrai before it, Shaymin does not appear in normal gameplay in Pokemon Diamond and Pearl. It is said that in some regions, it is customary to give a Shaymin-shaped flower bouquet as a thank-you gift. Shaymin stars in the next Pokemon movie. How do you get Shaymin in your Pokemon Diamond or Pokemon Pearl game?
Shaymin's Exclusive Move is Seed Flare!
Seed Flare is a move that only Shaymin can use. Generating a shockwave from Shaymin's body, Seed Flare has a staggering 120 Power and occasionally lowers the foe's Special Defense.
Shaymin's Ability is Natural Cure!
Shaymin has a very useful Ability called Natural Cure. Natural Cure restores the Pokemon status conditions (such as Sleep or Poisoned) which the Pokemon is withdrawn from battle, or after the battle ends.
Source:
http://www.pokemon.com/

Article edited on 2008-12-12 10:58:49 by Sunain
Dec 12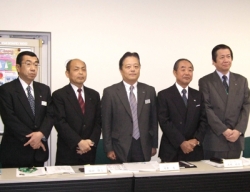 The December 8th company meeting for SHOWA NOTE Co., Ltd. headquartered in Tokyo, Japan explained that the sales of Pokemon products has been good and they have decided to expand their line of merchandise.
In a slumping economy, the company reported that the sales of character related merchandise is not affected and the sales of Pokemon products are outstanding. Therefore SHOWA NOTE Co., Ltd. is going to increase their production 30 percent next year, hoping to expand the company's products market share rapidly.
Showa Note is a large distributor of Pokemon related stationary products in Japan. Some of their merchandise can be
viewed here.
Source:
http://www.nichima.co.jp/news/entry/186.html
Dec 11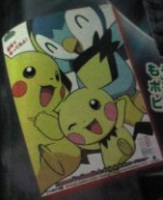 A picture from the December 2008 edition of Corocoro has leaked onto the Japanese forum 2ch. The picture is a poster for the new upcoming 12th Pocket Monsters movie. The Movie 12 website officially launched today and the tentatively titled movie is called 'To the Conquest of Space and Time' 「超克の時空へ」 It is scheduled to be released in Japanese theaters on July 18, 2009. The official website also posted a small trailer which shows that 'Platinum' has also been added to the title.
The full movie title will be announced sometime in the spring. Director Kunihiko Yuyama announced in the DP97 special that "the key Pokémon will be an Electric Type." With the revealing of Pichu on the poster, this seems to indicate that a Pichu will have a large role in the upcoming movie. The offical website posted more information about the Pichu. It is a Female, 'Notched-Ear Pichu' Its left-ear is a bit different that a normal Pichu.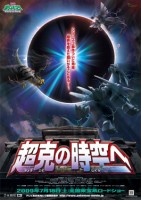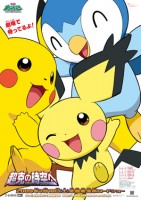 The offical website also posted the teaser posters for the upcoming movie.
Source:
http://www.pokemon-movie.jp/

Article edited on 2008-12-15 06:24:12 by Sunain
Dec 09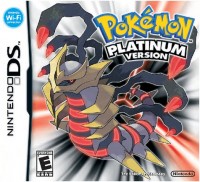 The release date and cover art for the upcoming Nintendo DS game Pokemon Platinum has been released. Pokemon Platinum is tentatively scheduled for release in North America on March 22nd, 2009. Below is a description of some of the new features that Pokemon Platinum will include.
Distortion World:
As the story unfolds, players will encounter the mysterious new Distortion World, an area unlike any seen in a Pokémon video game before. The normal rules of time and space don't apply to this world, allowing the area to push the limits of the Pokémon game world. Players leap from pieces of land suspended in midair, walk sideways and even upside-down. The Distortion World, where the powerful Giratina resides, is somehow connected to the regular Pokémon world.
The Battle Frontier:
The Battle Frontier area (first introduced in Pokémon Emerald) has been added to Sinnoh, containing five new Battle Facilities for Trainers to challenge, each with its own special rules. Each facility is run by one of five new "Frontier Brains" (characters that are similar to Gym Leaders). The new battle formats in each facility allow players to challenge themselves in new ways.
Wi-Fi Plaza:
Players can explore the new Wi-Fi Plaza – a virtual Pokémon amusement park filled with activities, including three new mini-games where up to 4 players can compete at once. Up to 20 players from around the world can connect together in the Wi-Fi Plaza to experience games, take part in parades and even see a fireworks show.
Enhanced Storyline:
New characters add to the story, including Charon, a new Commander of the villainous Team Galactic (who is suspicious even by their standards) and an undercover detective, codenamed "Looker," who is in pursuit of Team Galactic. Looker will help you throughout your adventure. Team Galactic has a new scheme– they've turned their sights on all three Legendary titans of Sinnoh – Dialga, Palkia and Giratina (all three Pokémon appear together in this game for the first time).
Source:
http://www.circuitcity.com/

Article edited on 2008-12-09 10:47:09 by Sunain