Welcome to PocketMonsters.net
PocketMonsters.net
is a fansite dedicated to all things Pokémon (ポケモン) and Pocket Monsters (ポケットモンスター). We are the premier site for news and information about all aspects of the franchise from around the world. We cover the
Anime
,
indexing the music
, the
Trading Card Game
, the
Games
, the
variety shows
, have a
large imageboard
,
forum
and much more.
Follow us on Twitter
and
Subscribe to our RSS Feed
for the latest updates!
Upcoming Episodes
New titles are revealed in various publications such as: TV guides, childrens' magazines, anime magazines, promotional posters and videos, official websites and official television programs. Titles and their translations are added to our
episode guide
and the chart below when the titles are revealed.
Jul 21
The official Pokémon movie website has updated. Translations of the new entries follow:
The Pokémon Train and the Articulated Pokémon Bus Are Here! We're Holding the "Nishitetsu Pokémon Quiz Rally"!!
A quiz rally will be held by Nishi-Nippon Railroad ("Nishitetsu") this year!
Answer the quiz questions found inside the trains running on the Nishitetsu Tenjin Omuta Line, as well as inside their articulated buses,
and get extravagant Pokémon merchandise!
During this rally period, the "Pokémon Train", which has various Pokémon drawn beside the doors,
and the "Articulated Pokémon Bus", which interior has been entirely taken over by Pokémon, will both be operating!
Bring the entire family and have fun with the "Nishitetsu Pokémon Quiz Rally" this summer!
The Nishitetsu Pokémon Quiz Rally
Source:
http://www.pokemon-movie.jp/news/?p=3003
Jul 20
Niantic has announced that as part of the one-year anniversary celebrations, Legendary Pokémon are coming to Pokémon GO very soon.
YouTube - Pokémon GO - Adventure Together for Legendary Pokémon!
A Legendary first year of Pokémon GO!
Trainers, As part of our ongoing celebration of Pokémon GO's one-year anniversary, we're excited to reveal that Legendary Pokémon are nearly here! Soon, millions of Trainers around the world will be able to discover, battle, and catch these extremely rare and very powerful Pokémon.
As Trainers around the world go out and explore their neighborhoods in search of Pokémon and Raid Battles, they can keep an eye out for unique Legendary Eggs appearing at Gyms. If Trainers and their team are able to successfully defeat a Legendary Raid Boss, they'll have the opportunity to catch a Legendary Pokémon of their own! While Legendary Pokémon will help them take on the toughest Raid Bosses and Gym Battles, they're not willing to leave their Trainer's side, so they can't be left to defend Gyms.
On July 22, thousands of Trainers in Grant Park for Pokémon GO Fest and the millions of others around the world will be working together to unlock in-game bonuses for the entire Pokémon GO community. If they manage to catch enough Pokémon during the Pokémon GO Fest Challenge Windows, the first Legendary Pokémon will be revealed in Grant Park. If the Trainers in Chicago succeed in defeating the Legendary Pokémon, that Pokémon will start appearing in Raid Battles around the world, after Pokémon GO Fest.
Trainers everywhere can tune in to watch the action taking place in Grant Park live and join in the conversation using #PokemonGOFest on social media. Follow the official livestream on Twitch or YouTube for the latest news coming out of Pokémon GO Fest including Challenge Window updates, exclusive interviews, and the reveal of the first Legendary Pokémon!
It's time for Trainers everywhere to start powering up their Pokémon for battle because there are many legendary adventures to come!
Source:
http://pokemongo.nianticlabs.com/en/post/legendarypokemon
Jul 19
The official Pokémon movie website has updated. Translations of the new entries follow:
A Report from the Premiere Day Stage Greetings
Premiere day stage greetings were held in Tokyo on Saturday July 15th,
the premiere day of "Pocket Monsters the Movie: I Choose You!"
The greetings started with Pikachu appearing on the stage. Then, answering Pikachu's summons,
came Kanata Hongo (the voice of Soji), Arata Furuta (the voice of Bonji), Shoko Nakagawa (the voice of Joy),
Koichi Yamadera (the voice of Marshadow), Rica Matsumoto (the voice of Satoshi) and director Yuyama,
all of them wearing matching yellow t-shirts with "I Choose You!" written on them.
Yuyama gave the first greeting: "The anime version of Pokémon started with Satoshi meeting Pikachu.
I wanted to try going back to that point and redoing it from scratch.
It would make me happy if you were to take this back home with you as a memory of this summer."
Hongo then said "Everyone, did you receive your "Marshadow"? I wanted to get it at the premiere no matter what, so I brought this..." before taking out his Nintendo 3DS, making everyone start laughing.
After a short while, he apparently received his Marshadow, and happily commented "There, got it! I'm the only one on this stage that has this Pokémon now..."
He then actually started talking about his guest voice actor role: "I've loved these movies for 20 years straight now, so I was extremely happy I was able to play in one.
I felt this was a wonderful movie, so I would appreciate it if you spread the word about it and watched it many times."
Next up was Furuta's greeting.
As he said "Hello. I'm Arata Furuta, I play Bonji. 20 years ago, when my friend (Inuko) Inuyama told me she was playing Nyarth, I replied "Huh, really?", and now that this franchise has gone on for 20 movies in 20 years, I think back to that and just go "Darn it!"", the audience burst into laughter.
He then continued with "I am happy to have become part of this family now."
Nakagawa raised the excitement level in the venue even further with her "Pokénchiwa!" greeting, then spoke passionately about her 20 years worth of happiness and love for the franchise.
"Both the act of watching the Pokémon movies, as well as Satoshi and Pikachu's bond in itself, gives me all these emotions, makes me want to become strong, want to become someone that can sincerely protect someone I value more than myself.", she said.
When she finished her greeting by saying "I forgot to introduce myself. I'm Shoko Nakagawa.", the audience responded with laughter.
Yamadera said "This movie depicts the bond between humans and Pokémon, between Satoshi and Pikachu,
though I have to mention that I and Rica Matsumoto here genuinely are old friends, ones that graduated together." He then turned to Matsumoto and continued with "I'm so happy you're still doing well."
He finished his greeting with "I have been standing here on this stage for 20 years straight now, and that really means a lot to me. Thank you so much for today."
Matsumoto then asked the audience "What did you all think? Did you enjoy it?",
and they responded by applauding loudly.
"That's great, Pikachu! I'm so happy!" Matsumoto shared her joy with Pikachu for a short moment.
"I believe this 20th year of the franchise can exist specifically because of the cast, the staff and all you people that love Pokémon. I feel like I've been walking these 20 years together with you all, one step at a time. They (the Pokémon movies) have now reached their coming-of-age ceremony, and as we continue working our best to give you many, many more movies, I hope you'll still continue to support us for many years to come", she said.
Matsumoto then changed the subject to that of the opening theme song, "Mezase Pokémon Master -20th Anniversary".
"I think this song has turned into something like an adhesive that connects people together.
Right now, people all over Japan are humming the song to themselves, and when I sang it at the "Japan Expo" in Paris some days ago,
all the French people there were singing it in Japanese as well. It's become a song that connects the world and makes people smile,
and I'm so, so grateful I get to sing a song like that", she said.
She then sang "Mezase Pokémon Master -20th Anniversary" together with all the actors and the entire audience. Once the song was done, the audience cheered and applauded loudly, and both Matsumoto and the other actors were deeply touched.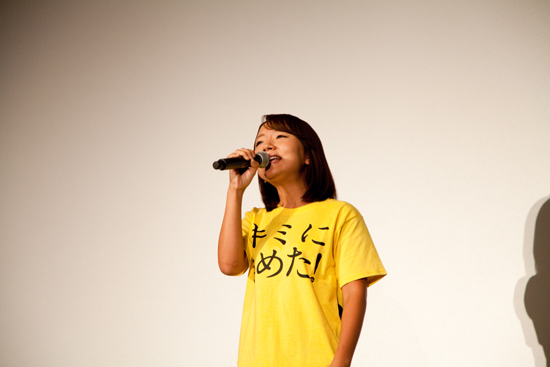 Before they could regain their senses, a surprise guest came in! It was Asuca Hayashi, the singer of "The Oración Theme: Let's Walk Together".
"I sang this song while feeling genuine happiness, passing on the emotions of all the actors, of all the creators, of the director, of the producer, and of all the enormously many fans.", she said.
As she gave an enthusiastic performance of "The Oración Theme: Let's Walk Together", the entire venue got emotionally moved.
Matsumoto got so touched by the song she ended up starting to cry.
When she was asked for a comment, she replied "I think everyone felt similarly to how I just felt. When I play Satoshi, I try to approach the role from the point of view of the fans watching, so listening to this song made fleeting glimpses of 20 years worth of memories appear in my head, and I'm sure this song makes everyone similarly sense different things and remember their loved ones."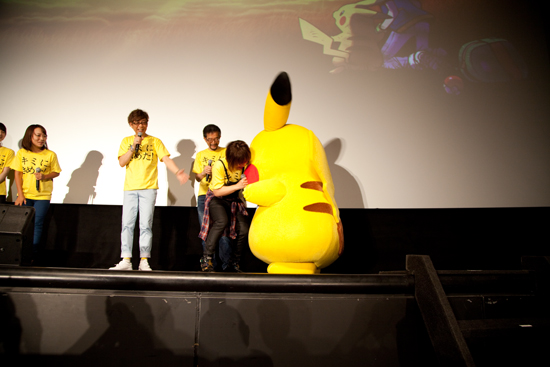 Yamadera then changed the topic, asking Pikachu "What did you think of Asuca-chan's song?", but Pikachu was just as touched, crying "Pikapikachuuu" as it and Matsumoto embraced each other, giving us a scene where we could feel the bond the two shared.
The greetings concluded with a commemorative photo, where Matsumoto yelled "I choose" and the entire audience responded "you!".
This had been a premiere day stage greeting filled with both laughter and emotional moments.
Source:
http://www.pokemon-movie.jp/news/?p=2988

Article edited on 2017-07-19 07:43:43 by Adamant
Jul 19
Pokémon GO is in the process of being updated to version 0.69.0 for Android and 1.39.0 for iOS devices. Below are some release notes and comments from the development team.
Added icons to the Pokémon information screen to indicate how the Pokémon was caught.
Added the ability for Trainers to spin the Photo Disc at a Gym after completing a Raid Battle.
Added the ability for Trainers to send Berries to their Pokémon defending Gyms through the Pokémon info screen when they are not nearby. Motivation regained will be less effective through this method.
Added the ability for Trainers to give Berries to Pokémon defending Gyms if their motivation meter is full.
Improved Pokémon Collection screen search functionality.
Fixed an issue where Trainers were unable to complete Raid Battles started before time expired on the map view.
Fixed an issue where Pokémon are not properly returned to their Trainer after defending a Gym.
Various bug fixes.
Source:
http://pokemongo.nianticlabs.com/en/post/ver-update-071817
Jul 18
The Japanese domestic movie rankings for July 15th, 2017 to July 16th, 2017 were announced and
Pocket Monster Movie 20 - I Choose You!
got first place in the ranking despite some very good competition from
Gintama
and
Cars 3
. The movie was released on 368 screens nationwide and the opening weekend resulted in 436,000 ticket sales and 516,000,000 yen in revenue. This resulted in a 59.3% higher revenue for the opening weekend compared to last years movie
Volcanion and the Ingenious Magearna
.
In second place was the
Gintama live-action movie
starring
Shun Oguri
and it is based off of the Weekly Shonen Jump manga series written and illustrated by Hideaki Sorachi. It was released by Warner Bros. Pictures on July 14th, 2017.
Source:
http://eiga.com/news/20170718/23/

Article edited on 2017-07-18 07:31:42 by Sunain
Jul 15
The official Pokémon movie website has updated. Translations follow:
"The Oración Theme: Let's Walk Together" is Now Available for Download!
Asuca Hayashi's "The Oración Theme: Let's Walk Together",
The ending theme song for "Pocket Monsters the Movie: I Choose You!", which premiered today, is now available for download!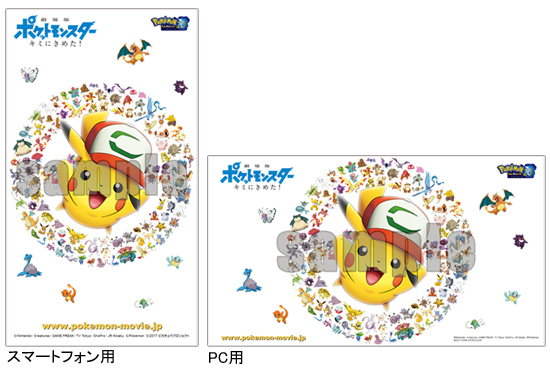 Everyone that buys the special package collection on Recochoku or mora will also receive a special wallpaper
for their smartphone or PC.
Make sure to download this and get the wallpaper!
https://erj.lnk.to/cdukJWN
Source:
http://www.pokemon-movie.jp/news/?p=2969