Shirona Nendoroid (ねんどろいど シロナ)
The official Japanese Pokémon website has revealed that a
Shirona Nendoroid (ねんどろいど シロナ)
will be available for pre-order reservation starting March 7th, 2015 until April 15th, 2015. The 10cm
Nendoroid
will cost 5000yen. The release builds on the popularity of last years
Red Nendoroid
which was also
released on the Pokémon Center website in the United States
.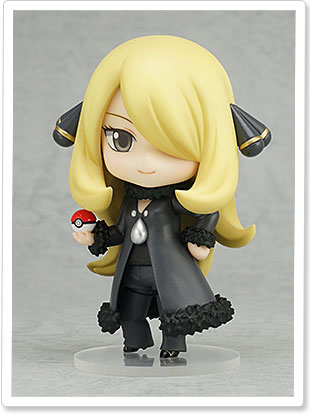 The Shirona Nendoroid includes:
Shirona figure parts:
2 Face Parts (表情パーツ2個), 5 arm parts (腕パーツ5個), 5 hand parts (手首パーツ5個), and 3 leg parts (脚パーツ3個).
Included Pokémon:
Gablias (ガブリアス)
Accessory Items:
Monster Ball (モンスターボール)
Source:
http://www.pokemon.co.jp/info/2015/02/150220_p01.html
21 Feb 2015 11:43 PM

Administrators


Joined: 07 Apr 2008
Forum Posts: 109


It's a shame Nendoroids are so expensive - Cynthia is one of my favourite characters but I don't know if I can justify spending that much on a 10cm figure. Still, it does look like it's very good quality, and it's nice to see the human characters getting some merchandise.
22 Feb 2015 12:52 AM

Admin Staff


Joined: 18 Jun 2007
Forum Posts: 1701


Quote From: _melee_

It's a shame Nendoroids are so expensive - Cynthia is one of my favourite characters but I don't know if I can justify spending that much on a 10cm figure. Still, it does look like it's very good quality, and it's nice to see the human characters getting some merchandise.

Yeah, while it maybe nice and good quality, it is a bit too expensive. $24-$30 would be a better price. $50 is a bit too much for what is basically a toy.

Administrator of PocketMonsters.net