CoroCoro August 2010
Pictures from the latest CoroCoro August 2010 issue have been posted on 2ch which reveal new information and Pokémon in the upcoming games
Pokémon Black and White (ポケットモンスター ブラック・ホワイト)
for the Nintendo DS. Below is the information from the pictures.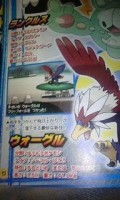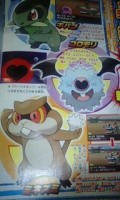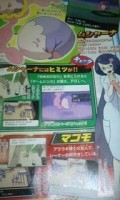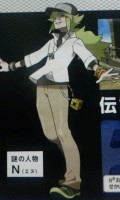 New Information
The Pokémon silhouette from Pokémon Sunday 299 was revealed. Wargle (ウォーグル) is 1.5m in height, weighs 41kg and is a Normal/Flying Pokémon. It's abilities are: Keen Eye (するどいめ) and Brute Force (ちからづく). It knows a new attack: Free Fall (フリーフォール) which grabs an opponents Pokémon and flies into the air until the next turn when it throws it towards the ground.
Kibago (キバゴ) & Koromori (コロモリ) both leaked on the Best Wishes concept art sheet and have now been confirmed in this issue of CoroCoro. Koromori (コロモリ) is a Psychic/Flying type Pokémon.
Musharna (ムシャーナ) appears to be Munna's (ムンナ) evolution. It know Dream Smoke (ゆめのけむり) which has a secret feature which is yet to be revealed.
Minezumi (ミネズミ) is a chipmunk Pokémon.
Ranculus (ランクルス) is a green Pokémon resembling cellular structure.
A new girl has been revealed called Makomo (マコモ) who is friends with Dr. Araragi (アララギ博士).
The guy seen in the Pokémon Sunday 297 trailer has been revealed. His name is 'N' (エヌ).
Two new locations have been confirmed: Black City (ブラックシティ) and White Forest (ホワイトフォレスト).
A separate pamphlet has revealed the TV Transceiver (テレビトランシーバー) that allows players to video chat with up to 2 people via Nintendo Wi-Fi Connection. This feature requires a Nintendo DSi.