Official Japanese Black and White Website Updates
The official Pokémon Black and White website
has once again updated adding a ton of good quality screenshots and artwork for the upcoming games. Most of the information is the same as the
August 2010 Corocoro Issue
. Below is the information that was revealed.
New Pokémon
Picture
Pokémon
Info
Moves
Ability
Type
Height
Weight
Koromori
(コロモリ)
Bat Pokémon
Heart Stamp
(ハートスタンプ)
Unaware (てんねん)
Klutz (ぶきよう)
Psychic/Flying
0.4m
2.1kg
Wargle
(ウォーグル)
Valor Pokémon
Free Fall
(フリーフォール)
Keen Eye (するどいめ)
Brute Force (ちからづく)
Normal/Flying
1.5m
41kg
Kibago
(キバゴ)
Tusk Pokémon
Double Chop
(ダブルチョップ)
Rivalry (とうそうしん)
Mold Breaker (かたやぶり)
Dragon
0.6m
18kg
Minezumi
(ミネズミ)
Lookout Pokémon
You First
(おさきにどうぞ)
Run Away (にげあし)
Keen Eye (するどいめ)
Normal
0.5m
11.6kg
Musharna
(ムシャーナ)
Munna's Evolution
Dream Smoke
(ゆめのけむり)
Forewarn (よちむ)
Synchronize (シンクロ)
Psychic
1.1m
60.5kg
Ranculus
(ランクルス)
Amplification Pokémon
Dust Proof (ぼうじん)
Magic Guard (マジックガード)
Psychic
1.0m
20.1kg
Gothilselle
(ゴチルゼル)
Celestial Body Pokémon
Magic Room (マジックルーム)
Frisk (おみとおし)
Psychic
1.5m
44kg
Pokémon Global Link (ポケモングローバルリンク)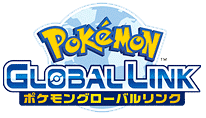 Pokémon Global Link has two known modes. The first mode, the Game Sync feature accessible from the C Gear (Cギア) allows a player to transfer a Pokémon from their DS cart to the Internet Dream World. Players can then can play mini games on their PC with that Pokémon as well as capture Pokémon not available on the players version of the game. The second mode allows players to randomly battle and it includes a ranking system. An Eevee evolution trial will begin in August which will allow players to see how the Global Link feature will work.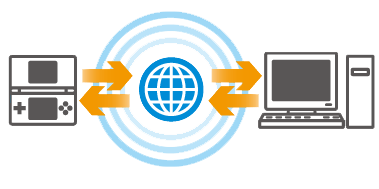 New Characters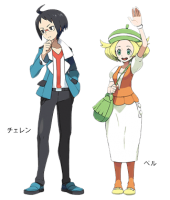 New characters have been revealed for Pokémon Black and White. Below is a brief synopsis of each character.
Belle (ベル):
The hero's childhood friend, she travels even against objection of her father. She is quite a spontaneous person and is rather unreliable.
Cheren (チェレン):
He has a wealth of Pokémon knowledge and is also quite reliable.
Makomo (マコモ):
She is Dr. Araragi's assistant and is the person that gives the C Gear to the player.
N:
N is one of the antagonists in the game.
New Features
Gothilselle (ゴチルゼル) is exclusive to Pokémon Black and Ranculus (ランクルス) is exclusive to Pokémon White.
Triple battle make their debut in the fifth generation. Players can adjust Pokémon position in battle and Pokémon in any of the three positions can be targeted.
Telepathy (テレパシー) is a new ability that blocks damage from the players other Pokémon currently in battle.
Kanji makes it's debut in the main Pokémon series. Players can switch the text from Hiragana and Katakana to also include kanji.
Source:
http://www.pokemon-sp.jp/series/bw
16 Jul 2010 12:48 PM

Registered Users


Joined:26 Aug 2008
Forum Posts:15


I really HOPE that Koromori replaces Zubats while we're getting through caves... and I want a Gochiruzeru sooo bad! I'm getting Black Version, so it's not gonna be a problem \o/