Description:
Pokémon Black and White (ポケットモンスター ブラック・ホワイト) for the Nintendo DS are the first full RPG games for the Fifth Generation of Pokémon. The games were initially announced in January 2010 when Pokemon Co., Ltd. sent out a
press release
stating that an all new and original Pocket Monsters RPG series for the Nintendo DS would be released later in 2010. On March 15th, 2010, the official
Pokémon Black and White (ポケットモンスター ブラック・ホワイト)
website opened, announcing the new games. On December 27th, 2010, Nintendo of America sent out a
press release
and announced that the Pokémon Black Version and Pokémon White Version video games would launch in North America on March 6, 2011.
New information about the games was released each month leading up to the releases through various media outlets including:
Pokémon Sunday (ポケモン☆サンデー)
, Coro Coro (コロコロコミック) and the official websites.
Story/Information:
Pokémon Black and White Versions feature new Pokémon that players can catch, train and battle as they progress through the game, and some Pokémon can only be caught in one version of the game. For example, the Legendary Pokémon Reshiram can only be caught in Pokémon Black Version, while the Legendary Pokémon Zekrom can only be caught in Pokémon White Version. Additionally, the two games feature different areas for the first time in the series, with the game world of Pokémon Black Version featuring a unique metropolitan area called Black City, and a lush, green area named White Forest only found in Pokémon White Version. Pokémon Black Version and Pokémon White Version also mark the first time in a Pokémon video game that the seasons will change in the game world. Certain Pokémon appear more frequently during different seasons, and players can only access some areas during a specific season.
Players start with one of three new Starter Pokémon - the Grass-type Snivy, the Fire-type Tepig™ or the Water-type Oshawott. Until the main story of the game is complete, every Pokémon that players encounter will have never been seen before in previous Pokémon games. The games also feature original boy and girl trainers who set out on an adventure in the new Unova region. (
Nintendo Press Release
)
Unova region (Isshu Region イッシュ地方)
The games take place in the new Isshu Region (イッシュ地方) and players can select two new characters that are slightly older than their previous game counterparts.
Features:
All new 3D angle that gives the environments a more realistic and detailed view.
New region: Isshu Region (イッシュ地方).
New protagonists: Slightly older than the previous games.
Pokémon Transfer Machine (転送マシンでポケモン) allows Celebi to be transferred to Pokémon Black or White from other 4th Generation games.
C Gear (Cギア) allows the players to wirelessly search the surrounding area to find other players and connect to them via Nintendo Wi-Fi Connection, Wi-Fi or via IR (Infrared).
Extend Play to the Web (Webで広がる遊び) - Allows players to send their save game to the Internet and access it via a PC.
Screenshots: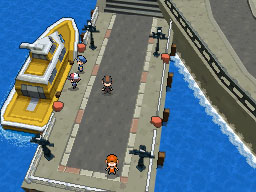 ---
This page has been viewed 102888 times.
Last updated 16 Nov 2011 13:48 by Sunain.
Revision #26