Pokémon GO
Developer:
Publisher:
Platform:
Release Date(s):
Rating(s):
Mode(s):
Controller(s):
Niantic, Inc.
Niantic, Inc. / Nintendo / The Pokémon Company
Google Android / Apple iOS
July 6th, 2016
ESRB: E10+
PEGI: 3
Single player
Multiplayer
Cell phone
Pokémon GO Plus
Table of Contents:
GO Main Page - Description - Patches - Features - Screenshots
Pokémon GO is a Free-To-Play augmented reality game developed by Niantic for Apple iOS and Android devices. It is recommend to play the game on a cellphone with GPS and Mobile Internet connectivity to get the best gaming experience. The game features freemium in-app purchases to support the Free-To-Play gaming model.
Description
Join Trainers across the globe who are discovering Pokémon as they explore the world around them. The newest update to Pokémon GO, the global gaming sensation that has been downloaded 650 million times and named "Best Mobile Game" by The Game Developers Choice Awards and "Best App of the Year" by TechCrunch, introduced the addition of over 80 beloved Pokémon among several other new features.
Venusaur, Charizard, Blastoise, Pikachu, and many other Pokémon have been discovered!
Now's your chance to discover and capture the Pokémon all around you—so get your shoes on, step outside, and explore the world. You'll join one of three teams and battle for the prestige and ownership of Gyms with your Pokémon at your side.
Pokémon are out there, and you need to find them. As you walk around a neighborhood, your smartphone will vibrate when there's a Pokémon nearby. Take aim and throw a Poké Ball… You'll have to stay alert, or it might get away!
Search far and wide for Pokémon and items
Certain Pokémon appear near their native environment—look for Water-type Pokémon by lakes and oceans. Visit PokéStops, found at interesting places like museums, art installations, historical markers, and monuments, to stock up on Poké Balls and helpful items.
Catching, hatching, evolving, and more
As you level up, you'll be able to catch more-powerful Pokémon to complete your Pokédex. You can add to your collection by hatching Pokémon Eggs based on the distances you walk. Help your Pokémon evolve by catching many of the same kind. Choose a Buddy Pokémon to walk with and earn Candy that will help you make your Pokémon stronger.
Take on Gym battles and defend your Gym
As your Charmander evolves to Charmeleon and then Charizard, you can battle together to defeat a Gym and assign your Pokémon to defend it against all comers.
It's time to get moving—your real-life adventures await!
New Business Strategy Presentation
The Pokémon Company held a
New Business Strategy Presentation (株式会社ポケモン新事業戦略 発表会)
on September 10th, 2015 at 15:00 JST. The Pokémon Company President Tsunekazu Ishihara hosted the event which was also streamed live on NicoNico.
Images from the stream have been added to our Imageboard thread
.
New Business Strategy Presentation Announcements Feature Notes:
Pokémon GO: Smartphone game for Apple iOS and Google Android. Get ready for an all-new Pokémon experience! Pokémon GO opens a universe of Pokémon to find, catch, trade, and battle on your iPhone or Android device! With Pokémon GO, you'll discover Pokémon in a whole new world—your own! Pokémon GO will use real location information to allow players to experience catching, trading, and battling Pokémon.
Developer Partnerships: NIANTIC, Nintendo and The Pokémon Company
Pokémon GO is based off of the game Ingress which was also made by NIANTIC, a developer that off at Google but became independent company.
Pokémon will inhabit the real world in locations worldwide.
GAME FREAK Director Junichi Masuda is helping with the development of the game including the music.
Masuda is developing ways for Pokémon GO to interact with the upcoming main series Pokémon games.
Pokémon Go Plus is a separate device that wireless pairs with smartphones via Bluetooth and flashes when the player is near a Pokémon.
Pokémon GO Trailer
Original YouTube Link (No Longer Allows Embedding):
http://www.youtube.com/embed/2sj2iQyBTQs
Pokémon GO Announcement Press Release
Travel between the real world and the virtual world of Pokémon with Pokémon GO for iPhone and Android devices! With Pokémon GO, you'll discover Pokémon in a whole new world—your own! Pokémon GO will use real location information to encourage players to search far and wide in the real world to discover Pokémon.
The Pokémon video game series has used real-world locations such as the Hokkaido and Kanto regions of Japan, New York, and Paris as inspiration for the fantasy settings in which its games take place. Now the real world will be the setting!
The Pokémon video game series has always valued open and social experiences, such as connecting with other players to enjoy trading and battling Pokémon. Pokémon GO's gameplay experience goes beyond what appears on screen, as players explore their neighborhoods, communities, and the world they live in to discover Pokémon alongside friends and other players.
You can watch the video at the top of the page to better understand the Pokémon GO experience.
A small device called a Pokémon GO Plus will enable Pokémon GO players to enjoy the game even when they're not looking at their smartphone. The device connects to the smartphone via Bluetooth and notifies the player about events in the game—such as the appearance of a Pokémon nearby—using an LED and vibration. In addition, players can catch Pokémon or perform other simple actions by pressing the button on the device. Pokémon GO Plus is being developed and manufactured by Nintendo Co., Ltd.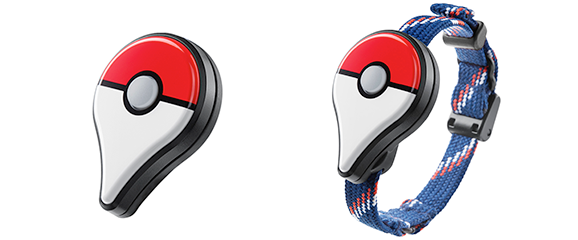 Pokémon GO is being developed by Niantic, Inc. Originally founded by Google Earth co-creator John Hanke as a start-up within Google, Niantic is known for creating Ingress, the augmented reality mobile game that utilizes GPS technology to fuel a sci-fi story encompassing the entire world. Ingress currently has 12 million downloads worldwide.
Niantic, Inc., The Pokémon Company, and Nintendo Co., Ltd., will all contribute to the Pokémon GO project.
Furthermore, Junichi Masuda of Game Freak Inc., the game director of the Pokémon video game series, is also contributing to the project. He is hard at work ensuring that the fun of Pokémon makes its way into this new project, and is also looking to come up with new kinds of gameplay while thinking of ways to connect this project with the main series of Pokémon video games.
Pokémon GO will be available for download at no charge on the App Store and Google Play. In-app purchases will be available.
Look forward to much more information about Pokémon GO leading up to its launch in 2016!
Niantic Receive $20 Million dollars in a round of Series A funding
The Pokémon Company, Google and Nintendo are investing up to $30 million in Niantic, Inc., which includes an initial $20 million upfront and an additional $10 million in financing conditioned upon the company achieving certain milestones. We will be using this capital to continue the development of Pokémon GO, to evolve and grow Ingress and its thriving global community, and to build out our real-world gaming platform.
It was quite an honor to be on stage in Tokyo last month with legendary games and entertainment heroes Shigeru Miyamoto of Nintendo, Tsunekazu Ishihara of The Pokémon Company, and Junichi Masuda of GAME FREAK to tell the world about Pokémon GO. We are all incredibly excited about the opportunity to create a product true to the spirit of the original Pokémon games while extending gameplay out into the real world. Because it is a mobile game, players all around the world will be able to immerse themselves in the Pokémon universe on devices they already have in their hands.
Here are some words from our esteemed investors:
Tsunekazu Ishihara, CEO, The Pokémon Company:
"Pokémon's strategic investment in Niantic paves the way for a social mobile experience the world has never seen before," said Tsunekazu Ishihara, president and CEO of The Pokémon Company. "The Pokémon Company is committed to partnering with companies like Niantic that share the same spirit of community and innovation."
Don Harrison, VP of Corporate Development, Google:
"Niantic has shown the great potential of mixing geolocation technology, dynamic storytelling, and innovative game design, and we're excited to continue supporting the team on their journey."
It's exciting to finally be able to share some of our big updates. We are hard at work in our new San Francisco and satellite offices preparing for a series of massive, global Ingress events this Fall, readying Pokémon GO for launch next year, and extending our platform to support a variety of experiences that support our core values of exercise, discovery, and fun.
Features:
Catch Pokémon: Pokémon GO invites players to step outside, walk around and catch wild Pokémon. As players increase in level, they'll be able to catch more-powerful Pokémon and gain access to more-powerful items. While working to complete the Pokédex, players will be able to evolve Pokémon by catching multiples of the same species and can even find Pokémon Eggs which hatch after a player walks a specific distance. Players are encouraged to keep exploring and encountering the many different Pokémon needed to complete the Pokédex!
Join a Team and Battle: Players can join one of three teams, Mystic, Instinct or Valor and assign Pokémon they have caught to an open Pokémon Gym location or to a Gym claimed by a fellow team member. Teams must battle against the defending Pokémon in their rival teams' Gyms to lower a Gym's Prestige and claim the Gym for their own team. Cooperation amongst team members is important in securing as many Gyms as possible.
Share the Fun: Activate the camera feature to take photos of Pokémon encountered in the world. With their real-life surroundings providing a backdrop for these photos, players will be able to share these memorable moments with their friends.
Customise the Trainer Avatar: Players can choose from a range of apparel and accessories to match their in-game avatar with their personal style. The customised avatar will appear on the map as players move around, as well as on their profile page. Trainer's avatars will also appear in Gyms under their team's control.
Soundtrack by Junichi Masuda: Pokémon GO will feature all-new music composed by GAME FREAK's Junichi Masuda. Mr. Masuda has worked on Pokémon video games since the very first games and has composed many of the classic and memorable songs that have inspired fans for decades.
Screenshots:
---