Pokémon Ga-Olé (ポケモンガオーレ)
Pokémon Ga-Olé Set 1:
The initial set for Pokémon Ga-Olé allowed players the chance to get Grade 5 disks for Volcanion, Xerneas, Yveltal and Zygarde.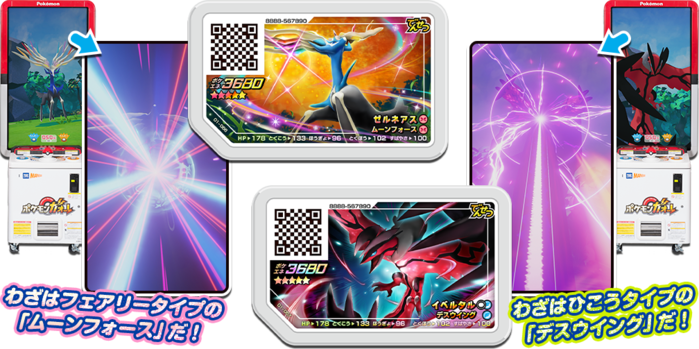 Pocket Monsters X and Y Legendary Pokémon Xerneas and Yveltal appear in the world. Both disks have Poké-ene 3680. In addition, most of their stats are 100 or more, making them some of the strongest in their class!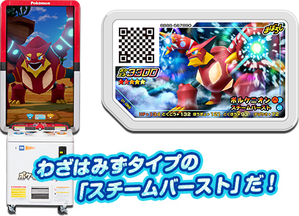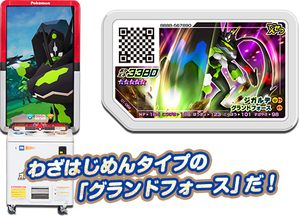 The Steam Pokémon Volcanion. It is the protagonist of this year's Pokémon movie! It's type is Fire and Water which is an unusual combination! The Legendary Pokémon Zygarde. The Grade 5 Zygarde Perfect Form has 123 Defense, making it one of the strongest in this set!
Pokémon Ga-Olé Set 1 - Courses:
Courses

Xerneas Course

ゼルネアスコース

Yveltal Course

イベルタルコース

Mystery Course

ミステリーコース

Travel Companion Course

たびのなかまコース

Zygarde Course

ジガルデコース

Volcanion Course

ボルケニオンコース

Pikachu Outbreak-chu!!

ピカチュウたいりょうはっせいチュウ!!

Alternate-colored Sirknight Course

いろちがいのサーナイトコース

Kanto Departure Course

カントーたびだちコース

Thrilling Fighting Type Course

かくとうタイプぞくぞくコース

Thrilling Flying Type Course

ひこうタイプぞくぞくコース

Lizardon Valley Course

リザードンのたにコース
Pokémon Ga-Olé Set 1 - Disks:
Disk
Disk #
Grade
Pokémon
Poké-ene
Type
HP
Attack
Defense
SP. Defense
Speed
Move
01-001
1
Bulbasaur
1040
Grass
Poison
55
28
28
36
26
Vine Whip
01-002
2
Ivysaur
1520
Grass
Poison
76
42
42
53
41
Razor Leaf
01-003
3
Venusaur
2200
Grass
Poison
103
77
64
77
62
Giga Drain
01-004
4
Venusaur
2580
Grass
Poison
119
89
74
89
72
Leaf Storm
01-005
1
Charmander
1020
Fire
52
33
25
29
36
Ember
01-006
2
Charmeleon
1520
Fire
74
43
39
44
53
Fire Fang
01-007
3
Charizard
2260
Fire
Flying
102
83
61
66
77
Flame Burst
01-008
4
Charizard
2600
Fire
Flying
117
96
70
76
89
Flamethrower
01-009
1
Squirtle
1040
Water
55
29
36
35
25
Water Gun
01-010
2
Wartortle
1520
Water
75
44
53
53
39
Water Pulse
01-011
3
Blastoise
2240
Water
102
64
77
80
61
Aqua Tail
01-012
4
Blastoise
2600
Water
118
76
89
93
70
Hydro Pump
01-013
1
Chespin
1020
Grass
60
34
36
26
33
Vine Whip
01-014
2
Quilladin
1520
Grass
76
51
62
39
39
Needle Arm
01-015
3
Chesnaught
2240
Grass
Fighting
109
82
92
59
51
Seed Bomb
01-016
4
Chesnaught
2580
Grass
Fighting
125
94
107
68
58
Hammer Arm
01-017
1
Fennekin
1000
Fire
53
34
24
33
33
Ember
01-018
2
Braixen
1540
Fire
75
40
39
47
48
Flame Charge
01-019
3
Delphox
2260
Fire
Psychic
100
87
56
77
79
Flamethrower
01-020
4
Delphox
2600
Fire
Psychic
115
100
65
89
92
Psychic
01-021
1
Froakie
1020
Water
53
34
24
26
39
Bubble
01-022
2
Frogadier
1520
Water
72
54
36
38
63
Water Pulse
01-023
3
Greninja
2240
Water
Dark
97
73
53
56
92
Night Slash
01-024
4
Greninja
2580
Water
Dark
112
84
61
64
107
Water Shuriken
01-025
1
Dunsparce
1280
Normal
82
38
38
36
26
Headbutt
01-026
1
Pachirisu
1240
Electric
62
26
38
48
50
Spark
01-027
1
Stunfisk
1400
Ground
Electric
86
43
45
52
20
Mud-Slap
01-028
1
Farfetch'd
1120
Normal
Flying
58
36
31
34
33
Aerial Ace
01-029
1
Dedenne
1300
Electric
Fairy
66
32
32
37
53
Nuzzle
01-030
2
Dedenne
1600
Electric
Fairy
80
53
39
45
65
Thunderbolt
01-031
1
Hawlucha
1480
Fighting
Flying
71
49
41
35
61
Karate Chop
01-032
2
Hawlucha
1800
Fighting
Flying
86
60
50
42
75
Aerial Ace
01-033
1
Girafarig
1360
Normal
Psychic
67
48
36
36
45
Confusion
01-034
1
Klefki
1400
Steel
Fairy
61
43
48
46
41
Draining Kiss
01-035
1
Pancham
1120
Fighting
66
44
34
28
25
Karate Chop
01-036
2
Pangoro
1780
Fighting
Dark
97
79
51
47
39
Crunch
01-037
1
Noibat
860
Flying
Dragon
53
19
21
24
31
Leech Life
01-038
2
Noivern
1920
Flying
Dragon
91
63
53
53
78
Air Slash
01-039
3
Noivern
2260
Flying
Dragon
107
74
62
62
93
Boomburst
01-040
2
Pikachu
1280
Electric
61
38
29
35
59
Quick Attack
01-041
3
Pikachu
1560
Electric
74
43
35
43
73
Thunderbolt
01-042
1
Magikarp
760
Water
43
9
31
14
43
Splash
01-043
2
Gyarados
1940
Water
Flying
97
41
52
65
53
Water Pulse
01-044
3
Gyarados
2280
Water
Flying
114
95
61
77
63
Waterfall
01-045
1
Riolu
960
Fighting
53
38
24
24
33
Rock Smash
01-046
2
Lucario
1900
Fighting
Steel
82
71
47
47
59
Force Palm
01-047
3
Lucario
2220
Fighting
Steel
96
84
55
55
69
Brick Break
01-048
4
Lucario
2560
Fighting
Steel
110
101
63
63
80
Aura Sphere
01-049
3
Gengar
2140
Ghost
Poison
89
51
48
59
84
Shadow Punch
01-050
4
Gengar
2460
Ghost
Poison
102
114
55
68
97
Shadow Ball
01-051
1
Ralts
760
Psychic
Fairy
47
26
17
21
24
Disarming Voice
01-052
2
Kirlia
1140
Psychic
Fairy
62
44
26
38
35
Confusion
01-053
3
Gardevoir
2200
Psychic
Fairy
94
95
51
87
62
Draining Kiss
01-054
4
Gardevoir
2540
Psychic
Fairy
109
110
59
101
72
Dazzling Gleam
01-055
5
Volcanion
3300
Fire
Water
134
132
121
93
72
Steam Eruption
01-056
5
Xerneas
3680
Fairy
178
133
96
102
100
Moonblast
01-057
5
Yveltal
3680
Dark
Flying
178
133
96
102
100
Oblivion Wing
01-058
4
Zygarde
2900
Dragon
Ground
142
89
106
86
84
Land's Wrath
01-059
5
Zygarde
3380
Dragon
Ground
164
106
123
101
98
Land's Wrath
---