Pokémon Ga-Olé (ポケモンガオーレ)
Pokémon Ga-Olé - Ultra Legend Set 1:
In the new series "Ultra Legend", powerful Ultra Beasts join in the battle starting on July 5th, 2018. Ultra Beasts will appear in various courses as well as Lugia and Ho-oh which are also strong and powerful Pokémon!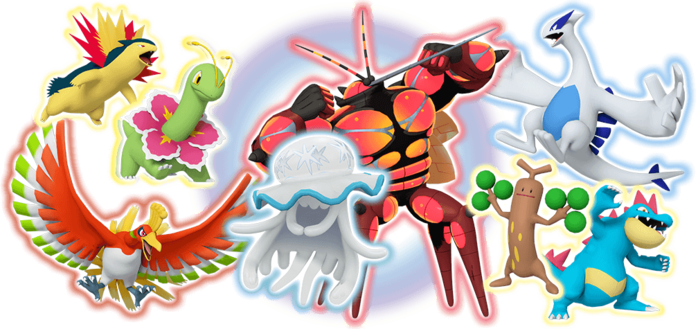 When selecting a course, an "Ultra Beast Appears" icon may show up. During the Battle and Get modes for that course, the Ultra Beast may appear. In Get Time, a
Beast Ball Chance (ウルトラボールチャンス!)
option will make it easier to catch an Ultra Beast.
Starting on August 8th, 2018, the Ultra Beast Uturoid will appear. Its Poké-ene is over 4000! From August 9th, 2018 until September 12th, 2018, the Ultra Beast Massivoon will appear. With a Poké-ene of 4240 and Attack and Defense of 188, it is a powerful opponent that needs to be dealt with quickly!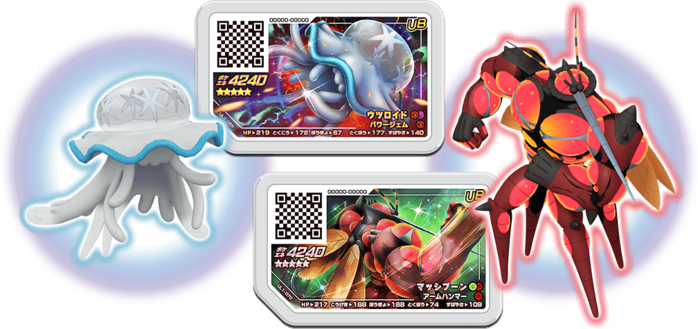 Starting on July 5th, 2018, the
Z-Move! Lugia Course
will be available. The Lugia Ga-Olé Disc can use a powerful Z-Move. You can also encounter the Rainbow Pokémon Ho-oh which can also use a Z-Move.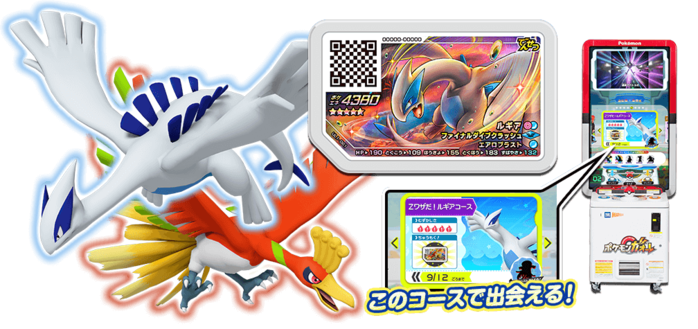 Pokémon Ga-Olé - Ultra Legend Set 1 - Courses:
Courses

Z-Move! Lugia Course

Zワザだ!ルギアコース

Necrozma Again Course

ネクロズマふたたびコース

Getting started with Ga-Olé! Course

はじめようガオーレ!コース

Power Up! Zygarde Course

パワーアップだ!ジガルデコース

Latias Latios Course

ラティアス・ラティオスコース

Strong Pokémon Thrilling Course

つよいポケモンぞくぞくコース

Only Eevee Course

いっぱイーブイコース

Pokémon Centers and Pokémon Stores

July 5th, 2018 until September 12th, 2018

Greninja Again Course

ゲッコウガふたたびコース

Pokémon Fan #59 (ポケモンファン 第59号)

Until September 12th, 2018
Pokémon Ga-Olé - Ultra Legend Set 1 - Disks:
Disk
Disk #
Grade
Pokémon
Poké-ene
Type
HP
Attack
Defense
SP. Defense
Speed
Move
UL1-001
1
Chikorita
1400
Grass
74
38
49
49
35
Razor Leaf
UL1-002
2
Bayleef
1980
Grass
98
55
69
69
53
Magical Leaf
UL1-003
3
Meganium
2800
Grass
129
80
97
97
78
Body Slam
UL1-004
4
Meganium
3160
Grass
145
91
109
109
88
Solar Beam
UL1-005
1
Cyndaquil
1380
Fire
70
45
34
39
49
Ember
UL1-006
2
Quilava
1980
Fire
96
56
51
57
69
Flame Wheel
UL1-007
3
Typhlosion
2840
Fire
127
105
76
83
97
Lava Plume
UL1-008
4
Typhlosion
3200
Fire
143
118
86
93
109
Flamethrower
UL1-009
1
Totodile
1400
Water
78
34
48
37
34
Water Gun
UL1-010
2
Croconaw
1980
Water
102
69
69
55
51
Ice Fang
UL1-011
3
Feraligatr
2820
Water
134
101
97
81
76
Aqua Tail
UL1-012
4
Feraligatr
3180
Water
150
87
109
91
86
Hydro Pump
UL1-013
1
Rowlet
1420
Grass
Flying
90
42
42
39
33
Leafage
UL1-014
2
Dartrix
2040
Grass
Flying
112
65
65
61
46
Razor Leaf
UL1-015
3
Decidueye
2820
Grass
Ghost
127
103
74
97
69
Leaf Blade
UL1-016
4
Decidueye
3180
Grass
Ghost
143
116
83
109
77
Spirit Shackle
Sinister Arrow Raid
UL1-017
1
Litten
1420
Fire
74
45
32
32
52
Ember
UL1-018
2
Torracat
2040
Fire
102
73
45
45
77
Fire Fang
UL1-019
3
Incineroar
2820
Fire
Dark
143
78
87
87
60
Flamethrower
UL1-020
4
Incineroar
3160
Fire
Dark
160
124
98
98
67
Darkest Lariat
Malicious Moonsault
UL1-021
1
Popplio
1420
Water
78
49
41
43
32
Water Gun
UL1-022
2
Brionne
2040
Water
98
77
66
69
45
Bubble Beam
UL1-023
3
Primarina
2820
Water
Fairy
129
120
73
11
60
Hydro Pump
UL1-024
4
Primarina
3160
Water
Fairy
145
136
81
125
67
Sparkling Aria
Oceanic Operetta
UL1-025
1
Eevee
1440
Normal
81
42
39
49
42
Quick Attack
UL1-026
2
Eevee
1660
Normal
94
49
45
57
49
Tackle
UL1-027
3
Eevee
1880
Normal
106
46
51
64
55
Swift
UL1-028
3
Vaporeon
2800
Water
175
106
60
92
64
Water Pulse
UL1-029
4
Vaporeon
3140
Water
197
119
67
103
72
Hydro Pump
UL1-030
3
Jolteon
2800
Electric
115
106
60
92
124
Thunder Shock
UL1-031
4
Jolteon
3140
Electric
129
119
67
103
140
Thunderbolt
UL1-032
3
Flareon
2800
Fire
115
124
60
106
64
Flame Charge
UL1-033
4
Flareon
3140
Fire
129
103
67
119
72
Flamethrower
UL1-034
1
Bonsly
1300
Rock
78
59
69
35
11
Rock Throw
UL1-035
2
Sudowoodo
2000
Rock
106
85
97
57
28
Rock Slide
UL1-036
3
Sudowoodo
2260
Rock
120
97
110
64
31
Stone Edge
UL1-037
2
Larvesta
1800
Bug
Fire
94
73
49
49
53
Flame Charge
UL1-038
3
Volcarona
2920
Bug
Fire
134
129
64
101
97
Fiery Dance
UL1-039
4
Volcarona
3280
Bug
Fire
150
67
72
114
109
Flare Blitz
UL1-040
1
Trapinch
1300
Ground
74
35
35
35
11
Mud-Slap
UL1-041
2
Vibrava
1720
Ground
Dragon
90
45
45
45
61
Dragon Breath
UL1-042
3
Flygon
2780
Ground
Dragon
129
97
78
78
97
Dragon Claw
UL1-043
4
Flygon
3120
Ground
Dragon
145
109
88
88
109
Dragon Rush
UL1-044
1
Igglybuff
1040
Normal
Fairy
105
25
15
18
15
Pound
UL1-045
2
Jigglypuff
1440
Normal
Fairy
142
41
21
25
21
Disarming Voice
UL1-046
3
Wigglytuff
2380
Normal
Fairy
184
69
46
51
46
Double Slap
UL1-047
4
Wigglytuff
2680
Normal
Fairy
207
77
51
57
51
Play Rough
UL1-048
2
Pikachu
1640
Electric
78
49
37
45
77
Quick Attack
UL1-049
3
Pikachu
1900
Electric
89
52
42
52
89
Electroweb
UL1-050
4
Pikachu
2200
Electric
103
60
49
60
104
Thunderbolt
Gigavolt Havoc
UL1-051
3
Turtonator
2620
Fire
Dragon
111
88
129
83
38
Flamethrower
UL1-052
4
Turtonator
2940
Fire
Dragon
124
99
145
93
42
Flamethrower
Inferno Overdrive
UL1-053
1
Gible
1340
Dragon
Ground
83
52
35
35
33
Tackle
UL1-054
2
Gabite
2000
Dragon
Ground
104
77
57
49
70
Bulldoze
UL1-055
3
Garchomp
3140
Dragon
Ground
155
124
92
83
98
Dragon Claw
UL1-056
4
Mega Garchomp
3540
Dragon
Ground
174
140
103
93
111
Earthquake
UL1-057
1
Riolu
1300
Fighting
71
52
32
32
45
Rock Smash
UL1-058
2
Lucario
2460
Fighting
Steel
106
93
61
61
77
Force Palm
UL1-059
3
Lucario
2800
Fighting
Steel
120
106
69
69
87
Brick Break
UL1-060
4
Mega Lucario
3140
Fighting
Steel
134
124
77
77
98
Aura Sphere
UL1-061
5
Lugia
4380
Pyschic
Flying
190
109
155
183
132
Aeroblast
Supersonic Skystrike
UL1-062
5
Ho-oh
4380
Fire
Flying
190
155
109
183
109
Sacred Fire
Inferno Overdrive
UL1-063
4
Celebi
3540
Psychic
Grass
166
109
109
109
109
Leaf Storm
UL1-064
5
Latias
4060
Dragon
Psychic
166
137
113
161
137
Mist Ball
UL1-065
5
Latios
4060
Dragon
Psychic
166
161
101
137
127
Luster Purge
UL1-066
3
Zygarde
2620
Dragon
Ground
105
97
70
83
110
Thousand Arrows
UL1-067
4
Zygarde
3540
Dragon
Ground
174
109
130
103
103
Land's Wrath
UL1-068
5
Zygarde
4480
Dragon
Ground
313
99
142
113
111
Core Enforcer
UL1-069
5
Nihilego
4240
Rock
Poison
219
172
67
177
140
Power Gem
UL1-070
5
Buzzwole
4240
Bug
Fighting
217
188
188
74
109
Hammer Arm
---