Pokémon Tretta (ポケモントレッタ)
Pokémon Tretta Ultimate Z Set 1: Birth! Z Tretta!! (誕生!Zトレッタ!!)
Pokémon Tretta Ultimate Z Set 1: Birth! Z Tretta!! (誕生!Zトレッタ!!) launched on November 19th, 2015. This set is the start of a potent new series and the explosive birth of a new tretta was introduced called "Z Tretta". These Z Tretta have special abilities unlike anything seen in the game to this point and they also have a "Z" mark branded onto their surface. The Z Tretta Zygarde's ability activates once a certain condition is met.
Anime Tie-in
To promote the
Pocket Monsters XY&Z
anime and the
Mega Evolution specials
, an extravagant collaboration with the anime took place in this set. Powerful anime tie-in tretta are featured in this set.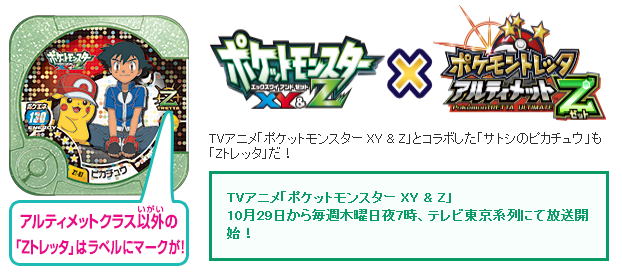 Legend-class Alternate-colored Xerneas: The Alternate-colored Xerneas makes its Tretta debut.
Legend-class Alternate-colored Yveltal: Yveltal comes it its alternate color too! It's double legends.
Master-class Satoshi's Pikachu: Satoshi's Pikachu comes as a Z Tretta!!
Also, 100 people who watched the anime on October 22nd, 2015 had the chance to enter a lottery to get the Master-class Daigo's Alternate-colored Metagross and the Master-class Alan's Lizardon anime tretta's before everyone else.
Front
Back
#
Class
Pokémon
Poké-ene
Type
HP
Atk
Def
Spd
Move
Move Type
Z1-XX
ULTIMATE
Zygarde
235
Ground
363
260
231
225
Land's Wrath
Ground
Z1-RE
ULTIMATE
Rayquaza
200/225
Dragon
291
278
168
177
Dragon Ascent
Flying
Z1-00
LEGEND
Xerneas
215
Fairy
347
249
185
190
Focus Blast
Moonblast
Dazzling Gleam
Fighting
Fairy
Fairy
Z1-01
LEGEND
Yveltal
215
Dark
347
265
165
190
Sky Attack
Oblivion Wing
Dark Pulse
Flying
Flying
Dark
Z1-02
MASTER
Raikou
191
Electric
276
203
180
214
Thunder
Electric
Z1-03
MASTER
Entei
191
Fire
305
206
163
195
Fire Blast
Fire
Z1-04
MASTER
Suicune
191
Water
297
174
216
174
Hydro Pump
Water
Z1-05
MASTER
Daigo's Metagross
183/205
Steel
252
221
230
132
Meteor Mash
Steel
Z1-06
MASTER
Alan's Lizardon
177/195
Fire
251
199
161
195
Blast Burn
Fire
Z1-07
MASTER
Satoshi's Pikachu
130
Electric
181
116
106
189
Thunderbolt
Electric
Z1-08
MASTER
Darkrai
184
Dark
228
217
169
224
Dark Pulse
Shadow Ball
Dark
Ghost
Z1-09
HYPER
Zygarde
170
Ground
272
160
186
162
Bulldoze
Ground
Z1-10
HYPER
Tornadus
165
Flying
224
207
132
188
Air Cutter
Hurricane
Focus Blast
Flying
Flying
Fighting
Z1-11
HYPER
Thundurus
165
Electric
224
207
132
188
Shock Wave
Thunder
Hyper Beam
Electric
Electric
Normal
Z1-12
HYPER
Landorus
169
Ground
241
207
149
172
Bulldoze
Earth Power
Outrage
Ground
Ground
Dragon
Z1-13
HYPER
Aggron
156/172
Steel
209
176
240
88
Take Down
Stone Edge
Normal
Rock
Z1-14
HYPER
Greninja
158
Water
215
172
122
210
Night Slash
Water Shuriken
Dark
Water
Z1-15
HYPER
Abomasnow
142/166
Ice
242
159
144
104
Ice Punch
Sheer Cold
Ice
Ice
Z1-16
SUPER
Tornadus
142
Flying
194
163
114
163
Focus Blast
Hurricane
Fighting
Flying
Z1-17
SUPER
Thundurus
142
Electric
194
163
114
163
Hyper Beam
Thunder
Normal
Electric
Z1-18
SUPER
Landorus
146
Ground
209
163
129
149
Outrage
Earth Power
Dragon
Ground
Z1-19
SUPER
Aggron
135/149
Steel
181
149
216
77
Stone Edge
Rock
Z1-20
SUPER
Meowstic
124
Psychic
187
121
120
152
Psyshock
Psychic
Z1-21
SUPER
Meowstic
124
Psychic
187
121
120
152
Psyshock
Psychic
Z1-22
SUPER
Vanilluxe
129
Ice
184
152
134
117
Sheer Cold
Ice
Z1-23
SUPER
Bisharp
125
Dark
174
163
139
104
Guillotine
Normal
Z1-24
SUPER
Conkeldurr
132
Fighting
232
171
134
69
Hammer Arm
Fighting
Z1-25
SUPER
Chandelure
133
Ghost
167
173
133
119
Shadow Ball
Ghost
Z1-26
SUPER
Rotom
127
Fire
154
146
160
127
Overheat
Fire
Z1-27
SUPER
Rotom
127
Flying
154
146
160
127
Air Slash
Flying
Z1-28
SUPER
Rotom
127
Ice
154
146
160
127
Blizzard
Ice
Z1-29
SUPER
Rotom
127
Water
154
146
160
127
Hydro Pump
Water
Z1-30
SUPER
Rotom
127
Grass
154
146
160
127
Leaf Storm
Grass
Z1-31
NORMAL
Rotom
106
Electric
144
112
104
123
Shock Wave
Electric
Z1-32
NORMAL
Pikachu
83
Electric
120
73
66
120
Iron Tail
Thunderbolt
Steel
Electric
Z1-33
NORMAL
Foongus
73
Poison
164
75
72
24
Sludge Bomb
Poison
Z1-34
NORMAL
Pumpkaboo
84
Ghost
138
85
88
71
Astonish
Ghost
Z1-35
NORMAL
Inkay
77
Dark
147
72
69
63
Foul Play
Dark
Z1-36
NORMAL
Stunfisk
107
Ground
216
102
118
46
Mud Bomb
Ground
Z1-37
NORMAL
Staryu
85
Water
113
86
75
115
Water Gun
Water
Z1-38
NORMAL
Spoink
91
Psychic
152
86
105
82
Psyboom
Psychic
Z1-39
NORMAL
Bellsprout
75
Grass
143
98
47
56
Vine Whip
Grass
Z1-40
NORMAL
Magikarp
27
Water
54
8
32
63
Splash
Normal
Z1-41
NORMAL
Farfetch'd
87
Normal
146
84
84
83
Cut
Normal
Z1-42
NORMAL
Rhyhorn
86
Ground
178
103
111
37
Horn Drill
Normal
Z1-43
NORMAL
Goomy
77
Dragon
183
73
91
56
DragonBreath
Dragon
Z1-44
NORMAL
Dedenne
104
Electric
158
101
87
134
Nuzzle
Electric
Z1-45
NORMAL
Drifloon
92
Ghost
190
79
58
95
Astonish
Ghost
---