Pokémon Tretta (ポケモントレッタ)
Pokémon Tretta Ultimate Z Set 2: Zygarde's Super Power Up: Satoshi Gekkouga is Here (ジガルデ超パワーアップ サトシゲッコウガ参上)
Pokémon Tretta Ultimate Z Set 2: Zygarde's Super Power Up: Satoshi Gekkouga is Here (ジガルデ超パワーアップ サトシゲッコウガ参上) launched on January 14th, 2016. This set debuted the long-awaited Zygarde Perfect Forme Ultimate Z tretta.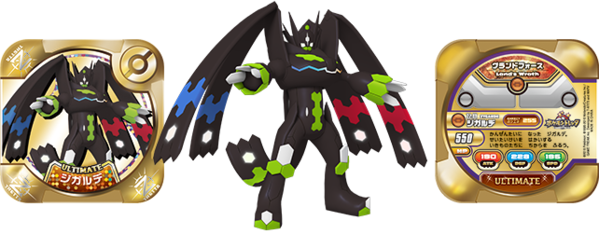 Anime Tie-in
Like the previous Ultimate Z set, to promote the
Pocket Monsters XY&Z
anime, an extravagant collaboration with the anime took place in this set. Powerful anime tie-in tretta are featured in this set including Satoshi Gekkouga and Serena's Nymphia. When players scan the Satoshi Gekkouga tretta, Satoshi's Pikachu will show up at the end of the battle.
Master Z Tretta: Cobalon, Terrakion and Virizion
Cobalon, Terrakion and Virizion arrive in this set as Master Z tretta's. When the player scans all three tretta at the same time, Keldeo makes an appearance at the end of the battle. If only one or two are used, players have a chance of one of the other members of the trio appearing.

Front
Back
#
Class
Pokémon
Poké-ene
Type
HP
Atk
Def
Spd
Move
Move Type
Z2-XX
ULTIMATE
Zygarde
255
Ground
550
190
228
195
Land's Wrath
Ground
Z2-RE
ULTIMATE
Kyurem
209
Ice
343
251
175
185
Glaciate
Ice
Z2-00
LEGEND
White Kyurem
225
Dragon
353
270
190
186
Blizzard
Ice Burn
Dragon Pulse
Ice
Ice
Dragon
Z2-01
LEGEND
Black Kyurem
225
Dragon
353
270
190
186
Blizzard
Freeze Shock
Dragon Pulse
Ice
Ice
Dragon
Z2-02
MASTER
Cobalion
192
Steel
277
180
206
197
Iron Head
Metal Burst
Steel
Steel
Z2-03
MASTER
Terrakion
192
Rock
277
206
180
197
Rock Slide
Stone Edge
Rock
Rock
Z2-04
MASTER
Virizion
192
Grass
277
180
206
197
Giga Drain
Leaf Blade
Grass
Grass
Z2-05
MASTER
Jirachi
194
Steel
287
186
190
182
Doom Desire
Steel
Z2-06
MASTER
Ash Greninja
200
Water
249
240
156
231
Water Shuriken
Water
Z2-07
MASTER
Zygarde
164
Ground
230
181
168
215
Land's Wrath
Ground
Z2-08
MASTER
Serena's Nymphia
178
Fairy
281
193
209
129
Fairy Wind
Fairy
Z2-09
HYPER
Kangaskhan
152/168
Normal
263
144
139
160
Double-Edge
Mega Punch
Normal
Normal
Z2-10
HYPER
Haxorus
164
Dragon
225
211
153
170
Dragon Pulse
Guillotine
Dragon
Normal
Z2-11
HYPER
Serperior
160
Grass
224
130
169
192
Iron Tail
Frenzy Plant
Steel
Grass
Z2-12
HYPER
Emboar
160
Fire
270
198
119
119
Brick Break
Blast Burn
Fighting
Fire
Z2-13
HYPER
Samurott
160
Water
259
181
144
127
Ice Beam
Hydro Cannon
Ice
Water
Z2-14
HYPER
Goodra
173
Dragon
249
187
216
141
Aqua Tail
Dragon Pulse
Water
Dragon
Z2-15
HYPER
Salamence
174/199
Dragon
257
206
141
175
Aerial Ace
Dragon Rush
Flying
Dragon
Z2-16
HYPER
Metagross
174/196
Steel
232
206
204
124
Brick Break
Meteor Mash
Fighting
Steel
Z2-17
HYPER
Sharpedo
148/166
Water
219
198
93
170
Crunch
Waterfall
Dark
Water
Z2-18
HYPER
Mawile
128/152
Fairy
193
138
144
103
Faint Attack
Play Rough
Dark
Fairy
Z2-19
SUPER
Kangaskhan
129/151
Normal
223
127
120
135
Mega Punch
Normal
Z2-20
SUPER
Crustle
121
Rock
194
129
171
70
Rock Wrecker
Rock
Z2-21
SUPER
Braviary
135
Flying
219
153
113
120
Crush Claw
Aerial Ace
Normal
Flying
Z2-22
SUPER
Excadrill
135
Ground
227
163
99
132
Fissure
Ground
Z2-23
SUPER
Escavalier
130
Steel
194
167
161
58
Iron Head
X-Scissor
Steel
Bug
Z2-24
SUPER
Golurk
128
Ghost
204
154
120
85
Shadow Punch
Ghost
Z2-25
SUPER
Snorlax
276
Normal
276
143
162
65
Body Slam
Normal
Z2-26
SUPER
Aegislash
137
Steel
180
78
223
92
Iron Head
Steel
Z2-27
SUPER
Snivy
89
Grass
156
80
85
96
Vine Whip
Leaf Tornado
Grass
Grass
Z2-28
SUPER
Tepig
89
Fire
182
90
70
70
Ember
Flame Charge
Fire
Fire
Z2-29
SUPER
Oshawott
89
Water
172
94
70
70
Water Gun
Razor Shell
Water
Water
Z2-30
NORMAL
Pikachu
84
Electric
121
74
67
123
Thunderbolt
Electric
Z2-31
NORMAL
Pancham
88
Fighting
164
98
84
62
Arm Thrust
Fighting
Z2-32
NORMAL
Munna
82
Psychic
179
85
73
36
Psybeam
Psychic
Z2-33
NORMAL
Scraggy
88
Dark
149
89
91
67
Feint Attack
Dark
Z2-34
NORMAL
Pichu
62
Electric
102
57
49
92
ThunderShock
Electric
Z2-35
NORMAL
Helioptile
80
Electric
134
76
59
96
Parabolic Charge
Electric
Z2-36
NORMAL
Tyrunt
92
Rock
156
105
94
67
Horn Drill
Normal
Z2-37
NORMAL
Sudowoodo
99
Rock
167
111
132
44
Rock Throw
Rock
Z2-38
NORMAL
Poliwhirl
96
Water
161
84
90
122
BubbleBeam
Water
Z2-39
NORMAL
Chatot
100
Flying
178
106
62
124
Chatter
Flying
Z2-40
NORMAL
Zangoose
111
Normal
172
120
83
120
Scratch
Normal
Z2-41
NORMAL
Seviper
111
Poison
177
128
89
95
Poison Tail
Poison
Z2-42
NORMAL
Nincada
75
Bug
117
63
105
57
Struggle Bug
Bug
Z2-43
NORMAL
Browlithe
89
Fire
153
89
67
90
Ember
Fire
Z2-44
NORMAL
Klink
82
Steel
128
74
92
44
Gear Grind
Steel
Z2-45
NORMAL
Snorunt
82
Ice
142
70
70
71
Ice Shard
Ice
---