POKKÉN TOURNAMENT (ポッ拳)
Description:
Pokkén Tournament (ポッ拳) is an arcade fighting game based on the game Tekken. It was developed by Bandai Namco games for The Pokémon Company. Pokkén Tournament was first showcased during a
Pokémon Game Show (ポケモンゲームショー) event held at Tokyo Big Site (東京ビッグサイト) August 17th, 2013 and August 18th, 2013
. The trademarks for the game were also filed in August 2013.

The official Japanese Pokémon website announced that a special stream would be broadcast on NicoNico called the
Monthly Famitsu featuring Pokémon Special (月刊ファミ通feat. ポケモンスペシャル)
on August 26th, 2014 at 10pm JST (9am EST). The stream was hosted by
Ayana Tsubaki (椿姫彩菜)
and
Bunbunmaru (ブンブン丸)
. The Pokémon Company President and CEO Tsunekazu Ishihara made an appearance along with game's producers Masaaki Hoshino and Katsuhiro Harada. Voice actors
Nobuhiko Okamoto (岡本信彦)
and
Aoi Yūki (悠木碧)
, who is known to fans as the voice of
Iris
, were also special guests. During the stream, the game was officially announced, its title was revealed and a full trailer debuted. The game was also announced on the official English Pokémon website the same day in a news article titled:
"A New Collaboration from Pokémon and TEKKEN!"
The
Monthly Famitsu feat. 2015 January Edition (月刊ファミ通feat.2015年1月号)
was the first major look at the game and there was stream on
NicoNico
.
At the Opening Ceremonies of the 2015 Pokémon World Championships on Friday, August 21st, 2015, it was announced that Pokkén Tournament would be released on the Nintendo Wii U in the Spring of 2016.
"Pokkén Tournament combines the best elements of a traditional fighting game with an authentic Pokémon experience, Fans will be thrilled to see their favourite Pokémon battle in a whole new way." said J.C. Smith, director of Consumer Marketing at The Pokémon Company International as part of the press release announcement for the Nintendo Wii U version.
Story/Information:
Pokkén Tournament brings Pokémon to life in a way never before seen, where Pokémon in battle move in direct response to the player's actions. The intuitive controls make this fighting game accessible to players of all skill levels, and the stunning visuals emphasise the size and power of each Pokémon.
Features:
Playable Characters: Pikachu, Lucario (Mega Lucario), Sirknight (Mega Sirknight), Suicune and Kairiky
Players can have support Pokémon and they can be chosen at a Support Set Select screen before each match
Unlike traditional arcade fighting games that use a stick, POKKÉN TOURNAMENT has its own controller that uses a D-pad with X, Y, A, B and L and R buttons.
As you fill the gauge, you'll enter Resonance burst (共鳴バースト) mode, where you can fire off a Burst Attack (バーストアタック) capable of dealing great amounts of damage
Cabinets from different arcades are all connected online, so players can fight people all over Japan rather than just people at the same arcade.
Screenshots: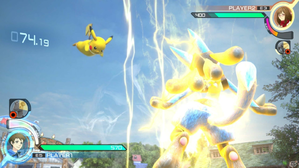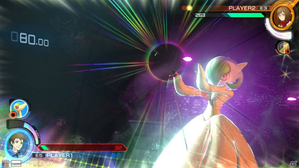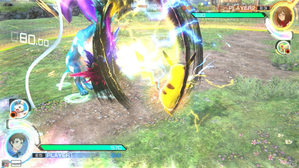 Click on images for higher resolution.
More images available on the Imageboard thread
---