Description:
Pokémon Rumble Blast (スーパーポケモンスクランブル) is the first Pokémon action RPG for the Nintendo 3DS. The game was developed by Ambrella and used 3D cell shaded Pokémon models similarly styled to those in My Pokémon Ranch and the original Pokémon Scramble. Nintendo
posted a press release on the official Super Pokémon Scramble website on July 25th, 2011 which indicated
that the game had been delayed from its original release date of July 28th, 2011 until August 11th, 2011. There was no official reason given for the delay of the game in the press release and it just contained an apology for the delay. In the days before the press release, Japan experienced two 6.0+ magnitude earthquakes and a typhoon and the country was still recovering from the Sendai earthquake and tsunami. The game sold 4800 yen in Japan.
The game allows battling dozens of Pokémon simultaneously in real time, unlike most Pokémon games that are turn based. Players go through levels battling Pokémon using up to two separate attacks and randomly capture new Pokémon and earn currency which can be used to buy new Pokémon or moves. At the end of each level, is a wound-up boss that must be defeated before the level is cleared.
Once you have strong enough Pokémon, they can be entered in the Battle Royal which is a free for all battle against dozens of other Pokémon.
Story/Information:
Toy Town is the central hub for the adventure in Super Pokémon Scramble. A the center of the town is the Drop of Light (ひかりのしずく) where players can recover Pokémon. Players can also purchase additional moves with the points they have gathered through the various areas as well as receive new Pokémon. Nintendo 3DS Mii characters also make appearances.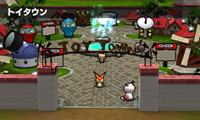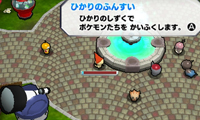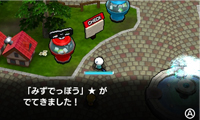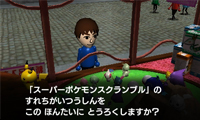 As players advance through each stage their Toy Pokémon face dozens of Pokémon at once in fast and furious real-time battles! Players will also run into a giant Boss Pokémon, who is especially tough to defeat but it can become a powerful ally if they're lucky!
Pokémon Rumble Blast lets players connect wirelessly with their friends in two ways. First, players can use a local wireless connection to launch cooperative play mode, where players can team up to battle through levels and befriend defeated Toy Pokémon more easily. Second, players can use the StreetPass™ feature of the Nintendo 3DS system to challenge the Toy Pokémon collections of nearby players and to view other players' Mii™ characters in their game.
Players can collect more than 600 kinds of Toy Pokémon in Pokémon Rumble Blast, including those from the recently released 5th generation of Pokémon. Players can switch between the various Toy Pokémon to collect and to discover the strengths and weaknesses of each Pokémon. Some of these Pokémon that the player befriends will have special stats and abilities!
Features:
Realtime battles in 3D.
Two player mode allows players to play the game with a friend.
Unlock rare Pokémon by entering passwords released in various publications.
Switch Pokémon on the fly to get the right matchups.
Engage in intense, all-out action as a Toy Pokémon! Switching between Toy Pokémon is fast and fun. Simple, intuitive controls make Pokémon Rumble Blast easy for new and experienced players alike to pick up and enjoy.
Pokémon Rumble Blast includes more than 600 Toy Pokémon to collect. Each Toy Pokémon has its own unique stats and power levels, and players can decide which one is best suited for each battle.
Engage in intense, all-out action as a Toy Pokémon! Switching between Toy Pokémon is fast and fun.
Simple, intuitive controls make Pokémon Rumble Blast easy for new and experienced players alike to pick up and enjoy.
The giant Boss Pokémon which are much stronger than typical opponents ? add a unique and intense challenge as players battle their way through each stage. In Battle Royale, players strive to be the last Toy Pokémon standing in a fast-paced free-for-all where Toy Pokémon attack each other.
Two new battle modes add excitement for newcomers and veteran Pokémon fans alike. In Team Battle, players are joined by two of their own Toy Pokémon as they battle numerous mini bosses in a quest to defeat a Boss Pokémon. In Charge Battle, two large battalions of Pokémon collide in an explosive event that challenges the strength of the players team.
Two players can team up and adventure together over a local wireless connection. In this mode, friends can play together in normal game areas that both of them have previously completed. This mode also increases their chances of befriending defeated Toy Pokémon.
Screenshots: