Pokémon Tretta Lab for Nintendo 3DS (ポケモントレッタラボ for ニンテンドー3DS)
Description:
Pokémon Tretta Lab for Nintendo 3DS (ポケモントレッタラボ for ニンテンドー3DS) has been announced and is being developed by T-ARTS and MAQL. The main system/application will be released in Japan on August 10th, 2013 for 3800yen. The Nintendo 3DS application will allow players of the popular Japanese arcade game
Pokémon Tretta
to load tretta's into the
Tretta Scanner (トレッタスキャナー)
to identify the tretta.
Story/Information:
The application Pokémon Tretta Lab can be downloaded for free and will be released simultaneously with the release of Pokémon Tretta Lab Main System (ポケモントレッタラボメインシステム). Players can scan a QR code that is included in the Pokémon Tretta Lab Main System package to download the application. The application is pretty much useless without the Tretta Scanner though. The Main System package includes: the Tretta Scanner, 2 Nintendo 3DS stands (Original 3DS and LL sized) and the QR code.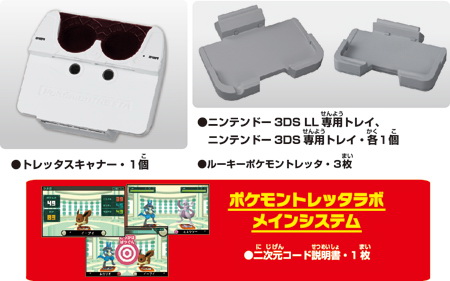 Pokémon Tretta Lab has three main modes: Tretta Analyzer (トレッタアナライザー), Type Checker (タイプチェッカー) and Auto Battle (オートバトル). Tretta Analyzer displays information on the scanned in tretta. Type Checker looks up information other tretta's type information and Auto Battle allows players to scan in two tretta's and it will automatically setup a battle between them.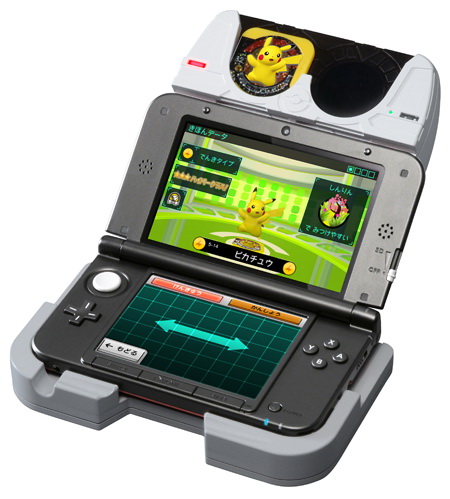 Eevee, Mewtwo and Lucario tretta's come with the main system package and are featured in this years Pocket Monsters movie but those that pre-order can also get a Pichu tretta.
Update Patches:
Updates for Pokémon Tretta Lab for Nintendo 3DS were available to download off the Nintendo 3DS eShop.
Update Procedure:
1. Turn on the camera by pressing the button (R or) L in the "HOME MENU".
2. Touch the two-dimensional code reader at the bottom left of the screen.
3. To read the QR code, use the camera and line up the code.
| Version | Release Date | Fixes |
| --- | --- | --- |
| 1.0 | 2013-08-10 | Initial Release |
| 1.1 | 2013-08-30 | Scanning accuracy issues |
| 1.1 | 2013-09-19 | Fes Set 2 added |
| 1.2 | 2013-11-13 | Tretta Scanning improvement |
| 1.2 | 2013-11-29 | Fes Set 3 Added |
Features:
Scan Tretta's to get information about them
Battle Pokémon by selecting your favorite Tretta's
Screenshots:
---