Disc Summary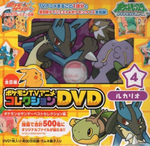 ポケモンTVアニメコレクションDVD ~ポケモンサンデーベストセレクション編~ (4)
Also known as:
| | |
| --- | --- |
| | Pokémon TV Animation Collection DVD Pokémon Sunday Best Collection Volume 4 |
Audio Tracks:
Japanese

Publisher:
Media Factory / ShoPro
Catalog #:
090372
Release Date:
2009-07-14
Aspect Ratio:
4:3
Region Code:
Video Format:
NTSC
Storage Medium:
DVD5
Closed captions?
No
Rental Only?:
No
Average Rating
Description
In early 2009, Pokémon Sunday asked viewers to vote for the favorite episodes. The episodes in this DVD collection were the highest voted episodes.

今回(こんかい)は、「ポケモン☆サンデー」とのコラボレーション企画(きかく)!視聴者(しちょうしゃ)からの投票(とうひょう)で選(えら)ばれた"もう一度(いちど)観(み)たい人気(にんき)のお話(はなし)"がついに決定(けってい)したよ
Episodes

ルカリオ!怒りのはどうだん!!

Lucario! Wave Bomb of Anger!!

Lost Leader Strategy!