ポケモンレンジャー 光の軌跡
Pokémon Ranger: Guardian Signs
ポケモンレンジャー 光の軌跡
Pokémon Ranger: Hikari no Kiseki
Pokémon Ranger: Paths of Light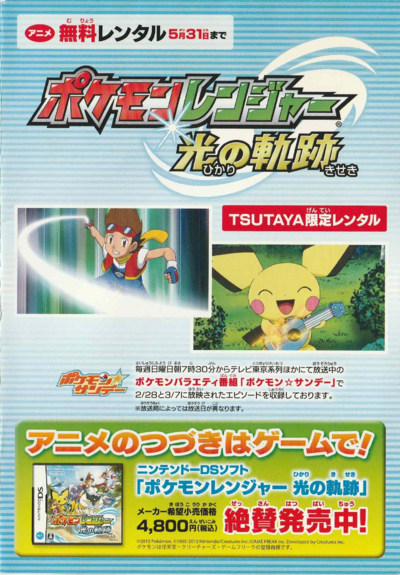 Details
Audio Tracks:
Japanese
Publisher:
ShoPro, TSUTAYA
Catalog #:
TPC100306
Release Date:
2010-04-23
Aspect Ratio:
16:9
Region Code:
Video Format:
NTSC
Storage Medium:
DVD5
Closed Captions?:
No
Rental Only?:
Yes
Price:
Description
5月31日(月)までの期間、テレビ東京系列で好評放映中のポケモン情報バラエティ「ポケモン☆サンデー」で放送されたアニメ『ポケモンレンジャー 光の軌跡』のDVDが、全国のTSUTAYAで無料レンタルできるぞ!
Available from April 23rd 2010 till May 31st 2010 at participating TSUTAYA locations, Pokémon Ranger: Paths of Light originally aired as 2 short animted segments during Pokémon Sunday.
This is the only release for this short on physical media and the only way to get the full, uncut Japanese widescreen version of the short. The short is split into two parts.
The disc features no menu and opens with a trailer for the 13th movie as soon as the disc begins to play. Following the trailer, Part 1 of the short begins to play. A trailer for the card game plays after the first part concludes and before the beginning of the second. A short 3 minute video/trailer for the game plays before the disc stops playing.
Note that the original short that aired on Pokémon Sunday was cropped to 4:3 for the broadcast. This disc contains the full widescreen version. The widescreen version was also available on TV Tokyo's website for a limited time.
The quality of the video on the disc, despite being the only medium available to watch the short in it's original form, is very poor. All titles on the disc are interlaced with each pair of fields making up two fields from two different frames. resulting in every single frame being interlaced. When deinterlaced, this results in heavy compression artifacting in scenes with high motion.
This DVD is one of the rarest releases with it seeing seldom listings on the Japanese pre-owned market. It's believed that, as this was a free limited giveaway, not many copies survived after the promotion ended.
A press release PDF was also released for this DVD
.
Images