Disc Summary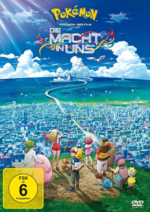 Pokémon Der Film: Die Macht in uns
Also known as:
| | |
| --- | --- |
| | Pokémon the Movie: The Power of Us |
Audio Tracks:
English
German

Publisher:
Polyband / WVG
Catalog #:
76894-2
Release Date:
2019-03-29
Aspect Ratio:
16:9
Region Code:
Video Format:
PAL
Storage Medium:
DVD9
Closed captions?
No
Rental Only?:
No
Average Rating
Description
In der Fortsetzung von "Pokémon – Der Film: Du bist dran!" erleben Ash und Pikachu ein fantastisches neues Abenteuer!

Einmal pro Jahr findet das Wind-Festival in Fula City statt, wo die Menschen gemeinsam mit dem Wind leben. Sie halten noch immer am dem uralten Glauben fest, dass das Legendäre Pokémon Lugia am letzten Festivaltag den heiligen Wind bringen wird. Als jedoch eine Reihe von Vorfällen nicht nur das Festival bedroht, sondern auch alle Menschen und Pokémon in Fula City in Gefahr bringt, können Ash und Pikachu die Situation allein nicht retten. Werden alle trotz ihrer Unterschiede zusammenfinden, um ihren Ort zu retten? Oder wird alles zerstört werden?
Episodes

Pokémon the Movie: The Power of Usみんなの物語Everyone's Story

Everyone's Story