Disc Summary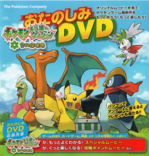 ポケモン不思議のダンジョン空の探検隊 おたのしみDVD
Also known as:
| | |
| --- | --- |
| | ポケモン不思議のダンジョン空の探検隊 おたのしみDVD |
| | Pokémon Fushigi no Dungeon Sora no Tanken-tai o Tanoshimi DVD |
| | Pokémon Mystery Dungeon Explorers of the Sky Fun DVD |
Audio Tracks:
Japanese

Publisher:
TOMY and AQ INTERACTIVE
Catalog #:
Release Date:
2009-00-00
Aspect Ratio:
4:3
Region Code:
Video Format:
NTSC
Storage Medium:
DVD5
Closed captions?
No
Rental Only?:
No
Average Rating
Description
Distributed at various Japanese shopping malls in 2009.

This disc is a hybrid DVD-ROM and DVD-VIDEO. The contents will playback on both a traditional Region 2 (J) or Multi-Region DVD player as well as any PC with a DVD drive.

The DVD portion of the disc contains the "Pokémon Mystery Dungeon - Explorers of the Sky" anime short (with a bonus trailer for the DS game at the end), trailers for the Pokémon Card Game (Japanese), Movie 12 and various Takara Tomy products.
The DVD-ROM portion mirrors the contents of the DVD-VIDEO portion, though all videos are played back as Flash SWF files. The DVD-ROM contains some additional content not found on the DVD-VIDEO, including 3 Pokémon Card Game Flash Games.
Episodes

ポケモン不思議のダンジョン 空の探検隊~時と闇をめぐる最後の冒険~

Pokémon Mystery Dungeon Explorers of Sky - Beyond Time & Darkness

Pokémon Mystery Dungeon - Explorers of the Sky ~The Final Time and Darkness Adventure~