Disc Summary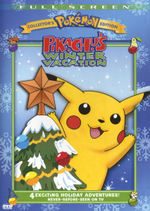 Pokémon Pikachu's Winter Vacation
Audio Tracks:
English

Publisher:
4Kids Home Video / Pokemon USA
Catalog #:
23169
Release Date:
2004-11-23
Aspect Ratio:
4:3
Region Code:
Video Format:
NTSC
Storage Medium:
DVD5
Closed captions?
No
Rental Only?:
No
Average Rating
Description
Take Pokemon home for the holidays with 4 fantastic adventures: Winter Vacation, Winter Games, Winter Vacation 2, and Stantler's Little Helpers.

This collection contains four holiday-themed animated Pokemon programs: "Winter Vacation," "Winter Games," "Winter Vacation 2," and "Stantler's Little Helpers." Filled with snow, holiday chaos, and cheer, POKEMON: PIKACHU'S WINTER VACATION should delight Pokemon fans everywhere.