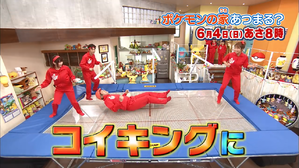 Available On:
2017-06-04 ポケんちにレッド吉田さんや寺田心くん等が登場 / 親子で楽しめるゲームに挑戦、みんなでコイキングになりきる!?
2017-06-04 Pokénchi ni Red Yoshida-san ya Terada Kokoro-kun nado ga tōjō / Oyako de tanoshimeru game ni chōsen, minna de Koiking ni narikiru!?
2017-06-04 Red Yoshida, Kokoro Terada and More Visit Pokénchi! / Everyone Role Plays Koiking as They Attempt a Game Parents and Children Can Enjoy Together!?