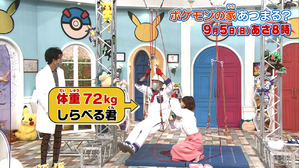 Available On:
2021-09-05 ポケだちの疑問を大調査!テーマは「かがくのちから」! / 俳優の坂口涼太郎くんとエビター二博士と一緒に様々な不思議な力についてしらべる
2021-09-05 Pokédachi no gimon wo daichōsa! Thema wa "Kagaku no chikara"! / Haiyū no Sakaguchi Ryōtarō-kun to Ebitahni-hakase to issho ni samazama na fushigi na chikara ni tsuite shiraberu
2021-09-05 A Massive Investigation of Pokends' Questions! The Theme is "The Power of Science"! / Researching Various Mysterious Powers with Actor Ryotaro Sakaguchi and Professor Ebitahni!