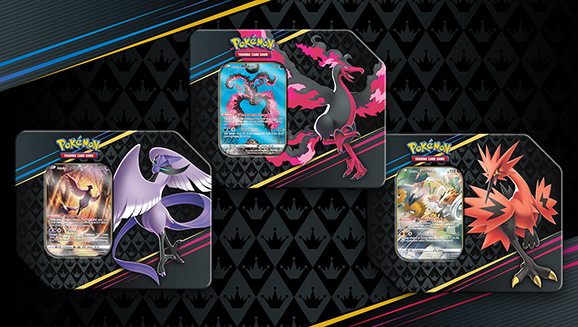 The Pokémon TCG: Crown Zenith Tins are available at the Pokémon Center and where Pokémon TCG products are sold for $24.99 USD.
Pokémon TCG: Crown Zenith Tin
Three fearsome Legendary Pokémon have arrived from the Galar region in a trio of Pokémon Trading Card Game tins. With their own unique type and powers, Galarian Articuno, Galarian Zapdos, and Galarian Moltres are forces to be reckoned with. Add their power to your Pokémon TCG collection and see for yourself!
Will you choose the atrocious attitude of Galarian Articuno, whose Psylaser attack can target any of your opponent's Pokémon? Perhaps the zippy zeal of Galarian Zapdos is more your speed. Its Zapper Kick attack can make your opponent's Active Pokémon Paralyzed in addition to causing damage. If your opponent gains the upper hand in battle, the malevolent malice of Galarian Moltres is unleashed. Its Fiery Wrath attack does more damage for each Prize card your opponent has taken.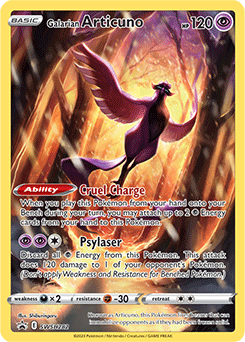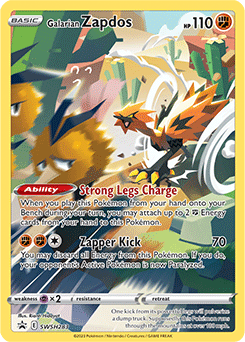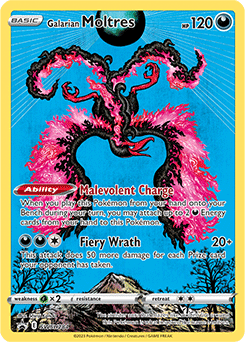 No matter which of these three you choose, each comes equipped with an Ability that allows it to quickly charge up with Energy when it moves from your hand to your Bench.
In addition to the Legendary Pokémon, each tin also contains five booster packs from the special Pokémon TCG: Crown Zenith expansion to expand your collection, along with a code card for Pokémon TCG Live.
The Pokémon TCG: Crown Zenith Tin includes:
1 full-art foil promo card featuring Galarian Articuno, Galarian Zapdos, or Galarian Moltres
5 Pokémon TCG: Crown Zenith booster packs
A code card for Pokémon TCG Live
Source:
https://www.pokemon.com/us/pokemon-tcg/product-gallery/crown-zenith-tin/
Last edited 22 Mar 2023 06:56 AM by
ForumBot