A new news article has been posted!
---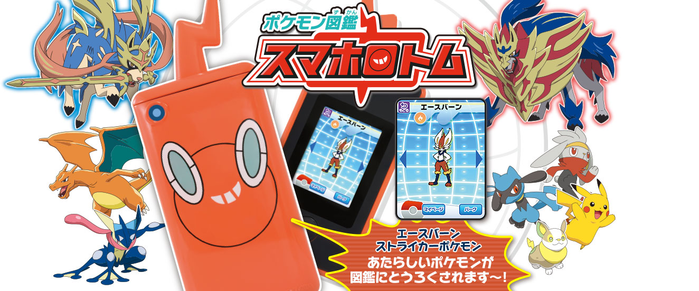 Takara Tomy will release a
Pokémon Zukan - Rotom Phone (ポケモン図鑑 スマホロトム)
in Japan on July 18th, 2020 for 9,889yen including tax. The dex includes 500 Pokémon entries and voices from the Pocket Monsters anime.
High resolution images of the product have been added to an Imageboard thread
.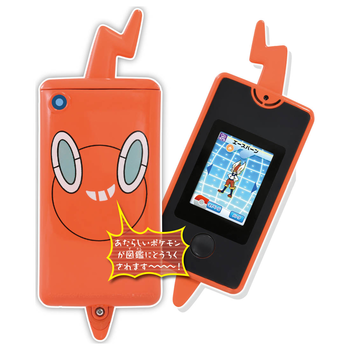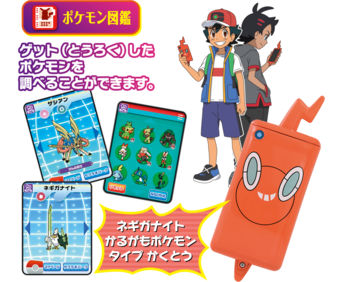 Item Details:
Release Date: July 18th, 2020
Price: 8,990 yen (excluding tax) ¥9,889 with tax
Item Number: 4904810145646
Package size: W150 x H220 x D40mm
Ages: 4 years old and up
Uses 4 AAA alkaline batteries (sold separately)
Item Description:
The latest Pokémon Zukan with 500 Pokémon from all regions, Rotom Phone! It gives you information about Pokémon with the same real voices as in the anime!
① Includes over 500 popular Pokémon from all 8 regions! The more you play, the more information about your Pokémon gets updated! Complete your Pokémon Zukan!
② Use the Rotom Phones 25 functions! You've got a Rotom Phone in your hands, just like Satoshi and Go! Find and catch Pokémon, look up Pokémon, take pictures, receive messages, and more! It's packed with many of the same features as the anime! You will not be able to connect to real phone lines or the Internet to make calls. The camera and email are for in-game play.
③ Get information about Pokémon and their appearance. You can get news and messages about Pokémon appearances and you can get the latest information about Pokémon by chatting with Satoshi and others. Let's go looking for Pokémon based on their information!
④ Get Pokémon and register your Zukan with the 360° virtual search system. Go through the map in the Zukan and search for Pokémon research information!
⑤ Enjoy battles and photos with your registered Pokémon. There are Challenge battles where you can use your registered Pokémon while aiming for the Master's Eight! You can save pictures of the Pokémon you've got with the camera function and put them in a photo album. You can get comments from Satoshi and his friends at Photo Master!
⑥ Many more fun features! Silhouette quiz, ball diagrams, and Dynamax Pokémon can be unlocked by entering a secret code. Lots of fun features! With features such as alarms, calculators, and stopwatches, you can enjoy a smartphone-like presentation!
Sources:
https://www.takaratomy.co.jp/products/pokemon/rotom_zukan_sp/index.html
and
https://takaratomymall.jp/shop/g/g4904810145646/
YouTube Clip - Takara Tomy - Pocket Monsters - Pokémon Zukan - Rotom Phone
Source:
https://www.youtube.com/watch?v=62Aj9FV17QM